Here's why birthstones are the biggest jewellery trend of 2020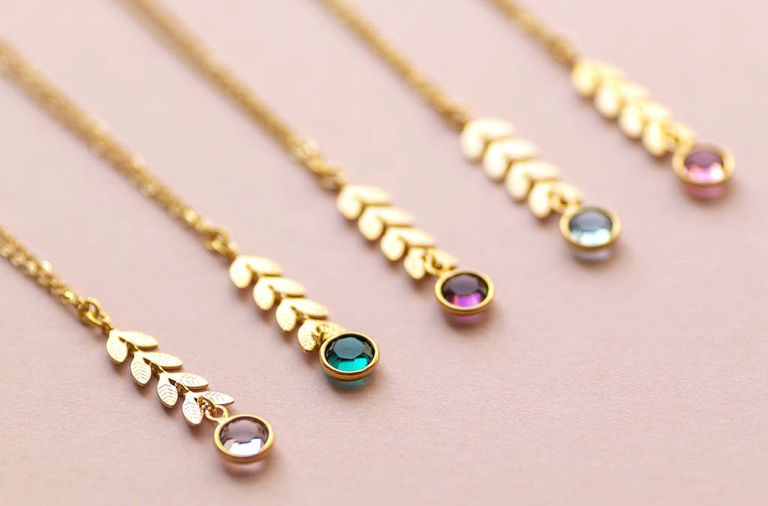 Are you a Peridot or a Pink Tourmaline? Birthstones – the gemstones that represent a person's month of birth – have been popular in the more spiritual circles for centuries.
But as shoppers seek to personalise their gifts, sales are currently rising with high street giant John Lewis adding exclusive amulets to their stores, and Anthropolgie developing a brand new collaboration of 12 birthstone earrings with cult jewellery designer Theodora Warre.
The wedding sector has also seen a huge rise in birthstone engagement rings, which Etsy's trend expert Dayna Isom Johnson recently describing as a "breakout wedding trend".
"One emerging trend in non-diamond engagement rings is incorporating birthstones. We've seen 34K searches for 'birthstone engagement rings' in the last three months, and I predict the trend will continue to grow. For generations, the diamond has been the ultimate stone for proposing, but today's bride wants to express her personal style and choose a ring that reflects her personality", says Dayna.
The notion that certain gemstones are lucky for you depending on when you were born might sound like a marketing ploy dreamt up by jewellers – but a belief in the significance of birthstones dates back centuries.
Antiquities of the Jews, the bejewelled breastplate was worn by Aaron - the first high priest of the Israelites, in the Book of Exodus. The breastplate was adorned with 12 stones, each one engraved with the name of one of the 12 tribes of Israel. Reflecting on the significance of the number 12, Josephus suggested that the stones could represent the 12 signs of the zodiac. However, it wasn't until the 18th century that gemstones began to be assigned according to birth month.
The stones subsequently became associated with the 12 months of the year, and were purported to have healing properties and bring good luck. In 1912, the National Association of Jewellers defined the modern day list of birthstones, however there is still some cross over with the modern and traditional birthstones so we have listed both.
January – Garnet: Provides Strength & Safety
February – Amethyst: Protects & Purifies
March – Aquamarine: Calms & Cleanses
April – Diamond: Increases strength & purity/ White Topaz: Associated with Love & Happiness
May – Emerald: Represents health & wisdom/ Green Onyx: Relieves Worries, Tensions and Fears
June – Pearl: Associated with Purity & Innocence
July – Ruby: Symbolizes harmony and protection / Red Onyx: Increases Energy and Enthusiasm
August – Peridot: Attracts Abundance and Good Luck
September – Blue Sapphire: Represents purity, wisdom & faith/ Rainbow Moonstone: Provides Balance & Harmony
October – Opal: represents hope and innocence/ Pink Tourmaline: Cleanses Emotional Depression & Anxieties
November – Citrine: Raises self esteem & self confidence/ Yellow Topaz: Promotes Good Health
December – Turquoise: brings happiness & good fortune/ Blue Topaz: Brings Eternal Friendship and Romance
Best birthstone jewellery pieces to buy now
Here's out pick of the best modern birthstone jewellery to shop now...
Anthropologie x Theodora Warre Birthstone Hoop Earrings
was £85 now £35, Anthropologie Anthropologie x Theodora Warre Birthstone Hoop Earrings (Aquamarine/ March).
VIEW NOW: Anthropologie x Theodora Warre Birthstone Hoop Earrings
Under the Rose Personalised Birthstone Pendant Necklace
£39, John Lewis A beautiful handmade silver charm engraved with a name or date featuring semi-precious stone to mark each months birthdate.
VIEW NOW: Under the Rose Personalised Birthstone Pendant Necklace
Siren Charm Ring
£65, Monica Vinader Perfect for stacking, this delicate ring features a rose cut Green, Onyx gemstone (May) set in 18ct Gold Plated Vermeil on Sterling Silver. The band is slightly hammered, reminiscent of the sea.
Rachel Jackson Emerald May Birthstone Necklace
£95, John Lewis
VIEW NOW: Rachel Jackson Emerald May Birthstone Necklace
Gold leaf vine chain necklace with birthstone detail
£28, Joy by Corrine Smith
VIEW NOW: Gold leaf vine chain necklace with birthstone detail
Mixed small necklace
£120, Rachel Jackson Choose up to four stones; for you, your kids and loved ones. These will then be hand picked in our studio and placed loose into a sterling silver or 22 carat gold plated sterling silver amulet on a short length chain. You can also chose engravable options.
VIEW NOW: Mixed small necklace
Gold plated Turquoise (December) Birthstone ring
£195, Alex Monroe at Liberty
Hannah Hughes is Group Fashion Editor at Future Publishing. Her work appears in woman&home, Woman, Woman's Own, and Woman's Weekly magazines.

She is a fashion creative with over fifteen years of solid experience in editorial, commercial, and celebrity styling. She has an in-depth knowledge of the luxury, mid and high-street fashion sectors, which she developed over a decade spent as Fashion Director at some of the UK's most widely read women's magazines, including You Magazine and Look Magazine.