Best winter coats for women to see you through a cold spell in style
Want to know which brands are stocking the best winter coats? Well, you've come to the right place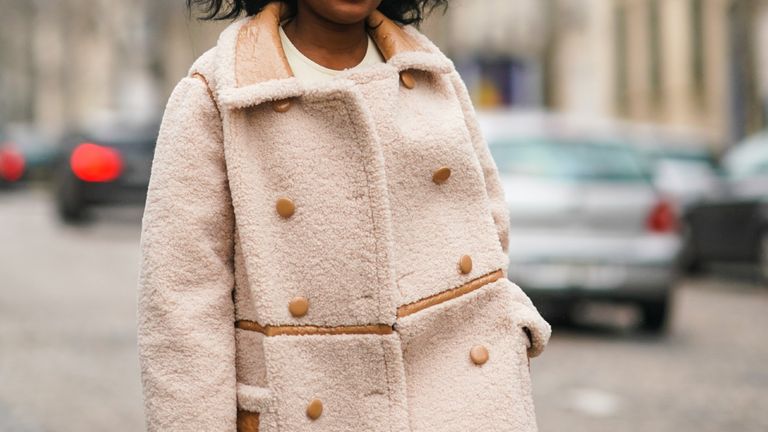 (Image credit: Getty)
The best winter coats are an investment, both in terms of style and money. Pick well, and you'll be both snug and stylish for years to come. Choose badly, and your new buy is likely to have ended up on the charity pile by the time the next big freeze comes around.
So, whether you want to snap up an elegant camel number or keep the elements at bay with a practical parka, we've got you covered with our guide to the best winter coats. 
Much like your trusty best jeans, there are certain types of coats that you can guarantee will be in fashion year after year: the transitional trench, the snuggly duffle, the best parkas, and the tailored wool coat, to name just a few.
Then, there are the warmest winter coats that we return to coldspell after coldspell – your puffer, your ski jacket, your heavy-duty raincoat. All you need to do is add a pair of the best walking boots and you've got your outdoor look covered.
Little tends to change when it comes to the best winter coats trends, but a couple of new ones have emerged lately:
Long leather coats – Leather (real or faux – the choice is yours) is no longer reserved just for bikers and has been translated into longer-line, belted silhouettes.
Teddy bear coats – The obsession with teddy bear coats shows no signs of slowing. Fully embrace the trend with an oversized cosy style or simply nod to it with a statement collar or snuggly lining.
How we selected the best winter coats 
With more than 25 years of fashion editorial experience between us, the three most shopping-obsessed members of the w&h team put our heads together to brainstorm the brands that first sprung to mind when we thought of a particular type of popular coat. 
Then, we widened the net. We asked friends, family and fellow experts (read: anyone who would listen) to let us know which coats brands they really rated. We even looked at Google search data to see which brands people are most interested in buying. 
Next up, we got in touch with our contacts and got our hands on the coats to give them a test run. We literally looked at hundreds. 
We're confident that our edit of the best winter coats will ultimately help you decide what to spend your hard-earned cash on.
The overall best winter coats 
To make browsing the best winter coats that bit easier, we've narrowed them down into key types of outerwear. 
Warmest winter coats
1. Regatta Women's Voltera II Waterproof Hooded Heated Walking Parka
The best heated coat
Reasons to buy
+Three heat settings to choose from+Heated panels last for up to six hours 
Reasons to avoid
-Power bank not included
Launching in 2019 to sell-out success, Regatta have recently extended their range of heated coats to include short quilted and waterproof active jackets. A thoughtful touch, but we think if you're splashing out on a heated coat, you're likely to want to go the whole hog with a longline parka – hence why the Voltera II has taken our top spot. 
So, just how does a heated coat work? This one has heated panels strategically placed around the back and chest, providing you extra warmth where you need it most. They're powered by rechargeable copper and you can choose from three different heat settings, depending on your needs. Once activated, they'll keep you toasty for up to six hours. It's worth noting that the power bank is not included, so you'll need to buy that separately before taking your new winter coat for its first spin. 
The rest of this parka is pretty impressive, too. The fabric is not only breathable, but water-repellent, protecting you from all weather conditions. Lightweight insulation will help you avoid a bulky look without compromising on performance. Even better, this coat is machine washable up to 30°C, as long as the power bank has been removed. 
2. Land's End Thermoplume Fleece Lined Coat
Best fleece-lined coat
Reasons to buy
+Cruelty-free alternative to down+Lightweight 
Reasons to avoid
-Can come up a little small 
One of Land's End's best-selling styles, this cosy coat has been reintroduced in fresh new colourways. So, what makes it so popular?
Thanks to a snuggly fleece lining and a layer of Thermoplume – a lightweight, synthetic alternative to down – it works to keep you nice and snug, without adding too much bulk to your frame. 
It's water-resistant and windproof too, with a chill-beating stand collar and hood, ensuring you stay warm and dry, whatever the forecast. Wear without the faux-fur trim for a simple look or add it on for a stylish touch.
Pockets at the hips come complete with concealed zips, while the interior chest pocket closes with a series of poppers. Especially handy for dog walkers, they're big enough to store all your essentials. 
3. Gloverall Women's Original Duffle Coat
Best duffle coat
Specifications
RRP: £399
Size range: 6-22
Reasons to buy
+Inclusive sizing +Available in six different colours 
Reasons to avoid
-High price point-Not vegetarian-friendly
Who better to buy your winter coat from than the brand that has supplied duffle coats for the British Winter Olympics team? Launched nearly 70 years ago, Gloverall has a long history of keeping us snug.
Their signature is the original duffle coat, and the original style is packed full of features that would make Paddington Bear proud. 
Practical pockets make room for all your essentials (whether they include marmalade sandwiches or not), while the built-in hood can be tightened or loosened with a button fastening for a weather-proof fit. 
Heavy and oversized, you know this is a coat that's going to keep you warm as soon as you shrug it on and there's plenty room for layering extra knits beneath it, too. If, like us, you love the retro look of a duffle coat, prepare to fall hard for the heritage tartan lining.
The toggles are made from Buffalo horn and the fastenings from leather, which may be a problem for vegetarian shoppers. 
Smart winter coats
Best wool coat
Reasons to buy
+Quality fabric+Inclusive sizing 
Reasons to avoid
-High price point
Beautifully tailored and complete with a royal seal of approval, the Hobbs Tilda coat, is high on our wish-list. 
Trends come and go, but investing in a gorgeous wool winter coat will always remain a sensible decision – and you can make that decision even smarter by buying yours from Hobbs. 
The price tags are high, but easy to justify, thanks to the high wool content. Chosen by Hobbs for its natural, breathable properties, wool works to both keep you warm and regulate your temperature, for comfortable wear without any extra padding or bulk. It's no wonder the Duchess of Cambridge is a fan of Hobbs' woollen outerwear offering. 
All of Hobbs' wool numbers are covetable, but the tailored Tilda has is ticking all our boxes this season. Structured seams create a feminine silhouette and work beautifully with the gently padded shoulders. A prime example of Hobbs' immaculate attention to detail, look out for the colour-matched piping and contrast undercollar. 
See our full Hobbs coats review 
Best funnel-neck coat
Reasons to buy
+Sustainable fabric choice+Classic design with a twist 
Reasons to avoid
-Slightly confusing sizing system
Luxe detailing makes all the difference here, elevating Ted Baker range of coats from the rest of the high street.
Easy to spot, thanks to a few signature flourishes, you can expect gold-plated metalwear, luxe silky linings and romantic florals from Ted Baker's coat collection. From puffers to macs, every piece has been carefully finished with real attention to detail. 
Effortlessly elegant, a funnel-neck coat will not only stand the test of time, but negates the need for a scarf, too, meaning one less thing to worry about when you're rushing out the door. 
If you're in the market for a coat in this style, Ted Baker's Rose Wrap Coat, is a beauty. Crafted from a strokable wool and cashmere blend, it's both soft and structured all at once. Gold-plated tabs across the belt and neckline work in tandem with the silky contrast lining to add a little extra glamour. Wear wrapped up to keep the warmth in or leave open for a more relaxed feel. 
See our full Ted Baker coats review
Stylish winter coats
Best shearling coat
Reasons to buy
+Unique style +Good mix of brights and neutral colorways
Reasons to avoid
-Expensive price tag
Whistles signature move is taking classic styles and shapes and giving them a modern refresh. In fact, they describe their clothing as fashion that's "throw on but never throwaway". A shopping mantra that's music to the ears of anyone trying to make more planet-conscious purchases.
All of their coats are what we would consider statement pieces, the kind that will spark joy (and compliments!) every time you wear them. Whether it's a classic wrap coat complete with added fringing or a simple woollen number in an unexpected colourway, these are pieces you won't find anywhere else on the high street.  
We've fallen hard for Whistles' shearling collection and, more specifically, the Whistles Hema coat. 
Crafted from a patchwork of different textured sheepskins, it feels edgier than the average fur or shearling coat. Deliciously soft, shaggy and fluffy, the high quality justifies the price tag and gives it the potential to become a much-loved hand-me-down piece. One of the best winter coats you could invest in. 
See our full Whistles coats review
Best teddy coat
Reasons to buy
+Wearable style+Quality fabric
Reasons to avoid
-High-end price tag
The Reiss brand started life as a menswear-only tailoring brand and it was nearly 30 years before they expanded into womenswear. They might have been biding their time on the launch, but it did mean they had a wealth of experience to bring when they did.
That influence is still clear to see today, with their latest collection brimming with smart, sophisticated coats designed with real figures in mind. 
Helping to max out your cost per wear, Reiss favours a muted colour palette of mainly creams and camels for their best winter coats, peppered with a few classic greys and black. 
A perfect example of how Reiss dips their toe into current trends without conforming to them, their Sky Teddy Coat, is a grown-up take on the fuzzy teddy bear coats that have dominated the high street in recent years. Crafted from a tactile wool blend, wide lapels and an oversized fit give the double-breasted design a fresh feel. 
See our full Reiss coats review 
8. Mango Classic Belted Trench
Best trench coat
Specifications
Coat collection size: 90+
Size range: XS-XL
Starting price point : £49.99
Reasons to buy
+Affordable pricing+Trend-led style
Reasons to avoid
-Can sell out quickly 
Fashion-forward design at prices that won't break the bank, Mango has never let us down. If you're after trend-led, catwalk-inspired clothing at high-street prices, give Spanish brand Mango a visit.
Alongside their freshly launched pieces, there are the classic styles that are reinvented season after season, and one of those is the trench coat. 
The number of trenches available on the Mango website varies depending on the season, but you can expect to find at least a couple of options at any given time. 
This season, our top pick is Mango's Classic Trench. Boasting a long-line design that's almost floor-skimming for petites, the slightly oversized shape makes it a great layering piece – especially handy in between seasons. 
Water-repellent fabric helps showers to slide off your shoulders, while the belt-buckle fastening will keep you warm. Grey or khaki, the choice is yours. 
Waterproof winter coats
9. Seasalt Plant Hunter Coat
Best waterproof coat
Reasons to buy
+Inclusive size range +Fully water and windproof 
Reasons to avoid
-Comes up a little small across the shoulders 
Letting you go brolly-free with confidence, Seasalt's Rain collection will keep you dry in any downpour. The Seasalt brand started life on a drizzly day in Penzance, Cornwall, back in 1981, so we know we can trust them to deliver when it comes to the best winter coats that are not only warm, but waterproof too.
In fact, they've even dedicated an entire section of their website to their Rain range. From lightweight macs that can be easily folded into a teeny-tiny bag through to snuggly padded numbers, you're sure to find something to suit your needs.
Their bestseller, with more than 1,000 five-star reviews on their website, is the Seasalt Plant Hunter Coat – and for good reason.
It's made from a soft, cotton-rich fabric that has been treated with a waterproof coating to keep you nice and dry. The seams are sealed, too, so there's no chance of even a drop of rain seeping through. Fleece-lined across the top and hood, the bottom half is quilted to keep the chill out.
From that description, you might imagine this is a heavy, cumbersome piece, but far from it. We were pleasantly surprised by just how lightweight it feels. 
10. Hunter Women's Original Insulated Parka
Best parka
Reasons to buy
+Can be worn in temperatures as low as -25°C+Fashionable design 
Reasons to avoid
-Quite heavy 
Best known for their high-end wellies (did you know they hold the Royal Warrants of Appointment for both HM The Queen and HRH The Duke of Edinburgh?), British brand Hunter knows a thing or two about shielding us from the elements. Which is why they're one of our go-to brands for the best winter coats. 
Their Original Insulated Parka features a drawstring hood, adjustable snap cuffs and inner sleeve cuff gaiters to make sure not even a whisper of wind can make its way in. Seeing off the chill in temperatures as low as -25°C, it can double as a ski jacket, too.
This is where the breathable fabric really comes into its own, evaporating sweat away from your body as you swoosh your way down the slopes. Sealed seams stop rain, snow or even spills from seeping through. 
Proving that functional clothes needn't look functional, this high-tech parka is a treat for the eyes, too. Choose between off-white, grey and black, complete with contrast stitching, depending on your style. 
Best winter jackets
11. Topshop Vinyl Belted Shacket
Best faux-leather coat
Reasons to buy
+Affordable price+Trend-led design 
Reasons to avoid
-Can sell fast
Topshop doesn't just follow trends – it creates them. Shop the range via ASOS for a standout winter coat and wait for the compliments to roll in. 
There are two big outerwear trends to know about at the moment. One of them, as we mentioned above, is long-line real and faux leather, and the other is the shacket. Not sure what a shacket is? It's half jacket, half shirt, making it a handy, lightweight piece for navigating awkward, in-between weather days.
The clever folk at Topshop have managed to nail both trends in one fell swoop with their Vinyl Belted Shacket.
A very attractive dupe of some far pricier designer coats we've spotted, it's an easy way to elevate your everyday outfits. By nipping in your figure in the middle, the tie belt creates an exaggerated waist for a really feminine silhouette. 
We know this trend isn't for the fashion faint-hearted, so if you're cautious about giving it a go, dress down with neutral pieces like a pair of straight-leg blue jeans and a high-neck cream jumper.
Best leather jacket
Reasons to buy
+Quality fabric +Gets better with age
Reasons to avoid
-Limited sizing
Ask any fashion lover where to buy a decent leather jacket and we can guarantee that All Saints will be one of the first brand names to leave their lips.
Leather bikers are All Saints' speciality, with at least ten different styles on their website at any one time. If you're fussy about the little details (length, hardware or cut), there are plenty of variations to choose from. 
But no matter the style, you can guarantee three things: 
1. That the leather will be buttery soft and smooth. 
2. That your jacket will only look better the more you wear it.
3. That this is a timeless piece you'll be returning to for years to come. 
If you're buying for someone else or making your first foray into the world of leather jackets, All Saints' bestselling Balfern, is a guaranteed crowd-pleaser. A true biker, it features a cool, waist-whittling belt and lashings of metal zips and hardware. 
See our full All Saints leather jacket review 
13. The North Face Women's Thermoball Eco Jacket
Best activewear jacket
Reasons to buy
+Lightweight+Impressive eco-friendly credentials 
Reasons to avoid
-Form fit can make layering tricky
Active types, listen up! There's nothing worse than hiking your way to your destination only to find you're too cold to enjoy the view when you get there. 
So compact it can be easily folded into its own pocket, this jacket is the lightweight solution to plummeting temperatures and scattered showers. The durable water repellent finish provides protection from the elements, while the synthetic filling works hard to reduce heat loss. 
We love a pocket (who doesn't?) and this boasts three of them – one on the chest and two helpful hand pockets. Elasticated cuffs and hemline not only make for a flattering fit, but will keep you warm, too. 
If that wasn't enough, both the fabric and insulation of the jacket are made entirely of recycled polyester – a guilt-free buy for anyone trying to make more sustainable fashion choices. 
Jess Beech is an experienced fashion and beauty editor, with more than eight years experience in the publishing industry. She has written for woman&home, GoodtoKnow, Now, Woman, Woman's Weekly, Woman's Own and Chat, and is currently Deputy Fashion & Beauty Editor at Future PLC. 
She caught the magazine bug during a stint as Fashion Editor of her university newspaper alongside her English degree, and hasn't looked back since. As for the fashion bug, that came as part and parcel of growing up in the 90s, but the less said about that the better!
Jess' average day in the office is spent researching the latest fashion trends, chatting to industry tastemakers and scouring the internet to bring you this season's must-buy pieces - as well as advice on how to wear them. Weekends are equally fashion-focused, and Jess has been known to visit no less than five Zara stores in a single day in search of the perfect occasion dress. 
The only thing that comes close to a buzz of finally tracking down that much-coveted dress is the joy of discovering a new beauty wonder product or hero ingredient. A beauty obsessive, Jess has tried everything from cryotherapy to chemical peels (minus the Samantha in Sex and The City-worthy redness) and interviewed experts including Jo Malone and Trinny Woodall.