What is shea butter, and what are the benefits?
Here's why shea butter is a bathroom cabinet staple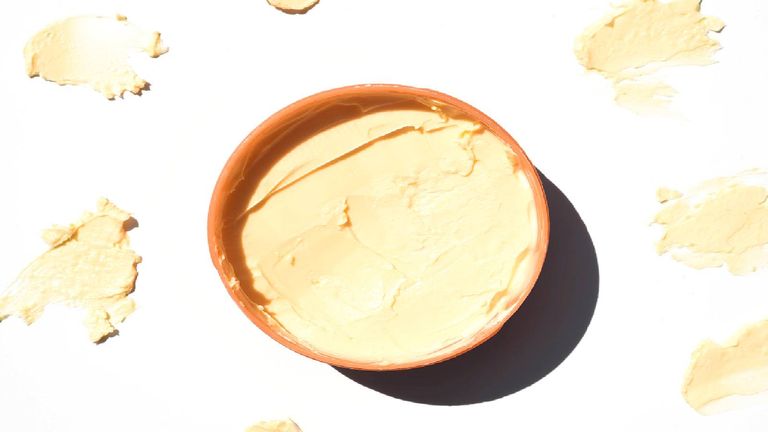 (Image credit: Getty Images)
Shea butter is a popular ingredient in health and beauty products. It's commonly known for its potent moisturizing capabilities. It also offers a number of great benefits to your hair, skin, and nails, from improving their overall appearance to easing the visibility of fine lines, stretch marks, and more.
What is shea butter?
Shea butter is extracted from the nuts of the shea tree. Its natural form is a creamy off-white or ivory color, though it often gets dyed yellow with added palm oil. It has a high concentration of vitamins and fatty acids, and since its introduction to the West from its native home of Africa, beauty enthusiasts and wellness experts can't say enough about its healing properties.
Benefits of shea butter
Shea butter has a number of key benefits that show results pretty immediately. This creamy butter is another excellent way to integrate natural products into your everyday beauty and wellness routine. Experts and users love it for the following reasons:
It is anti-inflammatory and promotes strong antioxidant activity due to its high levels of vitamins A and E.
Shea butter has a high concentration of fatty acids and vitamins that soften, soothe and condition skin and hair.
It's highly moisturizing and works well with all skin types. You can apply it to your face, lips, body, and cuticles.
While it's not the cheapest item on the shelf, it's widely accessible due to its growing popularity.
Shea butter side effects
While the overwhelming experience of users with shea butter is positive, some minor side effects have been reported, like increased acne for some people. As a good rule of thumb, always test any new beauty product carefully before adding it to your routine.
When to use shea butter (and when not to)
If you're interested in adding shea butter to your routine, there are several ways you can use it effectively. Many products currently on the market already have shea butter added in, which can make it easier for you to get started, or you can buy it in its raw form and mix it into the products you're already using. Shea butter can:
Help heal scars and stretch marks. Scar tissue is made up of a specific type of cell called a keloid fibroblast. Shea butter can, in some cases, help prevent those cells from replicating. Since it also encourages the regeneration of healthy cells, it can, over time, help lighten the appearance of scars and stretch marks on your skin. Of course, you'll need to use it consistently to see these results.
Improve acne. Shea butter contains a number of essential fatty acids. It can help strip oil away from the skin, which is a critical step in decreasing acne production. Many acne products strip the moisture away from your skin along with the oil, leaving it dry and unbalanced and causing your skin to increase overall sebum production to compensate. As a result, some products that claim to reduce acne can actually increase it instead. Shea butter, on the other hand, maintains the moisture balance of the skin.
Offer anti-aging benefits. Shea butter can help increase collagen production in the skin, which can, in turn, help the skin look plumper and decrease the appearance of fine lines and wrinkles. Locking in natural moisture also helps brighten skin and make it look and feel its best. Many people tout it as an anti-aging product that helps them look younger, especially with regular use.
Improve the appearance of your hair. It can help soothe your scalp, treat dandruff, and make your hair stronger, which can help prevent it from breaking. It locks moisture into your hair, which can help treat dryness. Many users find that it also reduces split ends. It doesn't feel thick or greasy, and it can help protect your hair against heat exposure.
Shea butter is very healing, but it's best to avoid using it near or on an open wound.
Shea butter is technically a tree nut product. Formulas with shea butter contain relatively low levels of the compounds that commonly trigger an allergic response, but people with nut allergies should exercise caution. See a doctor if you notice any signs of an allergic reaction.
How to use and apply shea butter
Shea butter is a relatively easy product to use, where a direct application is often the best way to enjoy its many benefits. You can also combine shea butter with your current products to increase their moisturizing benefits. Here are some easy ways to add shea butter to your beauty routine:
On your skin, apply liberally and massage until it is absorbed. In colder, dryer climates, reapply more frequently to help your skin retain its moisture content.
Many women choose to use shea butter during and after pregnancy to help improve skin's elasticity and reduce the look of stretch marks. Massage shea butter around your entire stomach daily or when you feel any tightness.
For wound healing and scarring, apply shea butter in a thin layer. Make sure there are no open wounds before you apply.
For a hydrating hair mask, apply shea butter liberally to damp, clean hair. Let sit for 10 to 15 minutes before rinsing.
With so many benefits and applications, this versatile butter has been topping health and beauty lists for years. It's an essential product for any wellness regimen, so grab a jar and find out what all the hype is about.
Eunice Lucero-Lee is the Beauty Channel Editor for woman&home. A lifelong creative writer and beautyphile, she graduated from De La Salle University in 2002 and was hired a year later to front all beauty coverage for Pink Magazine, a teen lifestyle publication, after submitting a page-long thesis on why Stila was the best brand to come out of the Aughts. She was hired an hour later.
Her writing—which has since then expanded to cover pop culture and astrology, both equal passions—led her to spearheading columns in Chalk Magazine, K-Mag, Metro Working Mom, and SugarSugar Magazine. Upon receiving her stripes at New York University's Summer Publishing Institute in 2008 she was immediately headhunted to work as the Beauty Editor, thereafter Managing Editor of Stylebible.ph, the digital home of Preview, the Philippines' best-selling fashion magazine, where she also did double-duty as Associate Editor of the print edition.
It was during this stint that the hallyu wave started taking hold and when she was tapped to co-found Sparkling, Asia's first-ever English K-Pop print magazine. Originally planned as a one-off, the project became a runaway hit and saw her taking Korean classes on the weekends for three years, as she found herself frustrated by the lack of breadth translators provided for celebrity profile coverage. She was Editor-in-Chief until her move to New York in 2013. The now-iconic magazine has remained in publication since 2009 due to massive fan support.
A beauty, astrology, and pop culture obsessive and insider for over 18 years, Eunice is an internationally published editor (and now certified astrologer) whose work has been featured in publications such as Cosmopolitan, Esquire, and The Numinous, among many others. The former Editor-in-Chief of All Things Hair and a (very) proud cat mom, she spends her time in Manhattan figuring out the correct Pilates-to-sushi ratio, obsessing over celebrity natal charts, luxury skincare, and Scandi-noir crime procedurals, as well as finding the perfect K-Pop vid to save the day. She can still order drinks perfectly in Korean. Find her on Instagram @eunichiban.