Easy beauty solutions to treat sensitive skin
What causes sensitive skin and exactly how you can fix it...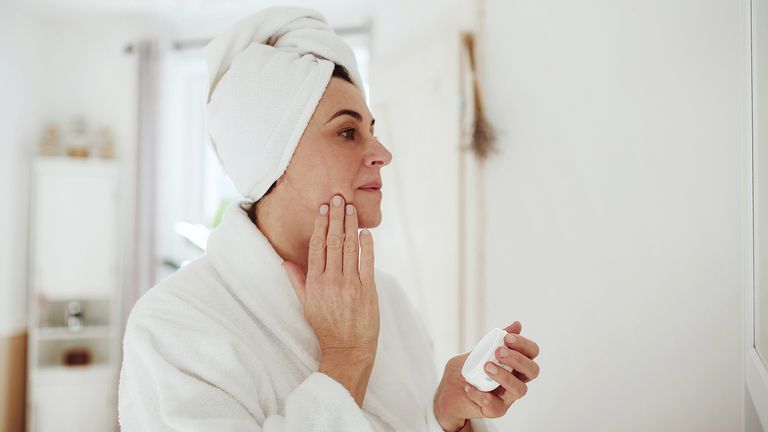 (Image credit: Getty)
If you've got sensitive skin, you don't need me to tell you how uncomfortable it can be.
Studies show that 1 in 2 women identify as having sensitive skin, which can range from reactive redness and a mild intolerance of strong products to skin conditions like eczema and psoriasis.
Despite these seemingly swelling numbers, sensitivity doesn't have to be a terminal problem - once you understand your skin, you can help it to heal itself and feel more comfortable every day.
I caught up with top consultant dermatologist Justine Hextall, who works with sensitive skin experts La Roche-Posay, to find out more...
What causes sensitive skin?
Genetics play their part when it comes to sensitive skin, but so much comes down to the outermost layer of your skin, the skin barrier.
This layer is made up of brick-like skin cells, and mortar - like lipids that hold them together, when everything is sitting nicely this barrier stops hydration getting out and nasties getting in, so your skin stays supple and stress free.
The problems only start if this layer can't do its job properly.
"A healthy skin barrier underpins good skin health, and can help prevent sensitivity," says Justine. "When the skin barrier is compromised, everything can get in - infection, irritation and allergens."
So, what are the triggers? Well it can have to with your mix of skincare ingredients. "Sometimes, it's products like gels, alcohol-based skincare, AHAs and Retinoids can leave the skin really sensitised and dehydrated. You know if something doesn't feel right, if you immediately need to reach for your moisturiser after cleansing, your cleanser is doing something wrong. This can mean trans-epidermal water loss" (where moisture is lost through the barrier being compromised) "and the dryer the skin, the more the inflammatory response. So it's a real cycle. "
Your skin's PH level is one to watch too, it's normally a slightly acidic 5.5, but many soaps, skincare products and household detergents are far too alkaline and can bring on a reaction.
"Bacteria love alkaline skin PH, they will bind to the skin so your natural fats," (those 'mortar' lipids) "don't sit so nicely." says Justine.
You might also have sensitised yourself to a particular ingredient, like the preservative methylisothiazolinon, or MI, which is found in many shampoos and body care products (legally it has to be in a rinse-off product) and had the dubious honour of being crowned 2013 Contact Allergen of the Year by the American Contact Dermatitis Society.
How to calm sensitive skin
Sensitivity is a complex problem, but according to Justine the best things you can do are actually very simple.
Hydrate - "Repair your skin barrier with a good moisturiser containing ceramides for the lipid layer and humectants to hold onto water"
Shower carefully - "Keep your face away from hot shower water, the heat can dissolve the natural moisture layer of your skin, while hard water minerals can affect the skin's PH and shampoo can drip down to your eyes. Wash your face once you get out of the shower to get of the things you might be sensitised to"
Balance your skincare - "Find a balance between active ingredients, like retinoids and ascorbic acid that are very effective, then in between use a really gentle cleanser and moisturiser"
Ditch the wipes - "I'm not a fan! In order to keep wipes not covered in bacteria they have to have preservatives, which can be very sensitising."
Best products to treat sensitive skin
Best sensitive skin cleanser
La Roche-Posay Toleriane Dermo-Cleanser
The entire La Roche Posay Range is worth a look for reliably gentle but effective (and sensibly priced) skincare. This cleanser is particularly lovely, a loose milky fluid that you work in with water and splash away, leaving skin soft and clean with ne'er a reaction.
Best sensitive skin serum
Elizabeth Arden Advanced Ceramide Capsules Daily Youth Restoring Serum
The original and best ceramide skincare, now supercharged and back to help rebuild your lipid layer, keeping skin soft, plumped and comfy. The individual capsules are handy for travel, keep the serum totally clean and bacteria-free and ensure sure you use exactly the right amount.
Best sensitive skin moisturiser
Dr. Dennis Gross Skincare C + Collagen Deep Cream
The original and best ceramide skincare, now supercharged and back to help rebuild your lipid layer, keeping skin soft, plumped and comfy. The individual capsules are handy for travel, keep the serum totally clean and bacteria-free and ensure sure you use exactly the right amount.
As woman&home's Beauty Channel Editor, Fiona Mckim has tried more beauty products than she's had hot dinners and nothing makes her happier than raving about a brilliant find on womanandhome.com or her instagram grid (@fionamckim if you like hair experiments and cute shih-tzus)

Fiona joined woman&home as Assistant Beauty Editor in 2013, working under industry legend Jo GB, who taught her everything she needed to know (clue: learn about ingredients and employ extreme cynicism).
In a previous life, Fiona studied journalism back home in bonnie Scotland and honed her skills as a features writer at publications including Junior and Prima Baby, with a brief and terrifying stint on the showbiz pages of a tabloid newspaper in between. She's a skincare fanatic who can't resist adding an extra step to her routine, adores fragrance, has fun with makeup and never turns down the chance to test a new hair tool. Basically, she loves it all.

When not slathering herself in self tan or peering at a tiny ingredients list on a moisturiser, you'll probably find Fiona enjoying something to do with food - cooking it, eating it, cajoling her friends into trekking across London to try a hyped pop-up in a dirty car park.
Come to think of it, the hot dinners and beauty products are probably about even.