Best long lasting lipsticks—kiss-proof formulas that last all day
The best long lasting lipsticks that stay put for all day glamour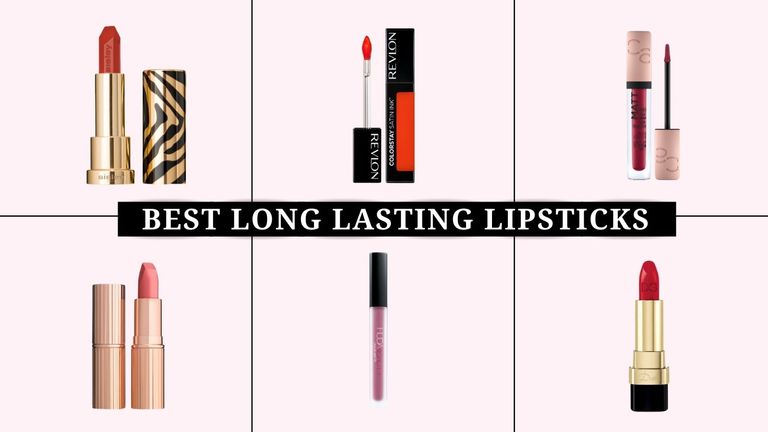 (Image credit: Future)
By Emma North
The best long lasting lipsticks are smudge-proof, transfer-resistant, and last all day. We've tested everything from liquids to stains, and found the best ones you can rely on.
Finding the best long lasting lipstick that suits you is no small feat. But, just like finding the the best foundation or the best cream blush, once you find your holy grail, you'll fall head over heels. 
Beauty brands make huge claims about their long lasting lipsticks, from 16-hour wear to completely transfer and water-resistant formulas, but it's tricky to know which ones live up to the hype. To bring you the ultimate in foolproof formulas, we put these long wearing lipsticks to the test and found the long-lasting lipsticks that really go the distance.
What to look for with long lasting lipstick
Although sheer, barely-there balms and sparkly lip glosses have their place in our make-up bags, when you need your lip color to last, a long-wearing formula can't be beaten. And obviously, the best long lasting lipstick is one that's going to last all day and night! Through brunch, dinner, and drinks, a long lasting formula should stand the test of time whether you're eating, drinking, singing, or kissing.
Most long-wear formulas tend to be a matte texture as they don't slide around like creamy satin finishes. Of course, there are exceptions with satin lipsticks that have been developed to last (and you'll find some in our round-up) but in general, a matte formula is your safest bet. But matte textures tend to be drying on the lips which is why it's important to look for a comfortable formula that makes it a pleasure to wear.
Another thing to look out for is color pay-off and ease of application. Lipsticks often fade with wear, but find one rich in pigment and you shouldn't need to reapply. A formula that coats the lip in color with one swipe should also be on your radar. These tend to last a lot longer than a sheer lipstick which often disappears with one lick of the lips. Knowing how to stop lipstick bleeding and feathering with a lip pencil first can also make a huge difference to the longevity of your look. 
The best long lasting lipsticks, as chosen by our experts
1. MAC Retro Matte Liquid Lipstick
Best long lasting lipstick for bold color
Specifications
RRP: $22/£19
Shades: 12
Finish: Matte
Reasons to buy
+Intense pigment+Long wearing+Easy to apply
Reasons to avoid
-Drying -Limited shades
Calling MAC Retro Matte Liquid Lipstick bold would be an understatement. The pigment-rich formula and ultra mattifying texture make this lipstick a must-have for confident women looking to make a statement with their makeup. 
It's not for the faint-hearted but the range of bright colors will suit every skin tone and the color payoff is incredible—one swipe of the wand and your lips are coated in rich, opaque color that won't fade. The drawback? It's a little drying on parched lips. Make sure you're priming your lips with a lip scrub and balm before applying, this will leave your lips hydrated for more comfortable wear. 
As for the longevity, MAC claims this lip color will last for up to 8 hours; after putting it through its paces with a day involving a lot of eating and drinking we can certainly confirm. The only area we found a little bit of fading is the middle of the bottom lip. Drinking hot drinks and licking your lips might cause the product to lift off, so if you plan on sipping coffee all day, you might want to pack this in your purse for touch-ups. 
2. Dior Rouge Dior Forever Liquid Lipstick
Best long lasting lipstick for a fade-proof finish
Specifications
RRP: $38/£32
Shades: 10
Finish: Matte/satin
Reasons to buy
+Excellent pigment+Doesn't fade+Comfortable to wear
Reasons to avoid
-Pricey-Limited shades
Promising a huge 12 hours of optimal color without compromising on comfort, Dior Rouge Dior Forever Liquid Lipstick has a lot to live up to. This luxurious addition to our top ten proved incredible staying power and lasted well into its 12-hour claim without transferring or smudging.
However, we did notice that after wearing for 9/10 hours and eating and drinking regularly, the product would fade a little from the center of the lips so if you're looking for a bulletproof formula, you may want to consider something else. 
Although it's not quite as hardy as it claims, the feel of this liquid lip makes up for it. It feels silky on the lips, it glides on effortlessly and after 15 seconds, dries down to a matte texture with a little luminosity. It's lightweight, comfortable, and a pleasure to wear which we think, warrants the expensive price tag.  
3. Charlotte Tilbury Matte Revolution Lipstick
Best long lasting lipstick for easy application
Specifications
RRP: $35/£25
Shades: 15
Finish: Matte
Reasons to buy
+Easy to apply+Long lasting color
Reasons to avoid
-A little drying 
Since her launch in 2016, Charlotte Tilbury has taken the beauty world by storm and her Matte Revolution Lipsticks have been one of her most popular products. For good reason. 
These gorgeous lip colors come in 15 shades and we think they should be your go-to for flattering reds to suit all skin tones. From deep burgundy shades to bright fuchsia reds, you'll find one to suit you.
In terms of texture, the bullet itself makes it easy to apply on the go and can be thrown in a handbag for quick touch-ups. There's some slip upon application, giving you time to perfect before it dries down to a matte finish. 
The staying power is brilliant for a lipstick that feels comfortable on the lips. It didn't quite live up to the 10-hour claim it makes when we tried it (more like a good 7 hours of touch-up free wear!) but it didn't leave our lips feeling parched or flaky! 
4. Dolce & Gabbana Dolce Matte Lipstick
Best long lasting lipstick for reds and pinks
Specifications
RRP: $42/£30
Shades: 24
Finish : Velvet matte
Reasons to buy
+Smudge-proof+Creamy texture+Intense pigment
Reasons to avoid
-Pricey-Limited shades
If you haven't found your signature shade of red lippie, give Dolce & Gabbana Dolce Matte Lipstick's your attention, now. The creamy, pigmented formula of these lip colors makes wearing a vibrant red easy and comfortable. 
The firm but buttery texture of the bullet applicator makes them a cinch to apply and you can really get the densely pigmented color to the corners of the lips without making a mess. 
For a matte lipstick that does have a little bit of a sheen, the longevity is second to none. It lasts well but if you're eating and drinking, keep it in your purse for touch-ups. 
5. Catrice Matte Pro Ink Liquid Lipstick
Best budget long lasting lipstick
Specifications
RRP: $7/£4.99
Shades : 10
Finish: Matte
Reasons to buy
+Affordable +Pigmented color
Reasons to avoid
-Limited shades
Our budget-friendly option is Catrice Matte Pro Ink Liquid Lipstick, and at less than $8 it's unbeaten in price. But does this mean compromising on wear time? According to our tester, absolutely not. 
The formula itself is full of hydrating moringa butter and applies smoothly to the lips, giving incredible color pay-off. Initially, it feels like silk before quickly drying down to the ultimate matte texture. 
This liquid lip boasts a wear time of 12 hours and while it didn't quite meet that claim, it was impressive none the less. Through eating and drinking, the color stayed put without leaving lips feeling parched. 
If you're looking for an affordable, long wearing lip color, give Catrice a go. 
6. Huda Beauty Liquid Matte Lipstick
Best liquid long lasting lipstick
Specifications
RRP: $25/£18
Shades: 24
Finish: Matte
Reasons to buy
+Huge shade range+Non-transferable formula+Intense pigment
There's no disputing Huda Beauty Liquid Matte Lipstick's have dominated the long lasting lipstick market since their launch in 2016 but, can they really live up to such high expectations?  
Firstly, the shade offering is huge and we commend any brand that values inclusivity in their products. There's 24 to pick from so you're sure to find a color that complements you. With pigment that really delivers intense color and gives completely opaque covering in one application, it's easy to see why so many love them. 
Next up, longevity. After applying the light feeling formula to the lips, we found them not only incredibly long lasting but completely transfer-resistant (great for when you're wearing a face covering or mask!) They held up for a large portion of the day with minimal fading after eating and drinking but if you're pernickety about having a flawless finish, keep it with you just incase. 
7. NARS Audacious Lipstick
Best long lasting lipstick for comfortable lips
Specifications
RRP: $34/£26
Shades: 20
Finish: Satin
Reasons to buy
+Hydrating formula+Good shade range+Pigmented 
Reasons to avoid
-Pricey-Not as long wearing as a matte texture
Not everyone will like the feeling or look of a matte lipstick formula and that's why NARS Audacious Lipstick has made our top ten. This creamy, buttery textured lipstick offers more of a sating finish with subtle sheen that looks natural. 
We can attest to the fact that although this isn't the most long lasting lip product in the world, it does a great job of staying put for an acceptable length of time. But, if you're looking for a satin lipstick for all-day wear we suggest keeping it with you as you may need to reapplying every few hours, especially if eating and drinking. 
The pigmented bullet is certainly high impact and delivers on color and the shade range is brilliant, with something for everyone. 
8. Revlon ColorStay Satin Ink
Best long lasting lipstick for all out glamour
Specifications
RRP: $14/£9.99
Shades: 6
Finish: Satin/Shine
Reasons to buy
+Hydrating formula+Affordable+Long wearing
Reasons to avoid
-Messy to apply-Limited shades
If you want vivid color and a long lasting formula with incredible shine, look no further than Revlon ColorStay Satin Inks. The latest launch from Revlon are some of their most bold lip products yet and give punchy color that's not going anywhere. 
Although the satin finish gives shine, because they are 'inks' they really stain your lips. The color does not come off (seriously, when you want to eventually wash it off, have an oil cleanser handy to make sure you can!), resulting in budge-proof finish that lasts.  
The downside of these is the shade range. Just 6 shades mean you may struggle to find a color to suit you so, although they're brilliant and purse-friendly, we need more options, Revlon. 
9. Sisley Le Phyto Rouge Lipstick
Best long lasting lipstick for balm-like texture
Specifications
RRP: $57/£41
Shades: 24
Finish: Satin
Reasons to buy
+Cares for lips +Hydrating+Pigmented color
Wearing long lasting lipsticks can often mean dry, flaky, and uncomfortable lips but not with Sisley Le Phyto Rouge Lipsticks. The sumptuous and creamy formula of these balm-like colors are incredibly easy to wear and has a fantastic shade offering. 
Packed full of hydrating hyaluronic acid, they're instantly plumping on the lips and feel like you're just wearing a nourishing lip balm. 
They last well through lots of talking and lip licking but because they're more creamier than a matte, you'll need to reapply when it eventually fades. 
They're a fab lipstick that caters to everyone but you'll pay the price. The hefty price tag is substantial but if you can afford it and you're looking for a satin lipstick that goes the distance, try these. 
10. Clarins Joli Rouge Lipstick
Best long lasting lipstick for classic color
Specifications
RRP: $31/£22
Shades: 22
Finish: Satin
Reasons to buy
+Comfortable+Intense color+Long wearing for a satin texture
Reasons to avoid
-Not as long wearing as a matte texture-A little sticky
With claims of a 6-hour wear time, Clarins Joli Rouge Lipsticks are the cult classic that make a great addition to any makeup bag looking for incredible, long lasting lip products that feel comfortable.
Creamy, smoothing, and nourishing on the lips, they're very easy to wear for an extended period of time. But, because of this hydrating formula, you may find that they feel a little sticky and tend to fade from the center of the lips when eating and drinking—quick touch-up and you'll be back to glam!
How to apply long lasting lipstick
The trick to applying a long lasting lipstick is to prepare your lips from the beginning. Start off by using a lip scrub to buff away flakes and any uneven texture. This creates a smooth canvas for your lipstick to adhere to. Think of it like painting a fence—you wouldn't paint straight onto the raw wood, you'd sand it down until it was smooth, then add a primer before your color. 
Your 'primer', in this case, takes the form of your best lip balm that will nourish away dryness and keep your lips comfortable, especially if you're wearing a particularly matte texture. Applying a lip balm underneath will also mean that you won't feel the need to lick your lips as often and therefore, you'll have much longer lasting color (it will also stop your lips from staining and make it much easier to remove when you eventually want to wash it off!)
Another great and time-old beauty technique for giving your long lasting lipstick its best shot is to apply one coat, blot with a tissue, then apply another coat. This layers your color and results in a much longer wear time. Our grandmothers were onto something.
Emma North is the Beauty Writer at Future Publishing working across print and digital titles including woman&home, Woman, Woman's Weekly, Woman's Own, Chat and GoodtoKnow. 
Before pursuing a career in beauty journalism, Emma worked as international cabin crew for over 4 years. Travelling around the globe and working night flights across several time zones at once, she is the perfect person to judge whether makeup and skincare claims actually hold up. If you want to know which foundations last 18+ hours or how to keep your lipstick looking flawless in 40º weather, she's your go-to girl. 
Emma's flying career came to an end when she realised that beauty journalism was her true passion and she undertook internships across publications including Vogue, Elle, The Telegraph and Glamour. She was then taken under the wing of Funmi Fetto, Contributing Beauty Editor at Vogue where Emma assisted with Funmi's debut beauty book, Palette. 
Her big passion is finding truly beneficial skincare but, when she's not testing out the latest products, you'll find her trying to muscle her way into London's best restaurants or relaxing at home in Devon with her dogs.