The best hair styling products for your most amazing blow-dry yet
Enhance and improve your blow-dry results with the best hair styling products for your desired texture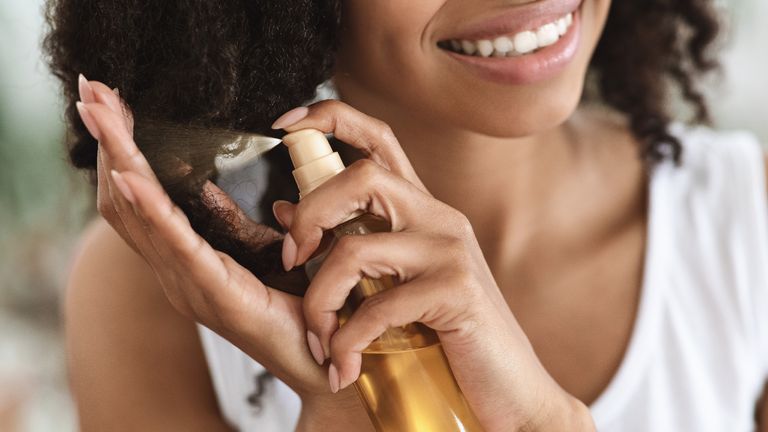 (Image credit: Getty)
The best hair styling products can range from serums and sprays to creams, lotions, and balms. There are so many offerings out there that choosing the right ones to use, particularly for your hair type, can be quite the challenge.
The funny thing with hair is only a tiny percentage of women are actually 'born with it' (you know the ones—all effortless shine and bounce). As for the rest of us, we work to fake it: hot irons, sprays, time spent blow-drying and backcombing. Sometimes the battle feels barely worth it.
But it is worth persisting, as along with the best hair dryers and the best heated styling tools, the best hair styling products can truly enhance your styling experience, not to mention make the most of your finished look. Whether you're looking for the secret weapon to shine or the product that helps you air-dry without frizz, this guide will help you get to know the best products for you while caring for your crowning glory at the same time.
The best hair styling products
(opens in new tab)
1. John Frieda Frizz Ease Original
Best hair styling product for smoothness
Classic-for-a-reason John Frieda Frizz Ease is, we're guessing, the secret behind every shimmering mane in any and all hair commercials. This silicone-based serum effectively—albeit temporarily—coats strands for serious shine and stop moisture getting in or out, killing frizz.
Ed's note: While a hair serum can indeed be the difference between smooth and frizzy, hair health is also always key (trim off split ends, use heat protection when styling with heat) and the rest comes down to your cuticles, which need to be smooth and unruffled to reflect light.
(opens in new tab)
2. Living Proof Full Thickening Mousse
Best hair styling product for body
Bad memories of crispy '80s hair? Modern formulas give all of the volume with none of the crunch. Living Proof Full Thickening Mousse offers serious body and bounce with a featherlight, flexible feel.
A-list stylist Larry King says, "I love mousse—I put it on 90% of people, both men and women." No wonder he's keen: The good old foamy stuff bulks out every single strand, so hair immediately feels thicker, plus holds volume and root lift like nothing else.
(opens in new tab)
3. L'Oréal Professionnel Tecni.ART Pli Thermo-Modelling Spray
Best hair styling product for hold
Blow-drying products worked into damp hair add structure, versus that gunky, tacky feeling of adding them in when hair dry. L'Oreal Professionnel Tecni Art Pli is a fine spray with superlative hold. Its style-shaping powers are proven by the fact that it's used so often during Fashion Week, it's practically the official scent backstage.
(opens in new tab)
4. Vita Coco Organic Cold Pressed Extra Virgin Coconut Oil
Best hair styling product for sleekness
Sometimes the best styling results come from the unlikeliest sources, such as consultant trichologist Sally-Ann Tarver's tip for parched hair.
"If your hair is feeling dehydrated, take a handful of solid coconut oil (the stuff used in cooking), melt it by rubbing it in your hands, smooth through and leave it on overnight. Wash and dry the next day and it will look sleek and shiny for the next few washes." Vita Coco 100% Organic Unrefined Coconut Oil is as fundamental—and versatile—as it gets.
(opens in new tab)
5. Color WOW Dream Filter
Best hair styling product for shine
While a heated styling tool like the L'Oréal Professionnel SteamPod 3.0 can add shine, few of us realize a major dullness culprit has been hiding in plain sight this whole time: washing. "Water contains minerals and metals that build up, dull hair, and even change the color, especially if you have hard water or live in an old building with copper pipes,'' explains New York super-stylist Joseph Maine.
The solution is a clarifying treatment like Color WOW Dream Filter, a pre-shampoo spray that grabs on to hair using an ionic charge, then washes out taking unwanted minerals with it. It takes three minutes and, after using it, expect hair so fresh-looking your other half might ask if you've had your highlights done.
(opens in new tab)
6. OUAI Fine Hair Shampoo
Best hair styling product for height
If there's one thing every woman wants, it's volume. A bit of root lift looks healthy, sexy, and flatteringly "pulls" facial features up. As well as using root-lifting and strand-bulking products, volume actually starts in the shower with your shampoo.
While technically more a haircare essential than a styler, a volumizing shampoo is an imperative first step for those looking to pump up the volume. OUAI Fine Hair Shampoo removes build-up and softens hair without weighing it down. Make sure you condition mid-lengths to ends only to avoid any heaviness at the root.
(opens in new tab)
7. IGK Beach Club Volume Texture Spray
Best hair styling product for beach waves
You know it's a practical idea to go barefaced or skip that evening glass of red a couple of times a week, and the same goes for heat-styling. Lazy Sundays are great for this, as are days off, and a great product will help you create some enviable textured, beachy waves without the need for heat.
Try IGK Beach Club Volume Texture Spray, which is, surprise, a salt-free and vegan texture spray that gives sexy, undone waves on all hair types. Hairstylist Paul "Percy" Percival of Percy & Reed, who knows a thing or two about beach sprays himself, has some valuable air-drying tips: "Spritz through towel-dried hair, then manipulate with your fingers as it dries into your desired look for beautiful beachy texture."
(opens in new tab)
8. Aveda Be Curly Curl Enhancer
Best hair styling product for curls
A general rule, curly hair is best left to its own devices without the intervention of a hair dryer, unless you know how to use a diffuser—in which case, set the speed to low and the temperature to high. Too much wind power and you run the risk of tangles.
A caring curl cream, like Aveda Be Curly Curl Enhancer, will speed up the process too, making your ringlets appear instantly more defined. This cult favorite 96% naturally-derived cream helps enhance ringlets, and is super lightweight and shine-inducing. A must-have!
(opens in new tab)
9. Bumble and bumble Thickening Dryspun Volume Texture Spray
Best hair styling product for texture
You might want your hair to be smooth, but that doesn't always mean you want it to be short on texture. The blue bottle with the power to give even the finest hair some serious oomph, Bumble and bumble Thickening Dryspun Volume Texture Spray is a cult classic for good reason. Spray at the roots for lift, or along the lengths for an undone airy feel.
(opens in new tab)
10. Drunk Elephant Wild Marula Tangle Spray
Best hair styling product for detangling
Taking the time to carefully detangle and remove knots from your hair before you even reach for the hair dryer will make for a far more pleasant styling experience. In fact, we'd recommend starting the process in the shower, using a wide-tooth comb or detangling brush and working from the ends up. If you need a little extra help, Drunk Elephant Wild Marula Tangle Spray can be used liberally on damp hair, and sparingly when dry. As it's oil-based, it is a bit heavy, so is best for thicker hair textures.
11. Redken Acidic Perfecting Concentrate Leave-In Treatment
Best hair styling product for split ends
It doesn't matter how good your blow-dry skills are; if your ends are frazzled, you won't get the smooth results your aching arms deserve. Of course, cutting down on heat-styling or taking a break from the bleach are the best ways to restore a healthy look and feel to your hair, but for a quick fix, Redken Acidic Perfecting Concentrate Leave-in Treatment can help things along before styling.
"This range ensures clients can "have it all" without the fear of reversible damage," says Harriet Muldoon, head colorist at Larry King. "The three-step regimen has ten benefits, including strengthening, color protection, and a reduction in the appearance of split ends." Music to our ears—and our raggedy ends.
(opens in new tab)
12. Moroccanoil Perfect Defense
Best hair styling product for heat protection
No matter whether you invest in the Dyson Corrale vs GHD Platinum, using heat protection while styling your hair is a must. Just as you wouldn't reach for a piping hot dish without oven gloves, leaving your hair unprotected from heat styling won't do it any favors. "These curling irons or hair straighteners can get as hot as the temperature sugar caramelizes at, thus can cause serious damage to your strands," says trichologist Anabel Kingsley. "When you do heat-style, use a heat-protective spray or serum, but keep in mind that heat protective products do not 100% guard your hair from damage, so you still need to be careful."
Moroccanoil Perfect Defense Heat Protectant is effective at shielding hair from damage without weighing it down and adding a boost of shine, with the help of do-gooders like Argan oil and panthenol, a form of vitamin B5.
(opens in new tab)
13. Mizani Styling Sculpt & Hold Lived-In Sculpting Paste
Best hair styling product for taming flyaways
If you're occasionally frustrated by some fluffy baby hair around your hairline, keeping them in check can feel like a full-time job. Caused by any number of factors, from excess heat styling to regrowth, they can be riled up by humidity and static and can quickly go from adorable to unmanageable without the right product.
Smoothing them down with your hands and a serum or cream can quickly stray into oil-slick territory, so for best results, go slow and sparingly with the help of a bit of styling cream and a toothbrush. Mizani Styling Sculpt & Hold Lived-In Sculpting Paste is just what you need to neaten up edges and perfect a sleek hairline.
woman&home thanks Larry King and Harriet Muldoon of Larry King Hair, Sally-Ann Tarver, Joseph Maine, Paul Percival, and Anabel Kingsley for their time and expertise.
As woman&home's Beauty Channel Editor, Fiona Mckim has tried more products than she's had hot dinners and nothing makes her happier than raving about brilliant finds on womanandhome.com or her instagram grid (@fionamckim if you like hair experiments and cute shih-tzus). Fiona joined woman&home as Assistant Beauty Editor in 2013 under industry legend Jo GB, who taught her everything she needed to know (learn about ingredients and employ extreme cynicism). She has since covered every corner of the industry, from interviewing dermatologists and celebrities to reporting backstage at Fashion Week and judging the w&h Beauty Awards.