w&h's Dream Travel Destinations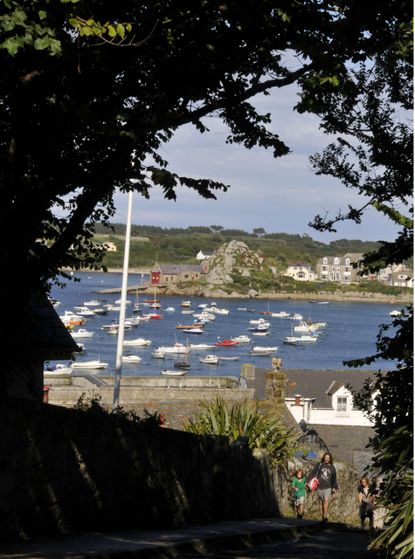 (Image credit: Rex Features)
Discover the dream holiday destinations of the woman&home team - which will tempt you?
7 February 2014
Without a doubt the most beautiful place on earth. We may not have the weather of the Caribbean in the UK, but our beaches are just as stunning - especially those on the island of St Martin's.
I love the nature of the Scillies, the lack of cars, the turquoise skies and the constant smell and sounds of the sea. I have to go at least once a year to get my fix!
Gaby Huddart, Deputy Editor
Anywhere in Italy! I love the laid back way of life, the food and wine, the beautiful scenery, the weather, the history and the way the Italians promenade in the evening. And the men make you feel good! They still flirt, in a nice way - which is lovely. Alison Davidson, Homes Editor
Rock Creek, Montana
The landscape is breathtaking - all dramatic cliffs, rolling hills, rushing rivers and when night falls, the biggest, starriest skies you've ever seen. It's the perfect destination for anyone with a passion for the great outdoors - at the Ranch at Rock Creek, I rode a horse and shot a gun for the first time and loved it! Plus there's fishing for the boys, bowling and karaoke at the Silver Dollar Saloon and some of the best food I've ever tasted. Carrie Mitchell, Celebrity Editor
New York
Shops, restaurants, culture? New York has it all. There's nothing quite like a few days in Manhattan. The only problem is, there's never enough time to do all the things you want to. But it sure is fun trying. Terry Barbrook, Deputy Chief Sub Editor
Madagascar
This is the place I dream of when it's cold and dark outside - and not just for the phenomenal beaches and weather. The eco-system is like nowhere else on Earth (think crocodile-inhabited caves, dazzling waterfalls and spiny forests) and the local culture sounds enchanting too. Natalie Cornish, Freelance Writer
It depends how you qualify dream - for me it's a place I know well enough to feel totally at home, can chill out with family and really get away from it all. And that means my annual holiday destination Menorca! Forget jet lag - I've done enough long haul travel to satisfy my quest for tropical destinations (just for the moment anyway!) Menorca has it all - the most beautiful coastline steeped in history with stunning clifftop vistas and secret beaches that are never too crowded, sun that permanently shines and people that smile. I love it! Oh, and it's also the home of a lethal local gin, almond macaroons and creamy Mahon cheese - just what I need for my island in the sun. Angela Kennedy, Style Director
Zermatt, Switzerland
Arriving in Zermatt's car-free town centre after winding through ever steeper and snowier mountain passes, you swap the real world for Alpine perfection - in every sense. A shiny modern ski resort overflowing with traditional Swiss charm, to me Zermatt is heaven - from exploring the huge ski area (with time for lunch or gluhwein in a mountain hamlet) to being pampered in a grand old hotel, or just soaking up the awe-inspiring Matterhorn views from the Gornergrat railway. Alice Palmer, Deputy Online Editor
Los Angeles
LA has it all, with vibrant Venice Beach and Santa Monica to occupy you in the daytime and balmy evenings spent in Silverlake or West Hollywood! The best mix! Take me back? Daisy Owen, Junior Designer
South Africa
When would you ever dream of visiting a country where you'll see lions and penguins in the space of a two-week break? South Africa is utterly unique in its rich variety of landscape, wildlife, culture and food. As you wind your way between jaw-dropping coastlines, magnificent safari parks and breathtaking rural countryside, while enjoying fabulous local food and wine, be sure to make a stop at Halfaampieskraal, a working farm offering luxurious guest rooms, open air breakfasts and awe-inspiring surroundings that allow you to truly relax and unwind. Theoda Solms Iles, Homes Stylist
Melbourne has everything you could want from a holiday: beaches, a city centre, a quirky warren of small shops, restaurants and roofless bars to explore - plus some of the most fun people anywhere in the world. And to top it off, Melbourne has a zoo where you can cuddle a koala! Lyndsay Conway, Online Writer
Broken Bow Lake, Oklahoma
The one holiday that sticks in my memory was at Beavers Bend Resort Park in Oklahoma. It is true wilderness, and the wildlife was something else - water snakes, possums, beavers, eagles, turtles and more. It was also when we found out my wife was pregnant - a time of true happiness! Andy Pye, Assistant Art Editor
White sand, turquoise ocean, fascinating culture, delicious food and great diving - and to top it off, Zanzibar is never crowded! Jane Curran, Food Editor and woman&home Feel Good Food Editor
Balmy weather, lazy days, breathtaking views, cappuccino, cold birra, lemon and pine-scented air... and beautiful Italians speaking the language of love! Vicky Axelson, Art Editor
Forget flying round the other side of the world to get your dose of Caribbean-style beaches - turquoise seas and fine sand is on our doorstep, thanks to the stunning coastline in Corsica. Rustic and low-key, the perfect time to visit is May or June when the beaches are deserted and you can recline on your own private patch of paradise. With the perfect fusion of French and Italian culture - and food - Corsica offers the breathtaking beauty of the Cote D'Azur, without the chi-chi St Tropez peacocks that go with it. And for those who aren't dedicated beach bums, the island is steeped in culture and mountainous landscapes inland that will satisfy the hardiest of walkers. Kate Matharu, Online Editor