8 Trips Every Woman Should Take In Her 50s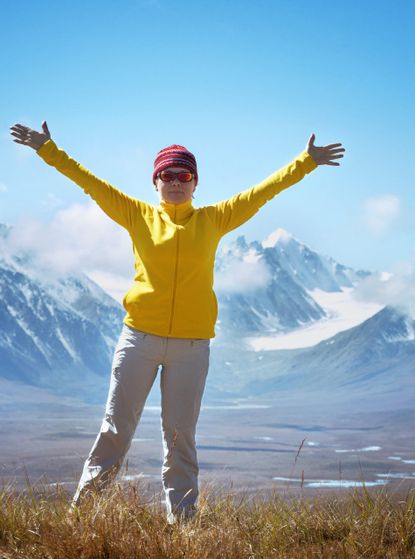 (Image credit: Alamy Stock Photo)
woman&home newsletter
Sign up to our free daily email for the latest royal and entertainment news, interesting opinion, expert advice on styling and beauty trends, and no-nonsense guides to the health and wellness questions you want answered.
Thank you for signing up to . You will receive a verification email shortly.
There was a problem. Please refresh the page and try again.
1. The big girly trip
Sure, you've managed to do lots of girly weekends with your friends (opens in new tab) over the years, but have you ever taken a trip with them that's longer than a week? If not, now's the time to try it - and wonder why you never took the girls on a grand tour before.
Pick a destination where you'll be able to enjoy each other's company, while also learning or experiencing new things together. How about a walking holiday in Spain (opens in new tab), a cooking break in Tuscany (opens in new tab), or maybe even a long-haul trip to immerse yourself in new cultures - like cycling through Vietnam (gentler than it sounds!) or finally visiting the Great Wall of China (opens in new tab)?
More like this: 8 alternative ideas for a girls' weekend away (opens in new tab)
2. The fabulous cruise
For easy adventures, free-flowing cocktails and top-notch food you simply can't beat a cruise holiday. There are lots of different cruises on the market these days - with a little research you can take your pick from luxury-focused voyages, budget-friendly sailings, and bucket list-style experiences like cruising down China's Yangtze River (opens in new tab) in a steamer.
Take a twirl on our Strictly Come Dancing themed Danube River cruise (opens in new tab), go island hopping around Greece (opens in new tab), or descend the majestic Irrawaddy River in Burma (opens in new tab) - one for adventurous travellers who don't want to compromise on luxury.
More like this: 7 of the world's most incredible river cruises (opens in new tab)
3. The European tour
Remember the trend for Interrailing trips around Europe? You may even have waved your kids off on a train tour of the continent - but how much of this incredibly varied landmass have you actually seen for yourself? Interrailing isn't just for teen: mainland Europe's trains are fast and clean, and you can choose which 'tier' you'd like to travel in too - so you don't have to slum it in economy class.
You can travel around 30 different European countries with a Voyages SNCF Interrail pass (opens in new tab) - plus get discounts on sightseeing and accommodation - from £39. So whether you the architectural splendours of Florence, beach hopping in Croatia, vineyards in France - or all three! - draw up a pre-Brexit to-do list and hit the rails...
More like this: The ultimate Europe bucket list (opens in new tab)
4. The active challenge
You've worked hard to keep in shape, but do you struggle with motivation sometimes? Combine your fitness efforts with a worthwhile charity cause, and start putting all of that gym time to good use.
Do you really need travel insurance?
It may feel like an extra expense but travel insurance can give you peace of mind should the worst happen when you are travelling. The best travel insurance policies should cover most things, from emergency medical expenses and repatriation to flight delays and trip cancellations. You can even choose policies specifically tailored to your type of trip, such as cruise or backpacking insurance.
Compare Travel Insurance Quotes at GoCompare (opens in new tab)
Fancy a sponsored challenge abroad? You could walk Spain's Camino de Santiago trail, scale Kilimanjaro, or pedal a long-distance cycling trail through France. Of course, you don't have to leave the UK to take part in a charity challenge: how about climbing Scafell Pike - England's highest mountain - or walking the 184-mile Thames Path from Kemble to London?
More like this: Join our (opens in new tab)exclusive Walkactive trip to Spain (opens in new tab) - the healthy holiday with a difference
5. The cultural immersion
We all know how easy it is to get stuck in a rut - so this is the decade to immerse yourself in new cultures and destinations. Whether you take a sabbatical from work or simply save up your annual leave, spending a few weeks exploring will do you - and your zest for life - the world of good.
Woman & Home reader Jane McIntyre travelled around America, New Zealand and South-East Asia with her partner, to reboot their careers and reset after Jane's daughters left home. "I waited until my fifties to do this trip, but my travels were all the richer for that," Jane told W&H. "The best experiences are those human connections you make, and the conversations you have. I met so many incredible women from all walks of life."
More like this: How a trip to Australia helped me grieve for my daughter (opens in new tab)
More like this: 8 trips every woman should take in her thirties
6. The please-myself solo holiday
Solo travel allows you to focus solely on yourself - and you deserve to do more of that! Life can feel like one big compromise sometimes, but this is your chance to go, do, eat and see whatever makes you happy.
When Woman & Home reader Faye Smith took a two-month solo trip to Australia (opens in new tab), it gave her the opportunity to heal after the loss of her daughter. "I called it the 'Mind, Body, Spirit' tour - my version of Eat, Pray, Love," said Faye. "I tended to my mind, looked after my body with healthy eating and exercise, and booked into a silent retreat for spiritual guidance.... The trip taught me to cherish myself." More like this: 8 things I wish I'd known before my first solo holiday (opens in new tab)
7. The trip that gives back
Volunteering is the most rewarding way to travel, and it gives you an insight into a destination that a simple holiday could never provide. Whether you have two weeks or multiple months to spare, take your pick from volunteer projects all over the world with the likes of Raleigh (opens in new tab), VSO (opens in new tab), Projects Abroad (opens in new tab) and more.
You could teach English in a remote village school, use your professional skills to help small businesses in developing countries, or help with endangered wildlife conservation projects - whether that's caring for pandas in China, or red squirrels in Dorset with the National Trust (opens in new tab).
8. The safari in style
Who hasn't dreamed of seeing elephants in the wild? Of spying a lioness emerge from the rustling undergrowth, or a giraffe plucking its dinner from the treetops? Safaris feature on most people's bucket lists - so now's the time to fulfil that dream.
So where should you travel? While safaris in South Africa have traditionally always been expensive, the fall of the Rand currency against the Pound means that bargains are now easier to come by - so you have more cash to splash on luxurious lodges, unusual safaris (in a hot air balloon, microlight, or a helicopter perhaps?) - and of course a few fun days in Cape Town or exploring the Garden Route.
All images from Alamy