8 Things I Wish I'd Known Before My First Solo Holiday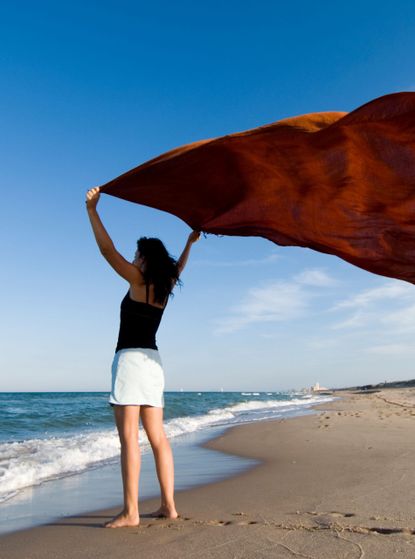 (Image credit: Alamy Stock Photo)
woman&home newsletter
Sign up to our free daily email for the latest royal and entertainment news, interesting opinion, expert advice on styling and beauty trends, and no-nonsense guides to the health and wellness questions you want answered.
Thank you for signing up to . You will receive a verification email shortly.
There was a problem. Please refresh the page and try again.
I've racked up plenty of air miles on solo trips - but I know how daunting it can be to travel alone. Heading off on holiday without your partner, family or friends for the first time is a huge deal, often fraught with worries as well as excitement.
My solo travels have taken me all over the world. I've got lost in Middle Eastern souks, gone trekking in New Zealand, and ticked of countless European minibreaks - all on my own. But yes, I've found myself tongue-tied, panicky, and in need of some solo travel advice at times. Here's what I wish I'd known before my first trips - hopefully, it will inspire you to take the plunge too.
1. It's ok to be anxious
Feeling nervous is completely normal: even the most seasoned solo holidaymakers get butterflies from time to time. You're stepping outside your comfort zone: of course you'll be anxious!
Don't be afraid to tell other people that you're feeling nervous - they'll likely go out of their way to reassure you. And use it to your advantage: research has shown that a little anxiety can make you more observant and smarter (opens in new tab) - which are good attributes to have when you're travelling alone.
It's ok to be nervous (Alamy)
2. Start small
For your first solo holiday, start with a city minibreak or join a reputable group tour (like our very own Woman & Home trips! (opens in new tab)) to a destination you've always dreamed of. Start small, and enjoy every minute - so that next time you can venture further for longer. Our new cooking holiday in Sicily (opens in new tab) has no single supplements, and with everyone learning together it will be ideal for solo travellers as well as couples and groups of friends.
More like this: The 8 trips every woman should take in her sixties (opens in new tab)
3. Make a plan of attack
If you're sitting in your hotel room on Day 1, trying to decide where to go and what to do, you run the risk of chickening out and staying by the pool all holiday. So read up on your destination before you get out there - and plan a little itinerary, which you can follow until you feel comfortable improvising.
I've had a few moments - mostly in big, unfamiliar cities - when I've felt tempted to order room service and read a book instead of facing the world outside. But making a plan - and sticking to it - will give you a well-needed boot, and remind you of all the brilliant things you'll see on your travels.
What do you want to see on your solo holiday? (Alamy)
4. Eating out doesn't have to be daunting
For many of us, eating out is the worst part of travelling alone - and yes, it can be pretty scary. But you'll soon notice that people actually don't pay much attention to you, waiters treat you nicely, and there's something wonderfully indulgent about ordering a glass of wine and watching the world go past your table for one.
In cities, you might want to seek out restaurants in business areas - they'll likely be full of solo diners filling their evenings on work trips, rather than romantic couples or groups of friends.
5. A few creature comforts go a long way
To make yourself feel more at ease, pack a few things to make your hotel room feel more homely. I never travel without my slippers, and have been teased mercilessly for this on many occasions! But I've known people who won't leave home without a framed photo or a favourite scented candle. You know what makes you happy.
Always look after #1 (Alamy)
6. Trust your instincts
Yes, there are safety implications to travelling alone - but don't let that put you off. Take as much care of yourself as you do at home, follow common sense, and trust your instincts.
7. Open your mind - and your mouth
It's wonderfully easy to make friends when you're travelling alone. You might feel shy at first, but soon you'll be chatting to fellow holidaymakers and local people alike.
You'll learn so much from these encounters - some of them fleeting, but sometimes the spark of a life-long friendship. At the end of your adventure you'll feel liberated and self-sufficient.
More like this:
7 great European city breaks within 2 hours of the UK (opens in new tab)
8. Be kind to yourself
If you're not enjoying somewhere or something, then change it. You only have to please yourself - so be selfish! And don't beat yourself up if you feel nervous/shy/homesick: these emotions hit everybody from time to time, so learn from what you're feeling and move on.
Take time to watch the world go by (Alamy)
Some days, you might not feel like talking to new people or eating out alone - in which case, curl up with that novel, plug yourself into Netflix, and do whatever makes you happy. Then, when you're strong again, you can get out exploring - feeling like you can take on the world.