Trip Of A Lifetime: 'How Travelling Helped Me Grieve For My Daughter'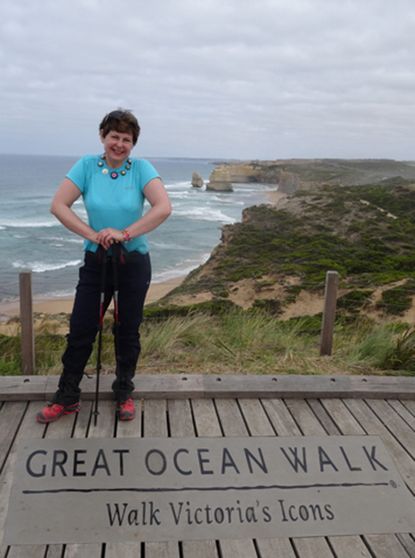 woman&home newsletter
Sign up to our free daily email for the latest royal and entertainment news, interesting opinion, expert advice on styling and beauty trends, and no-nonsense guides to the health and wellness questions you want answered.
Thank you for signing up to . You will receive a verification email shortly.
There was a problem. Please refresh the page and try again.
After her daughter died and her son left home for university, Faye Smith became an empty nester far sooner than she'd ever anticipated. So she sold her house and took the trip she'd promised her daughter they'd take together - and found joy in her life at last.
My daughter Gabi was desperate to travel and see the world. When she was small, her best friend Martha moved to Australia, so I promised her we'd go and visit her after she'd done her GCSEs. That would have been this summer, but Gabi died when she was twelve - and we never got to fulfil her dream.
Last year, I found myself at a crossroads in life. My son Zach was leaving home, I was ill and working all hours, and my old Edwardian house was crumbling around my ears. I've lived through two lots of tragedies: Gabi's death, and the death of my ex-husband two years before - and I was in tatters.
I had two decisions: I could either spend my money on the house and sit there and rot, or I could sell the house and head abroad to start enjoying life. I chose the latter, and set my sights on Australia - I'd spend two months exploring the country alone, going to all the places Gabi and I had talked about. I'd live her dream for her.
Faye with her daughter Gabi and son Zach, in 2013
More like this: 6 cultural holidays that will change how you see the world (opens in new tab)
I called it the 'Mind, Body, Spirit' tour - my version of Eat, Pray, Love. I tended to my mind, looked after my body with healthy eating and exercise, and booked into a silent retreat for spiritual guidance.
Travelling helped with my grief in so many ways. When my daughter died, I'd only taken six weeks off work - that's the kind of thing you have to do when you run your own business. In order to keep working I'd had to park all that grief, but the trip gave me the chance to get that box out again, look into it, and see where I was after two years.
Gabi and I used to talk about all the animals we wanted to see, so I was ticking those off as I went. I saw an echidna, a kangaroo, a wallaby, a tasmanian devil - all in the wild. And each time, I was saying "Gabi look, I've seen it!". I believe she absolutely knows that I was doing it all for her.
I also took her toy rabbit Fudge everywhere with me, and got photos of him in lots of different places. People would ask what I was doing, and I would tell them I was going to do this trip with my daughter when she'd finished her GCSEs, but sadly she died so I'm doing it in her memory. Some people would go quiet or even start welling up, and some would ask if I wanted to talk about her.
Fudge the rabbit soaks up some Sydney sun Travelling on my own opened up so many social encounters - and I met so many amazing people. I talked to everyone I met, and gained so much from the kindness of strangers. Had I been with someone else, I never would have had the conversations, the invitations, or the amazing sense of self-reliance.
More like this: The 8 trips every woman should take in her fifties (opens in new tab) I had one thing on my own bucket list, and that was to snorkel on the Great Barrier Reef. As we flew over the coral atolls, I looked down to where I was about to achieve my lifelong ambition, and just broke down crying. I'd made this happen by being brave, by selling the house, by finding the money and prioritising myself.
Women tell themselves they can't do these things, but that's not true. We can do them - we just have different choices to make, you know? I'm fifty now. I imagine there are lots of other women my age who find themselves on their own, wondering what's next. Before the trip, my life was all about working and spending money on the house - I didn't have any money or energy for fun any more. So I chose a different path, and had the time of my life.
I separated from my husband many years ago, but he died two years before our daughter. On his anniversary I went to the Sydney Opera House to watch the Barber of Seville. He'd been to Australia, so in a way I was following in his footsteps too. I left the Opera House at midnight and walked back to my Airbnb, feeling safe and secure, dazzled by the lights and life all around me - it was just a magical evening.
Afternoon tea in Raffles, Singapore The trip taught me to cherish myself. I'd been so mean with myself - but now, by hook or by crook, I manage a massage and a facial every month. I've also started exercising - I've shed a stone and love open-air swimming, which I started in Australia.
Before I left, my health was in a mess: I'd been diagnosed with hypothyroidism, anaemia, vitamin D deficiency... I was having to go to bed in the afternoon for two hours, I was so exhausted. But Australia helped me turn my health around.
More like this: 8 alternative ideas for a girls' weekend away (opens in new tab) I do feel that I'm living this life for Gabi now. People ask me why I pack so much in, and that's why.
Before the trip, I wanted to pack the business in - even though I'd spent seven years building it up as a single parent. I'd been working every evening and every weekend, and was prepared to close it and walk away - I just couldn't carry on the way I was. But I handed it over to my two associates and it grew! My whole reputation was on the line, but my clients stayed with us - and when I got back it had flourished! Now there are 14 of us. It's incredible.
"The trip taught me to cherish myself"
In the last week of the trip, I thought I can't go back without having something to look forward to. So I decided to plan eight weeks in New Zealand in 2018, and wrote down a list of 50 fun things to do in my 50th year. I want to see a play at the Sheffield Lyceum, walk the Monsal Trail, climb up Kinder Scout in the Peak District... I've done 38 so far and I've got until the end of August!
More like this: Join our exclusive trip to India, and stay at the real Best Exotic Marigold Hotel (opens in new tab) Australia was fun, safe and uplifting - and those eight weeks were the happiest of my life. I'd been on my own for 14 years, but six weeks after I got back a lovely man walked into my church and sat on the row behind me. We started dating in October, and now we're talking about getting married. We might even make New Zealand our honeymoon...
You never know what's around the corner. My husband died at 47, my daughter died at 12 - my retirement age is 67 and my pension is terrible. So it's all about now - about today. What am I going to do today? And I don't mean throwing my money around, or leading a flashy life - I mean making the most of every minute. I had the time of my life in Australia, and every woman deserves that.
Faye and her son Zach, reunited after the trip
Faye Smith is the founder and Managing Director of Sheffield-based Marketing and PR consultancy Keep Your Fork (opens in new tab). She's proudly "Sheffield born and bred", and volunteer mentors several charity chief executives and university interns.