This is when UK airports will lift their security ban on liquids so you can say goodbye to those tiny plastic bags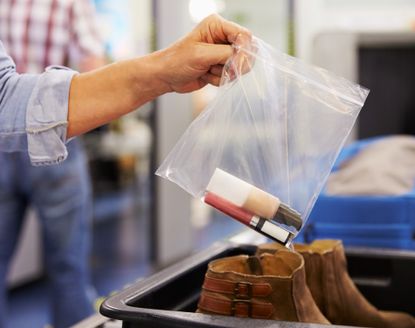 Say goodbye to squeezing all your beauty essentials into those tiny plastic bags.
After a 13-year restriction, it has been revealed that the 100ml liquids rule at airport security will be lifted across UK airports by 2022.
Prime Minister Boris Johnson has called for the change to make travelling through UK airports easier than ever.
"We're set to streamline those trips with the toll-out of this ground-breaking technology – cutting down hassle for travellers and improving security measures," he said.
"By making journeys through UK airports easier than ever, this new equipment will help boost the vital role our airports play in securing the UK's position as a global hub for trade, tourism and investment."
Instead of separating your liquids and electronic devices from your hand luggage, soon all of your items will be placed through a CT scanner that creates highly detailed 3D images.
CT (computed tomography) scanners are used to scan patients in hospitals to provide detailed images of bone damage, internal organs and tumours.
The technology has already used in airports for your larger checked-in luggage, although until recently the scanners have been too big and slow to be used for hand luggage.
Since 2017, hand luggage CT scanners have already been in place at Heathrow Airport Terminal 2, and are set to roll out nationwide over the next three years.
Heathrow chief operations officer, Chris Garton, told BBC News: "This cutting-edge kit will not only keep the airport safe with the latest technology, but will mean that our future passengers can keep their focus on getting on with their journeys and less time preparing for security screening."
The UK airport liquid restrictions came into place in 2006 following terrorist plots to explode liquid explosives on flights travelling from the UK to the US and Canada.
Isa Jaward is a journalist from London who has written for the likes of Time Out, The Guardian and Music Week.