The surprising place you should store your suitcase when you're at a hotel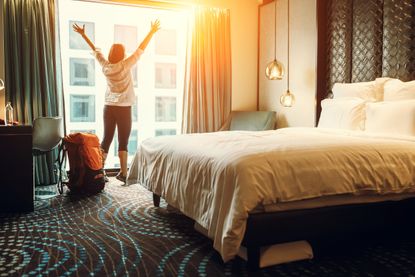 For most of us, as soon as we check in to a hotel we dump our suitcase on the bed before unpacking everything. But an entomologist says we should be putting it somewhere else.
Brittany Campbell, who works for the National Pest Management Association, has revealed that keeping your belongings in the bathroom is the safest thing to do.
Why? Because it avoids taking any unwanted bedbugs home with you. During an interview with Apartment Therapy, Brittany said: "Travellers should avoid placing their luggage on upholstered surfaces and the bed when they arrive at their destination, since bedbugs are typically found on mattresses, box springs and in the crevices of furniture and inside upholstery."
Apparently, bed bugs are less likely to infest a bathroom, meaning the bath or shower is the safest place to keep your suitcase.
Brittany has even warned that you should be careful when using luggage racks too, because "bedbugs can hide within the legs".
She added: "For added protection, you can place your suitcases in plastic trash bags during the duration of the trip. Tie the plastic bag when luggage is not in use to prevent bedbug entry."
MORE: Tourists in Spain warned about 'deadly' listeria outbreak (opens in new tab)
"Bed bugs are extremely skilled hitchhikers due to their ability to survive in temporary habitats, such as personal luggage or underneath the seats in cars, buses and trains", she warned.
If you want to check for bed bugs when you arrive, first off you should pull back bed sheets, as an ink-like stain is a common sign of bed bug droppings. Check the headboard, mattress and nearby corners too.
MORE: Nervous flyer? Cabin crew reveal exactly where you should sit on an aeroplane (opens in new tab)
Then, inspect the rest of the room and have a look at places like your wardrobe, behind cushions, and desk chairs. Despite their name, bed bugs can thrive just about anywhere.
The most obvious sign of a bed bug infestation is bites. According to the NHS, they're most likely to be on places that are exposed whilst you sleep such as the face, neck or arms.Hydrocortisone cream and antihistamines are strongly recommended if you're bitten, but if the swelling doesn't go down within a week, you should seek medical advice.
Lucy Buglass is a Digital Writer specialising in TV, film and lifestyle content and has written for What's On TV, GoodtoKnow and Whattowatch.com. She's passionate about entertainment and spends most of her free time watching Netflix series, BBC dramas, or going to the cinema to catch the latest film releases. In her spare time, she writes film and television reviews for JumpCut Online and her own blog, Lucy Goes To Hollywood.