Travel Money: 'We spent £22,500 on the perfect Antigua family holiday'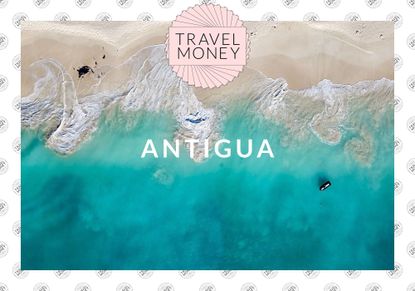 This week's Woman of the World splurged on the perfect all inclusive trip to Antigua – and brought the whole family with her.
Welcome to Travel Money, woman&home's weekly feature where we talk openly and frankly about vacations and how much they cost. Each Sunday someone reveals where they went on their most recent holiday, how much they spent on it and how they paid for it. We've asked a cross-section of women, from those who planned a blow-the-budget once-in-a-lifetime trip, to those who travel on a shoestring. But they all have one thing in common: fastidious tracking of every penny spent.
"We spent £22,500 on the perfect Antigua family holiday"
Age & location: 39 year old female, I live in South Oxfordshire.
Job & salary:We have a £420,000 household income – I'm a stay at home mum and aspiring novelist while my husband is a Global Vice President for a company based in the UK and USA. Plus, we have a house in west London which we rent out.
Family make-up: Married, with two children aged six and three.
Travel habits: We generally take two long haul trips a year and then 1-2 European trip and a couple of breaks in the UK.
Saving period: None, we paid with the cash we had.
The trip: a 15 night family holiday for 4 in Antigua for £22,500
The destination
I used to live in the Caribbean and am very fond of many of the islands. Neither my husband or myself had been to Antigua before.
It was actually a very relaxing trip – something which is not a given when travelling with children! The combination of accommodation, and things to do was just right, but we also met some super nice people, which doesn't normally happen when we holiday.
The budget
Biggest splurge? Definitely accommodation! We chose an all inclusive villa with a pool, within a Blue Waters Resort (opens in new tab).
Biggest bargain? We got a better accommodation rate by using an Kenwood Travel Agents (opens in new tab), plus we also used some Avios when purchasing our flights.
The cost breakdown
Accommodation, food and experiences: £14,300
We like all-inclusive as it's easy with the children. Also you know the full cost of your holiday (plus tips and shopping), before you travel.
In terms of food and experiences, Blue Waters Resort (opens in new tab) was all costs included – that's the beauty of all inclusive. Boat and canoe rental was all part of price paid, so we spent a lot of time on the water. The children used the free kids' club and I used the gym and exercise classes.
The best part of the whole trip was how much the children loved to swim in the sea and use the beach. The beach was private and the water shallow, so my just-turned three-year-old became an excellent sea-swimmer!
Flights & transport: £6,000
We booked the flights a year in advance with British Airways. We bought Business Class seats with a mix of air miles and cash.
Added extras: £800-1000
That's for all four of us and many of the items purchased were required for and used throughout the whole summer.
Health/medical costs: £150
I already have a pretty well-stocked first aid kit, but bought new sun creams for all of us. No jabs were needed.
Travel insurance: £0
Travel insurance is a benefit on our bank account so no need to purchase separately.
Miscellaneous expenses: £1,260
The dog sitter was £400 and then add an extra £860 in vet bills for the scratched eye he got whilst he was there!
Total cost: £22,510
The travel editor's verdict?
"Splashing out in style"
This week's Woman of the World clearly has exquisite taste and certainly enjoys the finer things in life. Blue Waters is one of the top luxury resorts on the island of Antigua, which is why it pushed the cost of this family holiday up enormously. But it's possible to do a similar trip for a much more reasonable price if £20,000+ is seems a bit steep.
READ MORE: "A week-long solo adventure in Barbados cost me less than £1,000"
Economy flight prices vary from £450 to £750, and there are plenty of four and five-star hotels on the island offering an all-inclusive deal (though they're perhaps not quite as exclusive as Blue Waters). The average cost for a family of four to travel to Antigua in the August summer holidays is just £3,628, including return flights and an all-inclusive four-star hotel (rates calculated by TravelBag (opens in new tab)).
Top travel tip
If you're keen to head to Antigua for a luxury break, don't miss an opportunity to meet the locals – and by locals, we mean sea life. Take a boat trip out to Stingray City where hundreds of the aquatic animals glide about the waters and feed among the corals.
We also love photo opportunities on Dickenson Bay, where a red British telephone box makes for a picturesque selfie or two.