UK lifts travel restrictions: the full list of exempt countries
There are over 80 destinations on the list.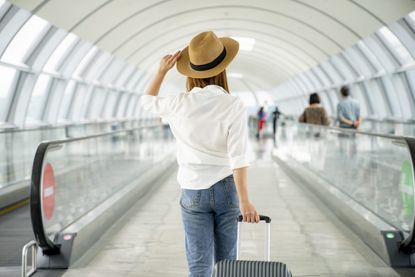 (Image credit: Getty Images)
In early July, the UK governments released a list of countries that were exempt from the quarantine travel restrictions that had been in place since the lockdown began in March.
By giving a quarantine exemption list to those looking to travel from the UK to certain countries, the government hoped that travel industries could resume full service and that their customers would start booking holidays again, following four months of lockdown.
READ MORE:When are the air bridges being announced and how will it affect your summer holiday plans?
The news was welcomed by aviation and hospitality industries as the lockdown had created heavy falls in revenue and redundancies for companies across the UK. For example, airlines such as EasyJet were forced to reveal they were closing at London Stanstead, Southend and Newcastle airports to compensate for the losses.
On July 10, Scotland released a list of countries that their residents could travel to without having to quarantine on return as well - which was amended to include Spain later in July. Wales did the same and so did Northern Ireland.
The skies opened again with the announcement of these travel corridors, and while many have still opted for a staycation, with the new rules in place there has been a huge uptake of interest in international travel.
However, these travel agreements have been in place for a month now and we are beginning to see some countries being taken off the list following a spike in cases of coronavirus.
So what changes are were made and where can you travel to from the UK now?
The UK quarantine exemption list: which countries can you now travel to from the UK?
The majority of countries in Europe were approved by the government for the list of 60, released on July 3, along with other further overseas destinations like Hong Kong and South Korea.
Notably popular European holiday countries like Portugal were not on the list when it was initially published and remain absent, while the US was also not included.
Travellers can still visit these countries, however they will have to quarantine for 14 days upon return.
This is the full list of countries you can travel to without quarantine:
Akrotiri and Dhekelia
Anguilla
Antigua and Barbuda
Aruba
Australia
Austria
Barbados
Bermuda
Bonaire, St Eustatius and Saba
British Antarctic Territory
British Indian Ocean Territory
British Virgin Islands
Brunei
Cayman Islands
the Channel Islands
Croatia
Curaçao
Cyprus
Czech Republic
Denmark
Dominica
Estonia
Falkland Islands
Faroe Islands
Fiji
Finland
France
French Polynesia
Gibraltar
Germany
Greece
Greenland
Grenada
Guadeloupe
Hong Kong
Hungary
Iceland
Ireland
the Isle of Man
Italy
Jamaica
Japan
Latvia
Liechtenstein
Lithuania
Macao (Macau)
Malaysia
Malta
Mauritius
Monaco
Montserrat
the Netherlands
New Caledonia
New Zealand
Norway
Pitcairn, Henderson, Ducie and Oeno Islands
Poland
Reunion
San Marino
Seychelles
Slovakia
Slovenia
South Korea
South Georgia and the South Sandwich Islands
St Barthélemy
St Helena, Ascension and Tristan da Cunha
St Kitts and Nevis
St Lucia
St Pierre and Miquelon
St Vincent and the Grenadines
Switzerland
Taiwan
Trinidad and Tobago
Turkey
Turks and Caicos Islands
Vatican City State
Vietnam
However those travelling back into the UK from Andorra, Belgium and the Bahamas will now have to quarantine for 14 days on their return as of August 8, as these three countries have been taken off the quarantine-free list recently following a rise in cases of the virus.
Spain was removed from the list on July 26 and Luxembourg was also removed from the exempt list on July 31.
It is also thought that France and Malta are also at risk of being removed from the list, although they remain classified as 'safe' for now.
Six countries were added to the list as well recently. These were Brunei, Malaysia, Latvia, Slovakia, Slovenia, St Vincent and the Grenadines.So any visitors coming back into the UK from these countries will not have to quarantine upon their return at the moment, as long as they didn't pass through any countries not on the list on their way.
Northern Ireland was already exempt from travel restrictions, as it's part of the common travel area, and the same applies to the Channel Islands and the Isle of Man.
Countries designated "green" are also those considered safer (have a lower infection rate) than the UK, with "amber" countries being those less safe and "red" countries being those where travellers must quarantine on their return. These include the United States, Sweden, Mexico, Brazil, Russia, Iran, India, Pakistan and Bangladesh.
Will I have to quarantine when I travel back to the UK?
If you visit one of the countries on the UK travel quarantine exemption list, under the new travel rules you will not have to quarantine when you return.
The Transport Secretary, Grant Shapps, told the BBC that people coming into the UK from the US for example would have to quarantine when they arrive into the UK. He said, "It is really important that we have done this in a very careful and cautious way,
"The most important thing is to maintain the gains that we have had."
Following the most recent review, the government have been quick to assure the public that they will act 'rapidly' to any spike in cases and have said that more countries would likely be removed from the list in the coming months, with others added in their place.
Can you travel to Greece without quarantine on return?
Greece was initially not included on the travel quarantine exemption list for the UK, however following a review, from July 15 those looking for a summer getaway on any of the Greek islands or mainland were allowed to do so without having to quarantine on their return to the UK.
24 hours before their arrival into Greece, travellers need to complete a Passenger Locator Form (PLF) which can be found online and is in English. Once you've done this, you'll receive a confirmation email and a QR code up to a day before your flight.
The QR code is important for your arrival into Greece, so print it out or have it on your phone, as the authorities will need to scan it and may point you towards a health screening, which includes a test for coronavirus.
However, before booking your holiday to Greece it's important to know that the authorities may make you quarantine upon your arrival into the country. If you are asked to undergo a health screening for coronavirus, you have to quarantine for 24 hours until you get the test results back.
If they are negative, then you're free to carry on with your holiday as planned! However naturally if it comes back positive, you will be forced to isolate for 14 days.
What are the coronavirus travel restrictions on Spain?
After a surge in cases of coronavirus in Spain, the country has been at risk of going back into quarantine. As a result, the country has been taken off the list of quarantine-free countries that UK residents can visit this summer. This means that if you go to Spain on holiday in the coming weeks, you will have to quarantine for 14 days upon your return as required by all other countries not on the list.
Over the past month, lockdown measures in the country have been resumed around the north-eastern region of Catalonia where a daily infection figure was recorded of more than 1,000. As a result, four million people around Barcelona were asked to stay at home.
READ MORE:Martin Lewis issues warning to holidaymakers planning to travel to Spain
Then on Monday July 20, Spain saw a jump in over 4,500 cases of coronavirus, a situation that has been described as a 'massive test' for the travel corridor policy. Especially as the Scottish government released information on the same day which allowed travellers to visit Spain with no quarantine on return, a move that was pre-empted by the English government when the list was first announced.
Whitehall sources reportedly told the Sun that the situation was being monitored closely, however, and that Spain's travel corridor links to the UK could be withdrawn in just a few days. This means that UK tourists would be required to quarantine upon returning from their trip to Spain.
The news comes as it was revealed that the three-week review of the UK's travel policy would be abandoned in favour of a 'rolling system'. As a source confirmed to the Sun, "Instead of big reviews every three weeks, we will look for a system where countries come on and off as and when we see spikes or drops in cases."
What is government website saying about the travel corridors and quarantine?
On their website, gov uk have said that people 'will not have to self-isolate when you arrive in England' if they are travelling or returning from one of the 'travel corridor countries', and have not 'been to or stopped in a country that's not on the travel corridor list in the previous 14 days'.
They add that this applies to all those travelling into England, regardless of the transport method they take.
However they add, 'Before your arrival in the UK, you must complete a passenger locator form. You must present these details on your arrival in England. This applies to both visitors and UK residents.
"Travellers should always check the latest FCO travel advice. Travel advice includes information on any health measures in place for visitors to the country or territory. These can include a requirement to self-isolate, quarantine, or undergo testing for coronavirus, or even restrictions on entry.'
When did the new travel quarantine rules come into effect in the UK?
Whereas previously it was believed that the restrictions would be lifted from July 6, the quarantine rule change came into effect from Saturday July 10. Before this date, UK residents were advised not to travel unless necessary and if they did, they had to quarantine for 14 days upon their return.
When the quarantine list was published early in July, it kickstarted the travel and hospitality industries once again as well as offering travellers the possibility of a summer holidays for the first time since the pandemic began in March.
Is the new travel corridor list the same as the air bridges?
The travel quarantine list for the UK was met with criticism, however. Many believe quarantine exemptions are the same as the air bridges, which were an idea first released by the government to get the UK moving again.
This is not the case, as air bridges - or "travel corridors" - would ensure that there was no quarantine whatsoever on arrival. The new changes mean that some destinations, like New Zealand and Australia, could carry on quarantining arrivals from the UK for the rest of the year.
Countries like Spain are not expected to quarantine their UK arrivals and vice versa.
These changes, and any once that come into effect in the coming months, are dependant on how each individual country chooses to open their borders to UK arrivals. Rather than just a blanket no-quarantine rule for all countries with "air bridges" to the UK.
Can I get travel insurance with cover for Covid-19?
Unfortunately, according to reporting by the Guardian, those looking to take a holiday this year under the new quarantine rules will only be able to choose from a few insurers willing to pay for coronavirus-related claims.
And of these, many have a clear statement that they are not willing to pay for any cancellations in the future as a result of a second wave of infections.
Building society, Nationwide, has warned customers who use their travel cover that they will not process any coronavirus-related claims for cancellations or medical expenses on any trip booked after March 18, for instance.
So which big-name travel insurers are helping out? The Guardian reports that Direct Line, Axa, Lloyds and Barclays have all told customers looking to book holidays that they are prepared to pay for medical bills if the customer catches Covid-19 but not any other travel-related claims.
This means that those looking to now book a holiday to somewhere even on the UK travel quarantine list. You will be largely left to the mercy of airlines and hotels should a spike in infections cause cancellations.
A digital health journalist with over five years experience writing and editing for UK publications, Grace has covered the world of health and wellbeing extensively for Cosmopolitan, The i Paper and more.
She started her career writing about the complexities of sex and relationships, before combining personal hobbies with professional and writing about fitness. Everything from the best protein powder to sleep technology, the latest health trend to nutrition essentials, Grace has a huge spectrum of interests in the wellness sphere. Having reported on the coronavirus pandemic since the very first swab, she now also counts public health among them.