Why Tobago is the Caribbean's most unspoilt island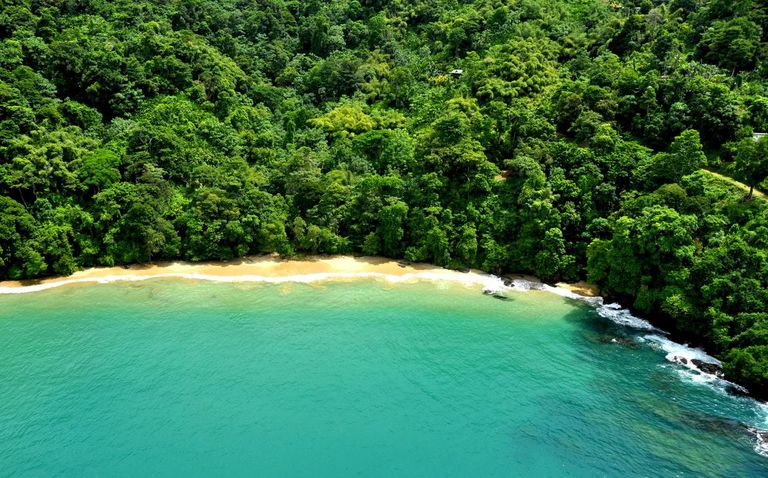 Promotional feature with the Tobago Tourism Agency
The Caribbean has plenty of idyllic isles, but none are quite as pristine as Tobago. Here are some of the incredible, untouched natural wonders this island has to offer. Be warned, though, reading thiswill make you want to book your Tobago holiday pronto!
1. There are near-empty beaches
It's not uncommon to find yourself alone on the beach in Tobago. The island's sweeping yellow sands and little cosy coves are spectacular, and it's not hard to find a spot to bed down for the day.
Try the likes of Englishman's Bay, backed by swaying palms on the north side of the island, or Parlatuvier Bay, whose translucent waters are overlooked by a small fishing village with colourfully-painted houses. Wherever you choose to lay down your towel, there's bound to be plenty of peace and quiet.
2. There's a mesmerising underwater world just off-shore
With pristine beaches come glistening seas, and the waters around Tobago are ripe for snorkelling. There's a wild world under the surface, where colourful corals reside and tropical fish flit about with their fins.
Bucco Reef is an excellent spot to see the likes of yellow-tail damselfish, spot fin butterfly fish and rainbow parrotfish. Whether you snorkel or scuba dive, make it to the ocean floor and you might even see some curious-looking fireworms – which look rather like hairy catepillars – or even a moray eel hiding among the corals. Get really lucky and you could well spot a sea turtle gliding gracefully through the water.
3. There's a rainforest inland
Right in the centre of the island is an enormous wilderness. The Tobago Main Ridge Forest Reserve is the oldest protected rain forest in the western hemisphere and has a swathe of fascinating flora and fauna. Come hiking here and you could see pretty little jacamar birds with their iridescent blue, green, or bronze feathers, as well as furry little agouti scuttling about on the forest floor.
Taking a guide you'll be able to wander without worry of getting lost, and get schooled in the forest's incredible nature at the same time. They'll point out everything from the rare white-tailed sabrewing hummingbird to the trapodoor spiders hiding in holes in the ground.
4. Turtles lay eggs on the beach
Giant leatherbacks, green and hawksbill turtles all find their home on and around Tobago, making turtle spotting here a piece of cake whether you're in or out of the water. They come to lay their eggs on the beaches here, so visit at the right time of year and you'll likely get to see this moving spectacle.
Nesting season is between January and September, and tends to peak in March and June. The turtles come from all over the oceans back to the very beach where they were born to lay and bury their eggs in the sand. Head to the aptly-named Turtle Beach for the best displays.
5. Exotic birds are ten-a-penny here
Tobago is one of only two locations in the world you can see the aforementioned rare white-tailed sabrewing hummingbird, and there are hundreds more colourful birds to spot.
The cocrico (also known as the rufous-vented chachalaca) is the island's noisy national bird, and it's likely you'll enjoy an al fresco breakfast as yellow bananaquits flit about after your jam.
Lottie is an NCTJ-trained journalist, an experienced travel writer and an expert in creating compelling digital content.
Lottie has been in the travel writing business for nearly a decade and has writing and photography bylines at The Telegraph, The Times, The Independent, the i and National Geographic Traveller. She's done broadcast work for BBC Radio 4 and have contributed to a number of guidebooks and coffee table titles during her career.