Why I booked a weekend break to a surprise destination – without a clue where I'd end up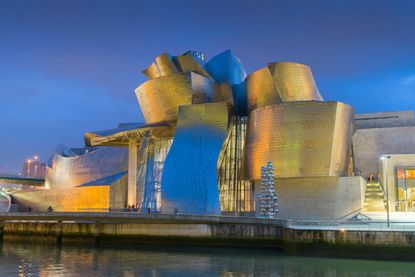 When I was a child, no older than seven or eight, my parents told me to pack my swimming costume and go fetch my bucket and spade. We were going somewhere fun for the day, they said, but they wouldn't tell me where – it was a surprise. As a child from the Midlands, anything that involved beach gear meant a Long Trip, to somewhere far-flung and sunny – an exciting prospect on its own – but not knowing our destination made it even more thrilling. Tummy fluttering with anticipation, I stuffed my flowery pink cozzie into a bag along with some teddies for good measure. Who knew where we'd end up?
But there are no real surprises in travel anymore. Most of us plan, review, and budget every element of our holidays – squeezing out all the spontaneity in the pursuit of that perfect getaway. Which hotel? Look on Tripadvisor. Which restaurant? Check the reviews. Like sheep, we follow each other from one 'unmissable' sight to the next, based on someone else's star ratings. Who would want to go somewhere without Googling it first? It could be awful! We want to know exactly what to expect, before we even consider trying it out for ourselves.
How did it all get so dull?
I thought the thrill of the unknown had gone forever, but earlier this year it buzzed right back into my life. After two weeks of quiet excitement, I took a taxi to Heathrow Terminal Two on a Friday morning. My destination? A complete surprise. It was 6am, drizzling, and the taxi driver had kept my change without asking – but I didn't give a hoot. I was about to fly to an unknown location, for a weekend of unplanned, unscheduled fun. Overhead, the departures board was full of tantalising weekend break prospects: Paris, Madrid, Berlin… but my partner and I had no idea where we were headed. However, in my hand was an envelope – and inside it was the answer.
I'd booked our adventure through Srprs.Me (pronounced 'surprise me'), a young start-up travel company that is the complete antithesis of Tripadvisor and its ilk. They specialise in city breaks for review-weary travellers: you tell them your budget and how long you'd like to be away, and they organise your flights and accommodation – keeping it all a complete surprise. You can specify up to three cities you don't want to go to, and request a few extras: airport transfers, child-friendly hotels (or not), your preferred departure times, and what standard of accommodation you'd prefer. But this is not for control freaks: the whole ethos of Srprs.Me is to embrace the unknown.
The week before we departed, a clue arrived from Srprs.Me: a weather report for our weekend destination. '26°C, no chance of rain.' Excellent! Maybe I'd have to dig out my flowery pink cozzie again.
Under the departures board, I tore into the envelope with childlike glee and a scratch card tumbled out. On it, four silvery blobs concealed a code, which we tapped into a page on the Srprs.Me website via my phone – my palms prickling with the suspense. We watched silently as the destination name was revealed, one letter at a time: B...I...L...B...A...O. Bilbao! A city in northern Spain, famous for... what exactly? We had absolutely no idea.
"You are staying in the best place in the city," announced our taxi driver as he drove us across the city bridge for our first glimpse of Bilbao. A huge curvaceous building of gleaming titanium and glass towered over the riverbank, like a modernist sculpture glittering in the sun. It looked strangely familiar. "That's the Guggenheim," he said, "one of the greatest modern art galleries in Europe. And your hotel is… here." We pulled up opposite the Guggenheim, at a discreet glass doorway. Inside, the Gran Hotel Domine lived up to the taxi driver's billing: its sleek, six storey-high atrium was decorated with sculptures and drawings by Spanish artist Javier Mariscal, and our huge bedroom had front-row Guggenheim views, a marble bathroom, and a covetable minimalist style. It felt like we were staying in an annexe of the gallery itself.
Not that we lingered in the hotel for long. We explored the city streets on foot, seeking out the kinds of independent shops, tiny restaurants and river views that you'd never find online. We wanted to keep up the thrill of the unknown, so we decided to switch off our phones – and those review sites – for the entire weekend. Each discovery felt like our own little secret.
Though far from a secret, the Guggenheim was amazingly crowd-free – even on a Saturday afternoon. The gallery was designed by architect Frank Gehry, and though the modern art inside was impressive, for me the building itself was the star of the show. Its voluptuous interior curved and curled like the inside of a snail's shell, a bright white foil for the vibrant art displays.
More like this: 9 alternative ideas for a girlie weekend away
"When you're hungry, go to theCasco Viejo– the Old Town," the hotel concierge had advised. "That's where all the bestpintxosbars are." Pintx-what? These little savoury bites are Bilbao's signature snack: starter-sized portions of chorizo omelette, plump goats' cheese croquettes, serrano ham toasties and more. Pronounced 'pinchos', they are artfully arranged on bar counters, a smorgasbord of Mediterranean tastes. We had a spontaneous skip in our step, so decided to embark on our very own pintxos crawl – we simply followed the weekend crowds to the best bites, devouring the morsels with a glass of the local bubblytxakoli, before seeking out the next spot. It was the perfect weekend evening, and we tripped back to the hotel along the riverfront, giddy with wine and giggling at the sheer fun of it all.
That night, as I peered from our hotel room across to the Guggenheim – framed by the velvety black river, the building's curves now golden in the halogen glow – I wondered why every trip couldn't feel as fun and impulsive as this. Like the pintxos for which (I now realise) the city is world-famous, our Bilbao break was utterly moreish, but the element of surprise (or 'Srprs') was what made it extra special. For a break from the norm – in all senses – I highly recommend it.
The author travelled with Srprs.Me. Three-night premium trips – with a top-quality hotel, return flights with British Airways (or equivalent airline), and airport transfers – costs from £500pp. Standard three-night trips – with a medium-quality hotel and return flights with a budget airline – cost from £235pp.