Mediterranean Villas For Your Summer Break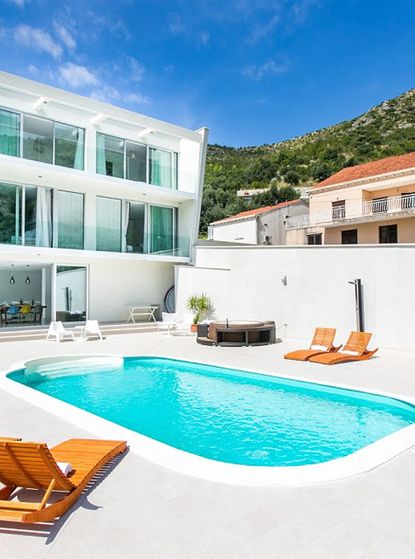 Here's all the most beautiful villas, so you can start planning your holiday!
Where:This impressive, modern architectural property is set over three storeys, with five bedrooms, a spacious terrace, private outdoor pool, and even its own gym. Located just outside the medieval walled city of Dubrovnik, its balconies offer impressive views over the surrounding hillsides. Decor is cool and light, and you can either dine outside or in the large kitchen-dining area. A real gem. What to do:Take a walk around Dubrovnik's City Walls, to get the best views over the sea, then come back down to earth and stroll along its smooth, limestone streets. Its well-preserved buildings range from baroque St. Blaise Church to Renaissance Sponza Palace and Gothic Rector's Palace, now a history museum. The pedestrianized Stradun (aka Placa) is lined with shops and restaurants. You can also take a boat over to the nearest tiny island, Lokrum; covered in pine trees, it's an ideal place to spend a relaxing day, or few hours sunbathing and swimming.
How:Sleeps 12; Villa Dupcic starts at £3,000 per week (or £250 per person), bookable via Only Apartments.
Croatia: Villa Four, Primosten
Where:The town of Primosten is situated on the south coast of Croatia in between the cities of Sibenek and Trogir. And since 2013 it's been the location for a luxury villa complex boasting seven villas and six apartments. Each one has either three or four bedrooms with ensuite bathroom and balcony (with beautiful views over the bay), a kitchen, dining room and living room with a terrace, as well as an attractive swimming pool; villa Four features three bedrooms over three stories. There are also shared facilities in the complex, including a sauna and fitness area, and they also offer a chef, butler service, and excursions with guides - to nearby islands such as Brac or Hvar, or a walking tour around historic Split. What to do:There are beaches only minutes away, but if you want a break from the sun, wander around Primosten, a former fishing village, with its narrow paved streets, old stone houses and churches. Twenty miles away is the picturesque town of Trogir, whose old town is a UNESCO heritage site, or you could take a day trip to the National Park of Krka, with its magnificent waterfalls. How: Sleeps 6; four days here starts from approximately £1,100 (or £183 per person) as part of the Glorious Fantasy package (or you can tailor-make a visit to your requirements); book via Cro-Exclusive.
Italy: The Trulli, Puglia
Where:This is a truly breathtaking, showstopper of a property made up of 11 'trulli', the once-temporary conical white houses that are now recognised as heritage sites by UNESCO. It's situated just south of the town of Ostuni, and only ten miles from the Adriatic coast. Outside, it's surrounded by herb gardens, olive groves and fruit trees, with vineyards beyond, and offers a real sense of seclusion. Inside, think whitewashed spaces with splashes of bright colour; there are four spacious bedrooms, living and dining areas, a garden kitchen, and a cobalt-blue tiled pool. You won't want to leave! What to do:The closest town is San Michele Salentino, just three minutes' drive away, known for producing wine and olive oil, or you could explore charming Ostuni, known as the White City, for the dazzling effect of its whitewashed houses. How:Sleeps 8. A week here starts at £7,700/£5,997 (or £750 per person), bookable from Firefly Collection, 020 3432 7784.
Italy: Baia Faraglioni, Sicily
Where:Baia Faraglioni, in the south east of Sicily, is a lovely, one-storey villa with a garden which leads straight down to the sea, and a jacuzzi in which you can relax while taking in the beautiful sea views. There is a big, light and airy living and dining area, a kitchen, and two double bedrooms, with a lovely terrace in the garden for basking in the sunshine. But you'll probably want to head straight for the beach; accessed by a rustic staircase cut directly from the rock, you'll find a quiet, private bay. The villa has its own small boat, so you can explore the coastline. What to do: As well as this bay, you are close to the sandy beach of Cirica, and the coastal town of Pozzallo, where the more adventurous can go windsurfing or kitesurfing. Wine lovers will want to head to the nearby town of Vittoria, which produces some of Sicily's best wine, the Cerasuolo di Vittoria; take a winery tour, and indulge in a tasting. Or take a day trip to the baroque city of Siracusa, which has a wonderfully preserved heritage, with Greek and Byzantine architecture, temples and museums. How:Sleeps 4. A week at Baia Faraglioni starts at £996 (or £249 per person). Book via Solo Sicily.
Greece Villa Puck, Corfu
Where: A few miles away from Corfu Old Town, and a five minute walk from the beautiful beach of Ipsos Bay, is an elegant mansion house situated in an olive grove, called Il Giardino Segreto di Prospero. The property is divided into four residences. For a couple seeking a mix of tranquillity and beauty, Puck is the best choice. It consists of an open-plan area with kitchen (there is also a BBQ outdoors), spacious living room, bedroom and bathroom. The large terrace looks out onto the sea. What to do:You can go horse-riding around the island or on a boat trip, or for a longer excursion, visit one of the island's historical sites. The Temple of Artemisis an ancient edifice in Corfu, situated just outside of the main town, built around 580 BC. Or walk up to the New Fortress, which sits above Corfu Town's old port, on the hill of St Mark, and which provides magnificent views towards the island of Vidos. How:Sleeps 2. Villa Puck costs from £525 per week, or £262.50 per person (for larger groups, the whole house can be rented from £3,500 per week). Book via prosperos.co.uk
Greece: Mansion Sophia, Santorini
Where: Mansion Sophia is a romantic, two bedroomed mid-19th century house located in the quiet little village of Megalochori. You enter through imposing large wooden entrance gates into a secluded and very pretty private courtyard, with a garden and beautiful Moroccan-style swimming pool. There is also a smaller courtyard where you can enjoy al fresco dining against the backdrop of those spectacular Santorini sunsets. What to do: Megalochori is only three miles from Fira, the island's picturesque capital; stroll through the maze-like lanes for boutiques and cafes, or take a trip by donkey down the steep steps to the waterfront then hop on a boat for a volcano and caldera tour, where you can bathe in hot muddy springs. Or join the throngs along the streets of Oia to see the purple and orange skies as the sun goes down. How: Sleeps 4. A week at this villa costs from £1,400 (or £350 per person). Book via Only Aparments.
France: Villa Catherina, French Riviera
Where: Situated in a small village between the medieval town of Carcassone and Beziers, which is known for its wine, is the elegant and traditional Villa Catherina. Built of vine-covered honey-coloured stone, the décor and furnishings are stylish and welcoming. There are four spacious double bedrooms, a fully functional kitchen, sundeck and pool, surrounded by shady olive trees. What to do:Visit the walled citadel of Carcassonne, made famous by Kate Mosse's book, Labyrinth, and get lost in its maze of winding streets, or take a boat trip down the Canal Du Midi, passing through historic villages. Or do an excursion into the nearby mountains, for stunning scenery. How:Sleeps 8. Villa Catherina costs from £1,020 per week, or £127.50 per person. To book, visit Le Collectionist.
Greece: Kaminia Blu, Kaminia, Kefalonia
Where: The island made famous by Captain Corelli's Mandolin is an absolutely beautiful place to spend a week (or more). Base yourself at this charming, three bedroomed villa, perched on the top of a small hill close to the pretty resort town of Skala. The designer decor is light, airy and modern, and there is a sun terrace and infinity pool in the grounds, with panoramic sea views out over to the island of Zakinthos. What to do:Nearby beaches include Kaminia and Mounda, and when in Skala, you must check out the popular Captain's Bar - actor Simon Pegg, who owns a house on the island, is a regular. Other must-see attractions include the stunning Blue Caves, and a drive up to the north of the island for a freshly-caught lunch at the elegant fishing village of Fiscardo, known as the St Tropez of Greece. How:Sleeps 6; Kaminia Blu costs from £957 per week (or £160 per person) via Unique Kefalonia.
France: Domaine de Manville, Provence
Where: The stunning property of Domaine de Manville was once a thriving farm, with traditional outbuildings and a main house built of light sandstone. A decade ago, however, it was converted into a beautiful hotel, which also features nine luxury villas on its sprawling grounds and olive groves. These three and four bedroom retreats have all the services of a 5* hotel on hand; settle on the terrace and call for a cocktail to be delivered, or ask the chef to create a gourmet supper. Set overlooking the 18-hole golf course, each has a large living room and dining area and a fully equipped kitchen as well as a vast outdoor terrace with outdoor furniture. There is also a Nespresso coffee machine, 50 bottle wine fridge (fill it with Provencal rose!) and a barbecue. What to do: Nearby Les Baux-de-Provence is a spectacularly beautiful medieval town in southern France set in the Alpilles mountains, making for great hiking around the hillsides. The Roman town of Arles and the former Papal town of Avignon are less than an hour's drive away, or you could just stroll through one of the many nature trails in the Alpilles regional park. The hotel can also organise guided tours, whether by bike or by car. And the food is one of the best reasons to come to this part of the world; take home freshly pressed olive oil, lavender flavoured honey, or more of that fantastic wine? How:Sleeps 6. Villas at Domaine de Manville are available to rent from £800/£622 per night based on a 3 night minimum stay (or £311 per person), or from £5,250/£3,924 per week (or £654 per person). Book via Domaine De Manville.
Greece: Villa Levanda, Folegandros
Where: The tiny island of Folegandros is a hidden gem which nestles in between its better known neighbours, Santorini (from where you have to get the ferry to get here) and Milos. Villa Levanda has its own private pool, two bedrooms - as well as sofa beds in the living room - a kitchen and lovely terraced area, with stone walls and cool, cream and beige decor. What to do: A fifteen minute walk away is Chora, the main village, known as one of the prettiest in the Cyclades. En route, you can still see the local farmers ride around on donkeys and plough the fields with mules or oxen. There are plenty of small, tucked away beaches reachable on foot, dramatic cliffs to walk along, and beachside tavernas where you can watch the fishermen bringing in their catch, as the sun sets over the Aegean. And of course, you can take a day trip to Santorini or Milos. How:Sleeps 6; the villa costs from £550 per week (or £92 per person) via Only Apartments.
France: Villa Grand Sud, Corsica
Where:Located in the lovely coastal Pianottoli region, this villa has five bedrooms (three of which are en-suite), a large pool, beautiful manicured gardens, a picturesque beach 10 minutes walk away and a very popular restaurant just next door. There's an open plan living area with a large lounge, and a spacious kitchen and dining area for those tasty, home-cooked dinners. What to do:The historic town of Bonifacio, the 'sunset beach' La Tonnara and the famous shallow, warm waters of Roccapina are all within easy reach by car. Bonifacio boasts an imposing and well-preserved mediaeval citadel; take a boat trip around its waters for an amazing view. La Tonnara is also great for watersports; even if you don't windsurf or kite surf yourself, you'll enjoy watching others do it. How:Sleeps 10. Villa Grand Sud costs from £6,580 per week, or £658 per person. To book, visit Coastline.
Portugal: Quinta de Cartemil, Costa Verde
Where: Stay in a lovely, restored Portoguese 'quinta', or farmhouse, set in 12 hectares of rolling grounds, with amazing views out onto the nearby hills, particularly from the pool and gardens. Perfect for multigenerational stays, the property is two-storey, and boasts a games room with table tennis, four en-suite bedrooms (three on the ground floor), and four spacious reception rooms. What to do: The villa is only 5 miles from the historic Ponte de Lima, known for being the oldest village in Portugal; every second Monday (time your trip carefully!) it holds one of the biggest markets in the country. Named after its beautiful medieval bridge, it's studded with laid back cafes and you can visit vineyards on its outskirts, which produce the local Vinho Verde. The Costa Verde is only a 35 minute drive away, with beautiful beaches to enjoy. How:Sleeps 8. A week here costs from £1495 (or £186 per person). To book, visit Vintage Travel.
Spain: Casa Soller, Mallorca
Where: A simply beautiful house in a stunning setting, Casa Soller will appeal to family gatherings of all ages or big groups of friends, particularly for a special occasion. An elegant townhouse situated in the centre of Soller (a small, quiet, yet picturesque town ringed by the imposing Tramuntana mountains), it's located over four floors, so you can simply pack off any noisy kids and teens to the upper levels. There are five double bedrooms, four of which are ensuite, a gym room kitted out with rowing machine and elliptical trainer, a 9ft screen home cinema, and an outdoor pool. The house was recently renovated to bring its charming, Art Nouveau style back to life, which means you may not wish to leave its elegant rooms or leafy garden, shaded with citrus trees and palms, perfect for al fresco dining. What to do: If you do want to go further afield, however, it's easy to take the train into Palma, just 30 minutes away. Like a miniature Barcelona, it has an impressive Gothic cathedral, a Ramblas-like street for strolling down - Passeig d'es Born - shops, a harbour, and more. How:Sleeps 12. Casa Soller costs from £6,950, or £579 per person. Book via SJ Villas.
Sign up to our free daily email for the latest royal and entertainment news, interesting opinion, expert advice on styling and beauty trends, and no-nonsense guides to the health and wellness questions you want answered.