14 beautiful photos of Japanese cherry blossom in full bloom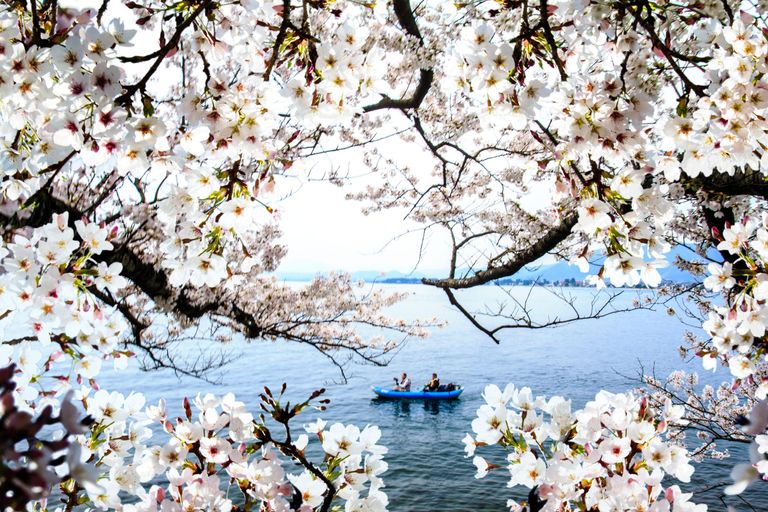 Spring blossom isn't just a pretty sight in Japan: it's a national obsession. Every March and April, the entire country ventures outside to see the pink and white blooms – a symbol of new life – with picnics, parties, and festivals.
You won't just find cherry blossom (sakura) on the trees: it's in snacks, on souvenirs, and even sprinkled on Starbucks. The arrival of the blooms is forecast on television: a petal-by-petal analysis of the new season's arrival!
Here are some of the best places to see Japanese cherry blossom – and do a little hanami ('flower-watching') for yourself – or join our exclusive Woman & Home cherry blossom Japan holiday, departing in March 2019!
1.Osaka Castle during the spring season
2. Cherry blossom trees with Mt Fuji
3. To-ji pagoda with cherry blossom in Kyoto
More like this: 7 incredible cruise holidays with Woman & Home
4. Yoshinoyama, in Nara Prefecture, during spring
5. Sakura at Chureito Pagoda
6. People take part in hanami ('flower-watching') picnics, under the blooms
Want to see Japan's cherry blossom for yourself? Join our exclusive Woman & Home Japan Holiday– a spectacular 12-day trip which transports you to all the best blossom spots, plus Tokyo & Mount Fuji, a thrilling bullet train journey, traditional tea ceremony, and 8-night cruise around Japan's stunning coastline. See the details
7. Just after sakura season, millions of pink Shibazakura flowers carpet the base of Mt. Fuji
8. The blooms last only a week before falling from the trees
More like this: Escape your comfort zone! 10 adventurous holidays to take this year
9.Cherry blossoms in Yoshino
10. Blooms at a temple in Kyoto
11. In Tokyo, the blossom is lit up at night
12. Himeji Castle in Hyōgo
13. Kiyomizu-dera shrine in Kyoto
Want to see Japan's cherry blossom for yourself? Join our exclusive Woman & Home Japan Holiday– a spectacular 12-day trip which transports you to all the best blossom spots, plus Tokyo & Mount Fuji, a thrilling bullet train journey, traditional tea ceremony, and 8-night cruise around Japan's stunning coastline. See the details
14. Tokyo's skyline peeps over the Japanese cherry blossom
All images from Alamy