Get to know the REAL Romans: Introducing the ultimate Italy holiday with Prof Michael Scott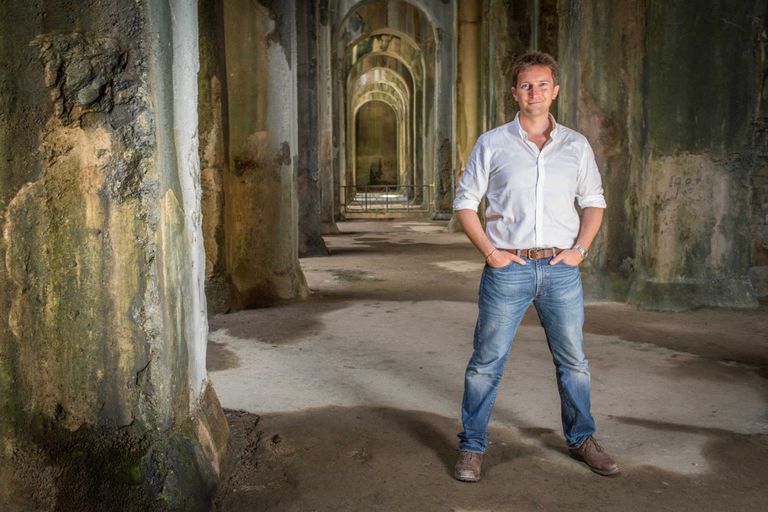 He's best-known for his fascinating TV insights into the ancient world, presenting landmark BBC documentaries such as Italy's Invisible Cities, but now Professor Michael Scott will be bringing Ancient Italy to life especially for Woman & Home readers on our exciting new holiday around Naples.
Nowhere gives a deeper insight into Roman life than Pompeii and Herculaneum, which were thriving towns before they were frozen in time by the cataclysmic eruption of Vesuvius in AD79. On this exclusive five-day tour, you will be guided through this long-vanished world by expert local guides as well as Michael himself, who will join you in Baiae, an opulent seaside haunt of wealthy Ancient Romans, and give an exclusive talk and Q&A about Ancient Rome.
You will have the chance to tour the galleries of the wonderful Naples Museum, walk the streets of Herculaneum, and explore the beautiful villas and saltwater baths of Baiae to see for yourself how Rome's senators, gladiators, slaves and citizens lived 2,000 years ago. The holiday includes all meals and wine, so you'll sample Naples's fantastic cuisine, too - with accommodation at the four-star Hotel Scapolatiello. See the details and book
As well as presenting and writing numerous BBC documentaries including Italy's Invisible Cities and Sicily: Wonder of the Mediterranean, Michael Scott is the Associate Professor in Classics and Ancient History at the University of Warwick and the author of several books on ancient Greek and Roman society. With his witty and engaging style, he's the ultimate guide to this fascinating country - and with a wealth of insight to share too.
But don't just take our word for it! Michael reveals the highlights that will make this one-off trip unique…
7 reasons to join Professor Michael Scott in Italy
1. You don't have to be a Latin buff!
"I have sympathy with those who did not like Latin at school – I was one of them! This trip is not about reading dry Latin text exercises, but a chance to immerse yourself in a real world in which people lived, breathed, argued, fought, made love, did business and much else besides."
2. Explore Pompeii in the company of a true expert
"This trip is a unique opportunity not just to see but to immerse yourself in a Roman town – and to get a sense of that town 'frozen in time' by the Vesuvius eruption. As such, you feel back in the footsteps of the ancients, you begin to see the world as they saw it and you can marvel at both how similar and how different they were from us today."
3. See history brought to life
"My interest in the classics was first inspired by my first visit to Greece when I was 17 – standing in the archaeological sites, in the places that I had been reading and learning about, coming face to face with the material remains of these ancient civilisations, I was hooked."
More like this: The 8 trips every woman should take in her sixties
4. The Romans' legacy lives on
"Pompeii and other sites to be visited are a gateway into a world of that has – for better and worse – deeply affected and influenced our own. We can't understand ourselves without understanding them." See the itinerary and book
5. Visit Baiae, the hedonistic "Ibiza of the ancient world"
"Baiae for me is the lesser known jewel of the Naples area – it is a brilliantly preserved bath site – one of the largest geothermal baths complexes in the Roman world. More importantly, it allows us to think about the Romans at leisure – how did they like to spend their down time? Even more importantly, it reveals both the joys and dangers that Romans thought existed for them when they came to this part of the Roman world: Baiae was both a place of relaxation and excess, a place to get away from it all but also potentially to lose everything you held dear, a heaven and a hell at the same time. It tells us lots about the Roman psyche – the ancient Ibiza of its day!"
6. The food and wine are fantastic
"This region of Italy has it all – the weather (always a bonus!), fantastic food fuelled by rich tasty ingredients (thanks to all their fertile volcanic soil), great wine and an abundance of ancient and more modern culture."
7. Explore Italy beyond the beach
"Naples is Italy at its most frenetic and most relaxed; at its most cutting edge and at its most ancient. You'll truly feel the Ancient Roman world brought back to life, nestled among some of Europe's most spectacular scenery and all accompanied by some of the world's finest food, wine and weather. What's not to love?"
All images from Alamy