12 Ireland trips for 2021—holiday ideas with history, culture and warmth
These Ireland trips allow you to explore the coast, countryside and heritage cities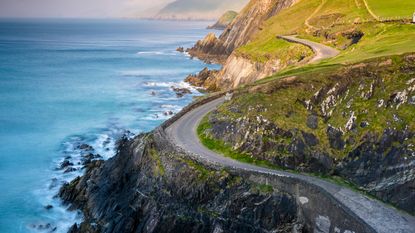 (Image credit: Getty Images)
We've rounded up the best Ireland trips on offer. Why? Hop across the Irish Sea and discover some of the most gorgeous scenery—and astonishing history—right on your doorstep.
From ancient castles to soaring mountains and white-sanded beaches, there's so much to experience in Ireland. And not to forget its legions of myths and legends – kiss the Blarney Stone and you'll never be short of a tale or two. If you're thinking about a staycation for 2021, try a trip to Ireland. With history, culture, warmth and lyrical charm, a trip to the Emerald island won't disappoint.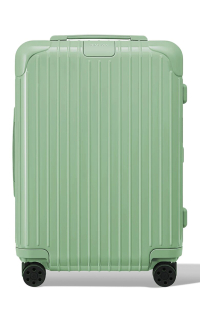 (opens in new tab)
Bamboo Green Essential Cabin Suitcase: £530 | Rimowa (opens in new tab)
Sponsored
If these trips have you wanting to make your way around Ireland, this hard-shell suitcase is the perfect bag to pack all of your essentials in. This is a reliable staple of the brand, but their new bamboo green color is sure to make an impact. It's lightweight so won't be too bulky to carry around but the 22x16z10in size makes for enough room to pack all of your must-haves, including your best walking shoes (opens in new tab) to keep you comfortable throughout your expeditions.
12 Ireland trips to make in 2021
1. Rathlin Island, Antrim
Abundantly green, with cliff tops bursting with purple heather in summer, Rathlin is a remote haven for 150 people and tens of thousands of seabirds.
In spring, puffins, razorbills and kittiwakes raise their chicks on the craggy cliff edges—you'll get great views from the viewing platform at the island's Seabird Centre. Ferries to the island depart from Ballycastle and you can ramble Rathlin on foot, or cruise by bicycle.
Look out for the colonies of seals that lounge on the rocks, you may even spot an Irish hare or minke whale.
Several precarious-looking lighthouses can be spotted among the rocky cliffs of Rathlin. Pop into the island's Boathouse Visitor Centre to discover the story of these extraordinary feats of engineering.
Stay at Kinramer Cottage, an old farmhouse that provides a perfect base for walking and watching the island's wildlife, sleeps up to 10, from £50 per night; kinramercottage.com.
2. Sperrin Mountains, Tyrone
Wild and untouched, the Sperrins provide a paradise of undulating hills, tranquil valleys and a treasure trove of geology and wildlife.
Wondrous walking trails abound in this Area of Outstanding Natural Beauty: take a hike up Sawel Mountain, the highest peak, or try the lovely circular trail through Davagh Forest, Northern Ireland's only Dark Sky Park— its new Sky Park Observatory is well worth a visit.
More than 90 sets of stone circles, dating back to the Bronze Age, have been found in the Sperrins, including the famous Beaghmore Stone Circles, which perfectly align to the movements of the planets.
Stay at Sperrin View, where you can stargaze from the comfort of your own luxurious glamping pod, sleeps up to five, from £100 per night; sperrinviewglamping.com.
3. Giant's Causeway, Antrim
Do you really need travel insurance?
A country escape might seem like a peaceful and tranquil holiday, but there are still risks that travel insurance could cover. Travel insurance can provide cover should your trip be cancelled or if your property gets damaged or stolen. If travelling abroad, a travel insurance policy could also cover you for flight delays or medical expenses should you become ill or injured. If backpacking is more your speed, you can even buy specialist backpacking insurance.
Compare Travel Insurance Quotes at GoCompare (opens in new tab)
Legend says it's the home of the Irish giant, Finn McCool; science says it's the result of volcanic eruptions 60 million years ago.
Either way, this otherworldly geological wonder consisting of tens of thousands of interconnected stone columns formed millions of years ago, is utterly extraordinary.
Clamber among the rocks or get a different perspective by climbing the Shepherd's Steps and hiking along the cliff top trail to admire the breathtaking scenery from above.
Stay in one of two remote log cabins, each with a private hot tub and fantastic views, just a couple of kilometers from the Causeway, sleeps up to four, from £700 for two nights; auroranorthcoast.com
4. Narin beach, Donegal
An expansive, windswept arc of glorious golden-white sand, the beach at Narin is one of the quietest and most beautiful spots on Ireland's Atlantic coast.
Backed by miles of low dunes, this Donegal gem is a nature lover's delight and much of the site is a protected Natural Heritage Area due to its rare and fragile ecosystem.
Spectacular heritage sites around Narin include Doon Fort. Hidden away on Doon Lough just outside Portnoo, it dates from the fifth century AD.
Take a breezy stroll along the vast strand, keeping your eyes peeled for pods of dolphins among the waves. At low tide, you can walk to the tiny island of Inishkeel (Inis Caoil), to explore the ruins of a sixth-century monastery.
Stay at the comfy, super-friendly Annora Portnoo pub, where locals regularly gather to play traditional music, from €40pp; annora.ie.
5. An Rinn, Waterford
The Ring Peninsula is one of the last remaining Gaeltacht (Irish speaking) areas in Ireland, a secret corner of Waterford with lovely views across the bay of Dungarvan and the Monavullagh mountains.
The impressive cliffs of An Rinn are a haven for nesting seabirds and wildflower wilderness. Look out for Bell heather, Devil's-bit Scabious and Bog Violet.
Tranquil country lanes, hidden beaches and a handful of lovely old pubs are yours to explore: wander around the tip of the peninsula to see Helvick Head, with its idyllic harbor and hidden bay, or pop into a traditional Irish bathhouse for a rejuvenating seaweed soak at Solas Na Mara (solasnamara.ie).
Stay at the brand new luxurious Cliff Beach House, 20km from the peninsula. Complete with a cinema room, gym and sauna, it boasts endless views over Ardmore Bay, sleeps 12, from £2,162 per night; cliffbeachhouse.ie.
6. Killary Fjord, Connemara
Overlooked by the brooding Connemara mountains, Killary Fjord was gouged out of the rock by a glacier in the Ice Age, creating a shimmering 16km long inlet. Walk the path along the banks and around the harbour for dazzling views, or hop on the Connemara Lady catamaran (killaryfjord.com) for a cruise, to catch glimpses of seals, otters and dolphins.
The sheltered kelp beds and crystal clear waters make the fjord a lovely spot for wild swimmers, and it's a divers' paradise: underwater wonders include lobster, conger eels, colourful anemones, sea trout and white dog whelks.
The peaceful setting of Killary Fjord lured the philosopher Ludwig Wittgenstein, who lived here after the Second World War. A blue plaque marks his former home in the hamlet of Rossroe, near the mouth of the fjord.
Stay at the delightful Delphi Lodge, a 1930s lakeside country house set in a wild unspoilt valley, surrounded by the tallest mountains in Connemara, from £206 per night, B&B; delphilodge.ie.
7. Dingle Peninsula, Kerry
Ireland's westernmost peninsula ('the next parish over is Boston,' according to its residents) boasts some of the country's most staggeringly spectacular scenery.
The area is littered with white sandy coves and fascinating remnants of prehistoric Ireland, including monuments left behind by Bronze Age settlers and Dark Age monks. There are plenty of thrilling walks: take all or part of the 22km stretch from beautiful Dingle town to Dunquin, through green pastures and along the beaches at Ventry Bay.
As you round the ragged coastline of Slea Head, you'll get sensational views of black-rock cliffs and the distant Blasket Islands as they're pummelled by the Atlantic.
The houses of Dingle are painted in colorful pastel shades. In the 1970s, Ireland held a nationwide Tidy Town competition, and Dingle residents embraced it by changing the color scheme of every street.
Stay at the Dingle Skellig, right on the coast just outside Dingle town, with magnificent sea and mountain views, from £127 per night, B&B; dingleskellig.com.
8. Trinity College and the Book of Kells, Dublin
Ireland's most prestigious university, Trinity College, is an idyllic retreat in the heart of the city. Elegantly laid out on cobbled and grassy squares, the campus is an outstanding example of architecture and landscaping: most of the immaculately preserved buildings date from the 18th and 19th centuries.
It's here that you'll find Dublin's biggest attraction, the Book of Kells, believed to be more than 1,200 years old and one of the most beautifully illuminated manuscripts in the world, and also the Long Room, a 65m-long archive that houses 200,000 of the library's oldest books and manuscripts (for tickets and tours, visit www.tcd.ie).
Stay at the newly-opened aparthotel, Zanzibar Locke, which overlooks the River Liffey, from £109 per night; lockeliving.com/en/dublin/zanzibar-locke.
9. Wicklow Mountains National Park
In the scenic Glendalough Valley, just south of Dublin, a verdant blanket of protected land stretches for more than 50,614 acres, creating Ireland's largest national park.
This is a glorious hodgepodge of rolling hills, babbling streams and gentle valleys dotted with lush woodland, sparkling lakes and thick forests, as well as lovely mountain trails to enjoy.
There are lots of walks to choose from: take a leisurely stroll through the Glendalough woodlands to the Lower Lake, marveling at the flora and views of the majestic round tower and monastery in the distance – look out for dragonflies, lizards and frogs as you go.
Stay at Butler's Cottage, a lovely old renovated stone cottage with woodburner, private garden and idyllic views, sleeps four, from €302 for seven nights; sykescottages.co.uk (opens in new tab).
10. Blarney Castle, County Cork
A striking 15th-century medieval fortification, Blarney Castle has been part of Irish folklore for centuries, thanks to the legend of the Blarney Stone.
The Blarney Stone was put into a tower of the Blarney Castle in 1446. There are many theories about why it's there, but it has become one of Ireland's most successful tourist attractions.
Visitors flock here to kiss a small rock embedded in the castle's ramparts in the hope of being endowed with 'gift of the gab' - the famed Irish eloquence. It involves a lot of queuing and a head for heights: hanging backwards upside down over an 85ft drop is not for the faint-hearted.
While kissing the stone is off-limits for now, you can explore the castle as well as the extensive grounds, which include a bewitching poison garden, or pop in to see the wonderfully ornate Blarney House.
Stay at Ballyvolane House in north Cork, an elegant Georgian retreat in set lush surroundings, bluebell woods, and lovely parkland, from £215 per night, B&B; ballyvolanehouse.ie.
11. Titanic Belfast
One of the city's biggest attractions, Titanic Belfast shines a light on the infamous 1912 maritime disaster.
The Titanic Belfast building can hold over 3,547 visitors at any one time – the same capacity as the RMS Titanic.
Built on the site of the Harland & Wolff shipyard, where the doomed passenger liner was built, the glinting, quartz-sharp building is an architectural wonder in itself. At 14,000 square meters, it's one of the largest urban waterfront regeneration projects in the world.
Inside nine interactive galleries contain a mix of hi-tech attractions and historic artifacts which take you on all sorts of fascinating journeys to show how the ship was built, as well as a fish-eye view of how the wreck looks today.
Stay at the Bullitt Hotel in the heart of the city, which offers comfy rooms and a rooftop cocktail bar with fabulous city views, from £77 per night; bullitthotel.com.
12. Rock of Cashel, Tipperary
One of Ireland's most remarkable attractions, the Rock of Cashel is a huge, formidable limestone outcrop crowned by a cluster of medieval buildings.
According to local myth, the Rock of Cashel was formed after the Devil spat out a giant piece of rock in fury at St Patrick, who had banished him from a cave in a nearby mountain.
Highlights include the original Saint Patrick's Cross and St Cormac's Chapel, the earliest and most celebrated of Ireland's surviving Romanesque churches, exquisitely decorated with unique carvings and original frescoes. The views over the Golden Vale are spectacular, and there's a lovely 6km walk from the village of Golden to the Rock, which follows along riverside paths.
Look out for the various species of swans and a wide variety of flora and fauna in early summer.
Stay at the newly refurbished Cashel Palace Hotel, due to reopen this summer, complete with a new spa and ballroom; cashelpalacehotel.ie.
Helena is the Travel Editor for Woman & Home, Woman's Weekly, Woman, Woman's Own and Chat. As a journalist with 8 years' experience, she has also worked for titles including Stylist, The Evening Standard and Heat.

She is a keen traveller who loves nothing more than exploring a new country. Her dream trip is a safari. A fierce animal lover, she dreams of seeing some of the big five out in the wild. Her wish-list also includes India – to explore her husband's heritage more – as well as exploring more of America's stunning national parks.