Dogs on tour: Brits are travelling with pets more than ever before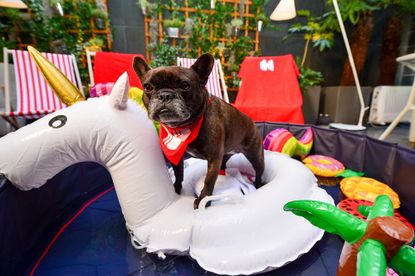 Family holidays shouldn't have to exclude the dog, and new data shows that us Brits are keener than ever to bring the pooch wherever we're going.
In the last year, Hotels.com has reported a 70% increase (opens in new tab) in searches for pet-friendly accommodation, and a recent survey they found that 30% of dog owners have taken their pet on a trip beyond the UK. So it's clear that we're dedicated to taking the dog on holiday.
But as we're on the brink of Brexit, it's also getting more complicated than ever. Hotels.com found that over 75% of pet owners didn't realise that pet passports could be at risk. What was a relatively simple process to getting your puppy passport could well become a months-long exercise in bureaucracy, involving jabs, blood tests and multiple visits to the vet. You'll need to allow at least four months before you can travel (opens in new tab) with your pet, and you need to ensure you get a health certificate no more than 10 days before you travel, too.
In light of this, staycations are likely to make up the majority of dog owners' holidays this year, so here are our tips on the best places to take your dog.
More like this:25 amazing staycations you should consider this year
The UK's best dog-friendly destinations
The Isles of Scilly, Cornwall
Come here without a fluffy friend and you may well look out of place. The Isles of Scilly are Britain's most dog-friendly islands, with pups allowed in all sorts of places from hotels to pubs, and ample amazing walks on its rugged coastal paths. Pups are very welcome at Karma St. Martin's resort, a gorgeous beachfront property on the island of St Martin's, and they can travel on the boats that ferry visitors between the islands. You can even take them on the helicopter service from Land's End Airport if you don't fancy a couple of hours on the Scillonian from Penzance, so there's no excuse to not bring the dog on a holiday in the Isles of Scilly.
Brighton, East Sussex
You and your pup don't have to be the outdoors types to enjoy a holiday together. Head down to Brighton, one of the UK's most dog-friendly cities, to enjoy a seaside city break with your pup. Almost all the pubs here allow dogs (and some even prefer you to have a furry friend), and a few hotels – including the Hotel du Vin and Artist Residence – are open to pets too. You can stroll in the Pavilion gardens, walk along the seafront or just browse in pretty boutiques in the Lanes. Come in summer and you can enjoy al fresco dining with your dog at Riddle & Finns, which serves spectacular fresh seafood.
More like this:England's best dog-friendly hotels
The Lake District
A destination that's made for walkers, there's nothing quite like a stroll in the Lake District to help you and pooch feel refreshed. There's plenty of dog-friendly accommodation here and pubs aplenty for post-walk pick-me-ups. You could even try a new activity like stand-up-paddleboarding or canoeing with your pet too – just be sure to bring a life jacket for them if swimming isn't their bag!
You can find more information on travelling with your pet after Brexit on the UK Government website (opens in new tab).
Lottie is an NCTJ-trained journalist, an experienced travel writer and an expert in creating compelling digital content.
Lottie has been in the travel writing business for nearly a decade and has writing and photography bylines at The Telegraph, The Times, The Independent, the i and National Geographic Traveller. She's done broadcast work for BBC Radio 4 and have contributed to a number of guidebooks and coffee table titles during her career.