Australia's secret paradise island has reopened to visitors – and I got the chance to stay!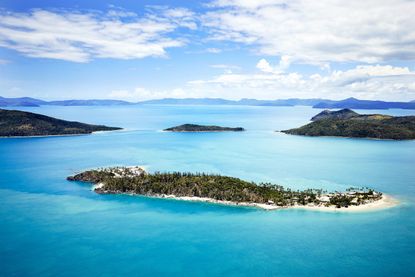 (Image credit: Day Dream island)
Searching for a new island paradise to add to your bucket list? If you've got a trip to Brisbane, Sydney or Melbourne on your travel itinerary then you need to make a detour to Australia's Daydream Island (opens in new tab)– and yes the name really does say it all.
Just a short ferry ride from Hamilton Island – the gateway to the famed Whitsunday Islands and the Great Barrier Reef – Daydream has recently reopened following an extensive refurbishment programme in the aftermath of Cyclone Debbie in March 2017, but has actually been around for over 80 years.
Stepping off the boat and onto the boardwalk leading up to this 4.5 star resort, I was quick to spot a few inviting hammocks looking out onto the coastline, and had already made a plan to return to them with a good book, my newly purchased straw hat and some sunscreen (opens in new tab) in hand.
Our walk up to the hotel reception also took us past the resort's swim-up bar, free-roaming Wallaroos and Cockatoos who call the island their home and the resort's flagship Living Reef – more on that later.
Rooms: Daydream describes its style as 'barefoot chic' and after taking in the decorative floor-to-ceiling walls of classic Queensland white shutters in the lobby area, I knew there'd be more deft design touches to come in our ensuite rooms. And on opening the door I wasn't disappointed. Natural woods and beige and green tones reflecting what you'd find in the surrounding natural environment dominated, with a dedicated seating area and spacious balcony – from which I saw a sea turtle bobbing its head above the waves and several pink-tinged sunsets – inducing a few 'do I really have to leave my room?' moments from me. Free on-demand movies, tea and coffee facilities and a well-stocked mini-bar, added that all-important extra layer of comfort.
Eateries: To get the full resort experience my group opted to sample all of Daydream's dining options – it would be rude not to? – including Infinity (a premium Asian Fusion dining experience), Inkstone Kitchen & Bar (Australian cuisine including seafood and steak) and Graze (a modern buffet restaurant with live cooking stations). As a vegan (opens in new tab) I had my usual concerns about making awkward requests to remove this or add a bit of that to menu staples, but the staff were ready with suggestions and happy to accommodate a fussy eater. One of my most memorable meals was actually a vegan pasta with peppers, cauliflower and a rich tomato sauce whipped up by the chef at Inkstone at a moment's notice.
Activities on-site: On-site there was plenty to do to while the sunny days away – and to my surprise I only spent about an hour or two parked up at the pool-side day beds during my stay (the usual mainstay of my past island holidays). The short self-guided Rainforest Walk sees you take in tall hoop pines – the symbol of the Whitsunday Islands – ending at a viewing point with stunning vistas, where on some days guests can enjoy sunset drinks and nibbles (Aus $40pp). Lovers Cove – Daydream Island's main beach – sits just to the side of the starting point of the walk, and is the perfect place to retreat for the day. It also lived up to its name during our stay as a couple got engaged there surrounding by a riot of rose petals.
After passing it daily on our trails around the island we also got a chance to take a guided snorkel tour of the Living Reef (Aus $100pp) – a coral lagoon home to over 100 unique species of marine fish, star fish, sea cucumbers and more with an attached Exploration Centre – headed by one of the reef's marine biologists, where we got the chance to feed and stroke friendly stingray Lou-Ann and learn more about this amazing eco-system.
Another on-site highlight was a relaxing meditation (opens in new tab) session in the Underwater Observatory (free) and wellness fans will also be happy to hear that free yoga sessions (including Circus Yoga and the Upside Down yoga) are also held there. Oooh and there's also the small Elite Day Spa – comprised of a couple of adjoining rooms, which will be replaced with a larger spa in the future – where you can top up your zen with treatments ranging from a Fijian hair and scalp ritual, through to a 'Rites of Massage' featuring warm stones.
MORE:This island has been named the best in the world so you might want to add it to your bucket list (opens in new tab)
Activities off-site: We headed out on the Whitehaven Beach day tour with GSL Marine (opens in new tab) (Aus$189pp), and kicked things off with a walk up to the Hill Inlet lookout at Tongue Point on Whitsunday Island, where I couldn't get enough snaps of the aquamarine blue waters and pristine white sands below. This was followed by a generous onboard buffet lunch comprised of fresh fruit, a variety of salads, cold meats and cheese. Then it was on with the lightweight Stinger Suits – so much more wearable than a standard wetsuit in my mind – and then off for what was actually my first time snorkelling in open water ever – aagh – though I quickly mastered breathing through my mouth – along Chalkie's Beach off Haslewood Island (location varies depending on tides), where we saw shoals of brightly coloured fish and curious looking coral. Back on the boat we warmed up with hot drinks and cookies, before making our last stop to Whitehaven beach for a short spell of doing nothing more than soaking up the sun. A couple of the group decided to take advantage of the paddleboards that had been brought on-shore by the boat, but I opted instead to buy a cold can of lemonade from a cooler manned by one of the boat's staff. While I initially bemoaned the lack of on-site beach café – what's a beach stint without a Cornetto I say? – I quickly realised that Whitehaven has so much more charm because it isn't built up and is home to no more than a campsite, walking trails and a few composting toilets (full marks for eco-credentials).
Getting there: For travel to Daydream Island, flights from Brisbane to Hamilton Island are available with numerous airlines including Qantas and Virgin Australia. Ferry transfer from Hamilton Island to Daydream Island with Cruise Whitsundays (opens in new tab) (from Aus$80 adult/Aus$64 child return). Travel also available from mainland Queensland via Airlie Beach (ferry transfer).
Miriam worked for woman&home for over five years and previously worked on the women's lifestyle magazines Woman and Woman's Own.