20 Fun Days Out With The Kids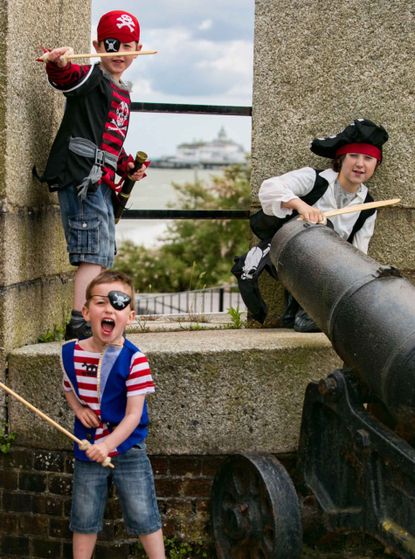 Not sure what to do with the kids? These ideas should help you plan a brilliant day out...
Looking for ideas for days out with the kids?
'I'm bored'...We've made it our mission to ensure you don't hear desperate phrases like that over the coming school-free weeks. And because everyone enjoys a fun adventure, we've pulled together some cracking ideas for days out with the kids to castles, parks, gardens, houses, festivals, museums and forts.
Step aboard an old narrow-gauge railway, learn what skills you need to fly an airliner, go on a Charlie and Lola adventure or come face to face with what life was like 75 years ago in the heart of the Blitz. Learn about honey bees while enjoying a scrummy afternoon tea, get your feet wet on a guided rockpool adventure or sign up as a trainee pirate - there's plenty of variety in our days with the kids guide.
Our selection covers a wide price range, with a few attractions even offering free admission. So, make your selection, pack a picnic and set off for a great day out with the kids. Who knows, we may even see you there...
Redoubt Fortress, Eastbourne
Redoubt Fortress seeks pirate recruits for summer 2015! Young buccaneers will be dropping anchor at Eastbourne's seafront Redoubt Fortress this summer, as the historic parade ground becomes the port of call for a brand new Pirate School. Climbing the rigging, pirate language, sword fighting and much more, will be all part of the swashbuckling curriculum in a bid to add even more fun for families visiting the fortress this summer. With pirate dressing-up, sea shanty singing and digging for treasure, the new recruits will have to earn their new pirate name to become a fully qualified brigand, before a photo opportunity with their fellow adventurers to mark their graduation.
Runs to 1 September. Entry to the parade ground, gun platforms, vintage café and shop are all free. Entry fees to Pirate School are £3 per child and will be run on a drop-in basis any time between 11am and 4pm. Children must be accompanied by an adult and indoor activities will be available in wet weather. Souvenir photos are available for an additional fee. Visit Eastbournemuseums.co.uk
Days Out With The Kids: Ice-Cream Farm, Cheshire
The multi-million pound re-development at The Ice Cream Farm opened on 21st July and includes one of the largest purpose-built ice cream parlours in the world, as well as some great new activities to keep children of all ages entertained. The updated parlour now has 180-seater food and drink area whilst outside 'Daisy's Garden' offers a free play experience including a flavour forest and toddler farm. There is also an ice cream themed adventure golf course and 'Silvercone' quad bike track. Inside, 'Honeycomb Hive' is the largest indoor sand and water play area in Europe. All of this alongside the brand new ice cream parlour at the epicentre makes The Ice Cream Farm a fantastic attraction. Opening times: daily 10am-5.30pm. Entry is free, with a small charge for some activities. Visit Theicecreamfarm.co.uk
Days Out With The Kids: Pembrokeshire Guided Rockpool Safari, Pembrokeshire
Join a guided exploration of the coastline that's suitable for the whole family; from tots to grandparents and everyone in between. Meet your TYF guide at HQ in St Davids for a quick chat, and head to the most suitable venue. Each session will cover local marine biology and ecology, geology of the local coast and the knowledge and information necessary to go about your own explorations in a safe manner. Plus, there's a hot chocolate for everyone, made on location with a kelly kettle Cost: £15 per participant Call 01437 721 611 or visit Tyf.com
Days Out With Kids: Afternoon Bee Tea at Stourport Manor Hotel, Birmingham
The Afternoon Bee Tea at Stourport Manor Hotel is a mix of fun, education and delicious treats that will appeal to grown-ups and little ones of all shapes and sizes. To promote the bees' health and the support they bring to the ecology of the grounds and surrounding area, the hotel has created a bee-friendly garden. Inspired by our favourite floral nectar the tea consists of scones, clotted cream and jam, classic sandwiches of salmon, cucumber and honey of course, teacakes alongside your choice of teas and bubbles to toast the wonderful bees. To support the treasured local bee population, the hotel has planted lavender and oregano in the hotel's grounds to make sure they are plentiful for the bees to survive, and has celebrated the summer with the launch of an afternoon tea that would delight Winnie the Pooh. There's a little ones version as well as grown-ups (comes with a glass of Prosecco). Adults pay £12.95 a head for the Honey Bee Afternoon Tea, or £16 with Prosecco. Children pay £5. Available daily, 1pm - 5pm until end September. Call 01299 289955 or visit Menzieshotels.co.uk
Days Out With The Kids: Ravenglass & Eskdale Railway, Lake District
Celebrate the 100th anniversary of the Ravenglass & Eskdale Railway this August bank holiday. In 1915 the railway was re-gauged from 3ft to the 15" line you see today. Book in advance to guarantee your place on one of their special double-headed trains. Over the course of the weekend there is lots going on, including visiting engines such as Count Louis (Evesham Vale Railway), Lydia (Perrygrove Railway), Britannia (Conwy Railway), Katie (Kirklees Light Railway), Anne (a traction engine and an appearance in steam by Synolda (a resident engine). Admission costs £20 for adults and £10 for children aged 5-15. Call 01229 717171 or visit Ravenglass-railway.co.uk
Days Out With The Kids: Savill Garden, Surrey
Take a picnic and enjoy the roses of Savill Garden. Summer's the time when the Rose Garden is in full bloom for inhaling gorgeous scents from above, via the modern viewing platform. Outside, the nearby Obelisk lawn has a play area for younger children, with picnic tables and free puppet shows every Wednesday in August. Admission: adults £9.75, seniors £8.75, children 6-16 £ 4.35, under 6 free. Open daily 10am-6pm. Call 01753 860222 or visit Theroyallandscape.co.uk
Days Out With The Kids:Where's Wally, Nationwide
Virgin Trains is challenging us to find one hundred Where's Wally replicas in a nationwide hunt. Wally, who is known to appear in train stations in the famous books created by Martin Hanford, will follow suit in the real world with life size cut-outs and smaller transfers blending into real crowds, cityscapes, train stations and trains along the West Coast Main Line. Manchester, Liverpool and Edinburgh are among cities where replica Wallys can be spotted. The hunt runs for six weeks throughout the school holidays, and promises to keep families entertained during their summer travels. To enter, just snap a picture of yourself with a Wally on the route. Once you've found as many as you can, simply tweet the total number of Wallys you've found @VirginTrains using the hashtag #FoundWally or enter via the Virgin Trains Facebook page by August 31. The family/family member to find the most Wallys will win a luxury Virgin Trains Escape Weekend in London, courtesy of SuperBreak. Visit Virgintrains.co.uk/family-offer/
Days Out With The Kids: Kidzania, London
Give the children a taste of their future on a family getaway that's both educational and fun! KidZania, a brand new attraction which has just opened at Westfield in London, gives youngsters the chance to try out more than 60 real life role-play activities. The four-hour experience allows children to choose from more than 60 real-life role-play adventures including acting, aviation, dentistry and hotel management. Priced at £28 per child and £16.50 per accompanying adult. Superbreak has a fantastic package that includes entry and one night's accommodation, giving you plenty of time to experience all that the capital has to offer. Price from £228 per family of four based on one night at the 4* Novotel London West with full breakfast and entry into KidZania. Valid for arrival on 24th August 2015. Visit london.kidzania.com or superbreak.com
Things To Do With The Kids: Warwick Castle Jousting, Warwick
Until 31 August visitors to historic Warwick Castle can witness a new attraction: The Great Joust. Twice daily, hooves thunder and lances crack as jousters battle in the outdoor equestrian arena that's situated right on the River Avon. Open from 10am to 6pm daily. Cost is included in entrance ticket to the resort. Tickets cost from £13.05 for an individual and from £53.55 for a family ticket. Visit warwick-castle.com
Days Out With The Kids: Millets Farm World War II Maize Maze, Oxfordshire
Take the children to Millets, around 10 miles south-west of Oxford, and step back 70 years to wartime living. Make your way through the maize mazes and have fun with games along the way. Learn semaphore, crack codes, hunt for medals and undertake Millets military training! Open daily throughout August from 9.30am - 6pm (last entry 4:30pm). Then 5th & 6th and 12th & 13th weekends in September. Admission costs £6.40 per person, concessions £5.40), or £24 for family of four. Visit Milletsfarmcentre.com for more details or buy tickets at the gate.
Days Out With The Kids: Chester Zoo, Cheshire
Recently voted the 6th best zoo in the world, Chester Zoo is home to more than 7,000 animals of 400 different species, including some of the most exotic and endangered animals in the world. Don't miss the brand new Islands attraction where the amazing tropical islands of South- East Asia have been recreated. Take the Lazy River Boat Trip around all six of the islands and discover rare species such as the Sumatran Tiger and encounter Orangutans in the tree tops. Both educational and fun, Chester Zoo is a great place to keep the whole family entertained these summer holidays. Priced from £181 per family of four based on one night at the 3* Daresbury Park Hotel in Warrington, with full breakfast, return rail from Manchester and fast track entry into Chester Zoo. Price valid for arrival on 22 August 2015. Call 01904 717362 or visit superbreak.com
Days Out With The Kids: Horrible Histories, Imperial War Museum, Manchester
Children love Horrible Histories, so the Blitzed Brits exhibition at IWM North (part of Imperial War Museums in Manchester) is a great idea. Seventy-five years ago, Britain endured one of the most dangerous and devastating periods in history - the Blitz. Step back to the 1940s and discover some of the most unusual objects from IWM's collections in this interactive exhibition for the whole family. Entry is free, and it's open until Spring 2016. Call 0161 836 4000 or visit iwm.org.uk/north
Days Out With The Kids: Matilda The Musical and Afternoon Tea, London
Both adults and children alike can enjoy the brand new menu's decadent layered chocolate cake, fruit scones with clotted cream and preserves, and classic finger sandwiches. The children's menu also comes with a few delicious extras, such as candied newts and apple mojito mocktails, plus a mystery Matilda gift. Served daily, 2-5pm. Costs £16 per child aged 11 and under, includes complimentary Matilda Gift, £32 per adult. There is also the option to create a show package with Afternoon Tea and tickets to Matilda the musical. Prices start from £70. Call 020 7845 8607 or visit radissonblu-edwardian.com/offers/4515737
Days Out With The Kids: The Art of Lauren Child, Mattisfont House, Hampshire
2015 marks 15 years since Lauren Child created her award-winning illustrated story Charlie and Lola. This summer, the National Trust's Mottisfont House in Hampshire hosts the first retrospective for this popular author and illustrator. Lauren has also worked with the Mottisfont team to create a fantastic family trail that takes children on an adventure with Charlie, Lola and friends, around the house and gardens with fun and creative challenges to complete along the way. In addition, Mottisfont is hosting a series of themed activity weekends throughout the summer, from storytelling sessions to craft activities, including making a giant book - all designed to inspire creativity and fire young imaginations. The retrospective runs until 6 September, open daily from 10am to 5pm. Normal property admission charge of £12.60 adult, £5.85 child or £29.95 family. Free entry to National Trust members. Themed activity weekends run on 8/9 August and 22/23 August. Call 01794 340757 or visit Nationaltrust.org.uk/mottisfont/
Days Out With The Kids: Wookey Hole, Somerset
An exciting discovery that's perfect if you love adventure. Explore the caves and the legendary home of the Witch of Wookey, who throughout the school holidays also stars in the Circus Show. Other activities include the Magical Mirror Maze, Pirate Zap Zone, and the valley of the Dinosaurs which also features King Kong. Prices at the gate prices are £18 for adults, and £12 for children and seniors. Book online and save 15%. Call 01749 672243 or visit wookey.co.uk
Days Out With The Kids: Dinosaurs, Southampton
Come face to face with some of history's most fearsome beasts at SeaCity Museum, Southampton. Be greeted by moving dinosaurs, discover more about man's obsession with these gigantic creatures and uncover how new techniques are helping us understand more about the mighty dinosaurs. With interactive exhibits the show will delight the whole the family and fire your imagination beyond belief. Dino Encounter runs until 27 September. Admission to Museum & Dino Encounter costs £10.50 for adults, £8 for children aged 5 to 16. Family ticket (2+2) £33. Call 02380 834536 or visit seacitymuseum.co.uk
Days Out With The Kids: Treetop Nets, Windermere
A UK first, offering more than 1500 square metres of giant trampolines, walkways, slides and tunnels, all made from netting and suspended between trees up to 9m off the ground in ancient oak woodland overlooking Lake Windermere. Costs from £11 per person for a two hour adventure. And it's open whatever the weather all year round. Call 01539 447186 or visit Treetopnets.co.uk
Days Out With The Kids: Blists Hill Victorian Town, Shropshire
Travel back more than 100 years to experience the sights, sounds, smells and tastes of life in Victorian times. Exchange money in the town?s bank for pre-decimal token coins to spent in the shops, workshops and pub and chat to costume-clad characters. Open 10am-5pm daily; entry £16.95 adults; £13.50 60+, £11.50 children 5-18; under 5s free. An Annual Passport Ticket allowing unlimited entry into all ten Ironbridge Gorge Museums costs £27.95 per adult, £21.50 for seniors, £16.95 for children under 18, £68 for a family of two adults and all their children and £50 for a family with one adult; under 5s free (terms and conditions apply). Passports can also be bought online in advance saving 10%. Call 01952 433 424 or visit Ironbridge.org.uk
Days Out With The Kids: 'The Secret Garden' at the Shuttleworth Collection, Bedfordshire
Save the date: Thursday 20 August, gates open 5.30pm, performance starts 7pm (finishes at 10pm). This enchanting story is presented outdoors in the restored Regency Swiss Garden, which features quirky buildings and picturesque bridges over babbling water. Alive with music and song and specially designed puppet creatures, this evening performance promises to capture the spirit of summer. Tickets £14 for adults, £10 for children and students, £42 for a family (2+2). Call 01767 627939 or visit Shuttleworth.org/whats-on/
Days Out With The Kids: The National Forest Wood Fair
A great family day out on Bank Holiday Monday, with tree climbing, lumberjack displays, coracle paddling and stories and songs from the Wild Man of the Woods. Try pyrography and make eco art to take home. Enjoy live music and the Forest Food Festival. Tickets cost £9 for adults, concessions are £6. A family ticket (up to two adults and three concessionary tickets) is £25. Book in advance and save 20%: get a family day out for £20 (the advance booking closes midday Friday 28 Aug) Open Bank Holiday Monday from 9 am-5pm at Beacon Hill Country Park, Leicestershire, LE12 8SP. It's five minutes from the M1, junctions 22/23. Call 01283 551211 or visit Nationalforestwoodfair.co.uk
Days Out With The Kids: 'Thumbs Up It's Thursday'
Kingston-upon-Thames is serving up a host of low cost and free activities every Thursday until 27 August for children aged two to 11 years. Thumbs Up It's Thursday' offers families a gamut of activities from river cruises, to storytelling sessions and much more, at 16 venues across the town. Visit Kingstonfirst.co.uk