We just found out eyeliner has a hidden feature and our minds are blown
No more blunt pencils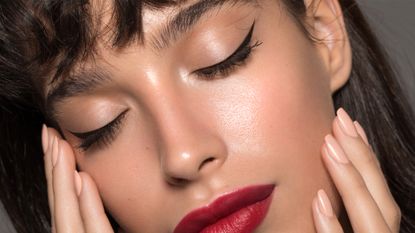 (Image credit: svetikd/Getty Images)
There's nothing more frustrating than picking up a blunt eyeliner pencil when there's no sharpener close to hand. But it seems some eyeliners have a secret sharpener - all you need to do is check the opposite end of the pencil to see if there's one hiding inside.
TikTok user @ayrshirefacepaints shared the hack as she took off the bottom end of her eyeliner to reveal a cone-shaped piece of plastic that doubles up as a sharpener.
In the video, the TikTokker pulls the end of her P.Louise lip liner off, to reveal the secret sharpener before turning the pencil around and sharpening the tip to a fine point in order to create a more precise line. She then does the same thing with a Federico Mahora eyebrow pencil.
More from woman&home.com:
"I was today years old when I found out my lip liners, eyeliners and brow pencils did this...Mind blown!" @ayrshirefacepaints tells the camera.
One viewer wrote, 'Omg where is my make up bag'
A second commented, 'Omg are you serious, I'm off to my make up bag lol'
Since posting the video it's gone viral and has certainly made us re-assess the contents of our makeup bag too. Not all brands have the hidden tool - but it's definitely worth checking.
Hidden compartments and clever packaging tricks seem to be all the rage right now as we've discovered that the curved base of Nails Inc.'s nail polishes allow you to "try on" the nail polish before you fully commit. Simply place your finger under the glass, then look through to see what the shade will look like on your nail.
E.L.F Moisturising Lipsticks also hold a little color pot in the base.
At first, fans speculated that this was a lip balm, but it actually holds the same exact formula as the lipstick bullet. This makes it easier to identify your lipstick shade when you're on-the-go or color match when you're in the store.
Fiona Embleton is a beauty writer who is now Acting Beauty Editor at Stylist. She is obsessed with Isabel Marant and cats.