One woman shares her harrowing story of husband's gambling addiction: '£500K in debt'
Denise had been married for 35 years, when she discovered David's addiction had risked their home, led to crime, and put them £500,000 in debt.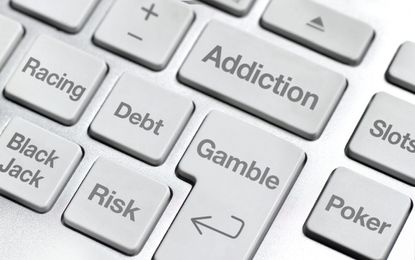 (Image credit: Getty Images)
Denise Bradford, 67, from Sheffield, had no idea her husband David, 63, had been in the grip of a gambling addiction for 30 years – until the law caught up with him. Here's her story.
I met David when I was 25 and he was 21. When we married in 1979 we bought a nice three-bed house. We later extended it to become a five-bed after we had our first son Adam, now 27, and our twin boys Alex and Ryan, now 24.
David had a good job as an accountant and I worked as a clerk in an accounts office for 20 years, but life got so busy once I'd had the twins that we agreed I'd become a full-time mum.
Like many dads, I got the feeling David liked 'escaping' our busy home life to go to work. I was more than happy for him to take over running the finances once I stopped working. We had separate accounts. He paid all the bills and transferred money to me as I needed it.
In 2011, he landed his dream job as a financial controller with a £71,000 salary
He celebrated by buying a new Jeep, but we were never extravagant. We holidayed in the UK and France, and David never splashed out on new clothes. I'd have to remind him to buy a new suit for work.
As far as I knew we were financially secure, with savings for the future. But when, out of the blue, his contract wasn't renewed in November 2012, things started to go wrong. He told me the company had been 'taken over' but I later found out this was a lie. The boiler broke and we had no hot water for two weeks because, to my horror, he said we couldn't afford to fix it. It seemed odd that we had no savings to fall back on, but he said his earnings had all gone on the mortgage and bills.
MORE:This is how much money Brits spend leaving their partners and how many months they spend saving for it (opens in new tab)
It was a relief when he started a new job in the accounts department of another company. I trusted David had got our finances back on track. In his new role he had to work away all week and only came home at the weekends. I didn't mind as I was just relieved he was working again.
One evening in April 2014, David told me he had to be in court on behalf of his company. He said it was nothing bad and he would be back by the end of the day. The next afternoon – a Friday – a man phoned and introduced himself as a solicitor. All he said was, 'Your husband's been given a two-year sentence. He's on his way to prison in Liverpool.' I felt like my world had fallen apart.I had a million questions, but the solicitor put the phone down. I didn't even know what kind of crime he'd committed.
As I started to tell Adam, I burst into tears. Next, our local newspaper rang. Adam was a successful businessman, so he often appeared in their stories. The journalist said, 'We heard what happened to your dad. What's the family's reaction?' Adam didn't let on we didn't know what he'd done. He just said, 'Yeah, it's terrible.'
The next afternoon – a Friday – a man phoned and introduced himself as a solicitor. All he said was, 'Your husband's been given a two-year sentence. He's on his way to prison in Liverpool.'
Later that day, David rang from prison but he was only allowed a 30-second call. Adam picked up the phone and his dad just had time to tell him, 'I'm sorry… look after your mum and the boys for me,' before he had to put the phone down.
We stayed in all weekend, dreading what would come out in the local paper. That Monday morning, we woke up to the shock of our lives. David had made the front page – he was branded a thief and a fraud. He'd stolen £53,690 from his employer in a bid to pay off his gambling debts, an addiction he'd battled with for 30 years. I started to shake. I had no idea who my husband was any more. I later discovered he'd been gambling online for hours while away with work. The report said he'd been regularly re-invoicing for his own salary.
I was in shock, then a wave of anger hit me, thinking, 'How could he do this to us?' David's sister was devastated, my sister was angry. It wasn't just his own life he'd ruined, but mine and the lives of his sons too. I was so furious,I refused to visit him in prison at first.
When I eventually spoke to David on the phone two days later about his gambling, he was full of remorse
I shouted at him, asking how he could have been so stupid. I'd lie in bed at night, unable to sleep. I also had the mammoth task of trying to figure out how bad our financial situation was. Thankfully, Adam helped me every step of the way.
To our horror, it was worse than we'd imagined. He'd secretly remortgaged the house, and was behind with the interest payments, putting us in negative equity and close to having our home repossessed. He was a year behind in utility and council tax bills, and owed £1,000 on our mobile phone contract.
In total, he had 21 loans (ranging from credit cards to pay-day loans) and had put us £500,000 in debt. Each bank statement showed endless payments to gambling websites, from £40 to £200. One showed his £5,000 monthly salary had vanished within three days.
He'd left a nightmare mess for us to sort out. Adam spoke to the mortgage company and negotiated a lower repayment rate, and helped us with the bills, as I only had my pension to live on.
When I visited David, two weeks later, I was very cold towards him. Part of me was glad he was in a prison far away, as I could hardly bring myself to speak to him.
Many marriages break down when a gambling addiction comes out but, for the sake of the boys, I couldn't leave.
I still believed he was good inside, but his gambling addiction had proved too strong. It's a form of mental illness and he needed professional help. In prison he joined a gambling support group, then he had counselling afterwards and joined Gamblers Anonymous.
When he left prison eight months later, it was hard for him to find work, so he had to work as a delivery driver for a while.
All our friends have paid off their mortgages but we'll be paying ours back for the rest of our lives. I see it as David's problem, not mine, though. I imagined a relaxed, stress-free retirement, but we'll always have money worries.
Six years on, what he did is always in the back of my mind, but our relationship has grown stronger. I've accepted it was his addiction that sent him down the wrong path.
After prison, David was determined to turn his life around. He set up a charity with Adam to help other gambling addicts, the Safer Online Gambling Group. He's using his experience in a positive way to make our sons proud again. I'm glad he's now doing some good, and it has helped me to regain some of my own self-confidence too.
For info visit gamblersanonymous.org.uk (opens in new tab) and saferonlinegambling.org (opens in new tab)