The Ultimate Guide To Buying Antiques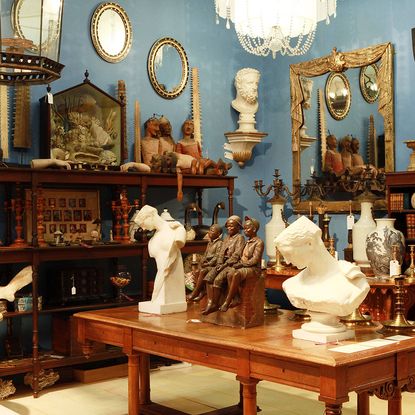 Art and antiques advisor, Vanessa Curry, shares her tips on how to make a good investment…
A reminder of the extravagances, customs and etiquette of a past era, the true beauty of an antique goes far beyond its exterior. Art and antiques advisor, Vanessa Curry, shares her tips on how to make a good investment...
Art
What designs should we look out for? 
Art/design/fashion crossover works are currently growing in value, for example, fashion illustrations for Vogue or major fashion labels such as Dior. Good bronze sculptures always attract interest, and expressive paintings work well for the current trend for eclecticism. The Impressionist and Modern arena has performed very solidly and prices have increased above the rate of inflation, even despite the recession.
 How do we avoid getting ripped off? Stand in front of the piece and see if it resonates with you and has a depth of interest and attraction. If a work is not authentic or good quality, you will pick up on it. Most often it is a feeling, but the painting could also appear unbalanced or awkward. For a sculpture, it may seem unstable. 
How much should we pay? 
Emerging artists from a reputable dealer can be purchased at £600 and upwards. You can buy a well-known and publicly exhibited artist's work from £3000 upwards and you should expect to pay north of £15,000 for a blue-chip artist's work. Investment return is based on the work, the achievements of the artist in terms of museum exhibitions and their own development. Don't simply buy art for its investment value, or it won't hold its visual or cerebral interest for you when it's in your home. For an idea of prices, visit a free auction price records website, such as Blouin Art Index (artsalesindex.artinfo.com). Photograph: Robert Duckworth Greenham, Tango Final of British Championship, Blackpool - Courtesy Mark Mitchell.
Ceramics
What designs should we look out for? Ceramics by Pablo Picasso depict the same subjects as his paintings, but for a fraction of the price. As the art market has become savvy to this, the prices continue to rise, but there is still more value to be realised in them. How can we avoid getting ripped off? A piece of ceramic should have balance, structure and tangible craftsmanship - tick those boxes and it will go some way to ensuring that you buy a good piece. Always check the depth and quality of the glaze too. Look for a sense of deep colour if it is a heavily glazed ceramic, and look for pure, seamless refinement in porcelain and lighter glazes. Can we expect to make a profit? 
Using the example of ceramics by Picasso, many were sold in the early Noughties for £1000-2000, but those same pieces can now command 15 times that price. That is a special case to some extent, but reflects the fact that the maker is blue chip (well-known), and the pieces are instantly recognisable. Martin Brothers ceramics have seen a similar trajectory in value, as have St Ives potters such as Lucy Rie and Hamada. Photograph: Lubomir Tomaszewski, 'Ina' coffee set designed for Cmielow Porcelain. Courtesy Morgan Strickland Decorative Arts.
Glass
What designs should we look out for? Work by French glass designer, René Lalique, has soared in value over the last 10 years - some items have risen 600% in value. There's also a solid market for designs by French artist, Emile Galle, and well-produced decorative antique glass. But be warned: there are a lot of fakes out there.
 How can we avoid getting ripped off? Look for glass with maker's marks and buy from reputable dealers or well-regarded auction houses only. Check the maker's mark against what is recorded for the artist or maker at that time - all of this information is available on the Internet. Glass requires a high amount of skill to get right, whether it's pressed, blown or something more specific like straw work. The quality and skill should be tangible. If there are a significant number of air bubbles set into the glass, or unintentional spot marks running through the colour, it's not necessarily high quality. How much should we pay? The price of glass is completely taste-at-the-point-of-sale dependent, so this is one occasion where you should buy what you love - in as perfect condition as possible. Photograph: Amphitrite' by Rene Lalique. c1920. £3,950. Exhibitor: M&D Moir.
Furniture
What designs should we look out for? 1950s-1970s post-modern furniture is in vogue and will continue to be so as the influence of exhibitions such as Post-Modernism: Style and Subversion 1970-1990 at the Victoria and Albert Museum ripple throughout the design world. However, you have to work hard to find a bargain in that style of work at the moment. Stylised late 1970s and 1980s furniture in the pared-down Scandinavian style tend to be better value. How can we avoid getting ripped off? Look at the colour of the wood and the quality of the finish. Wood ages beautifully and it's always nice to be able to see the richness and patternation of antique woods. If the wood is in bad condition and scratched heavily, it may be French polished, which isn't desirable - original condition is always best. Neoclassical furniture can be purchased from any provincial dealer and represents great value for money. 1950s Italian furniture was great quality and looks glamorous, but the imitations are flimsy and the plating is easily scratched. Can we expect to make a profit? 
 Investment potential in furniture depends on trends, rarity and provenance. As a rule of thumb, if you buy an attractive piece in good original condition, that is easily placed within most home types (e.g. not gargantuan in size) and with a decent provenance (the history of the individual piece - where it has been bought and sold), then you can expect the value to remain solid - and very possibly appreciate. Photograph: William IV period round centre table. Courtesy Patrick Sandberg Antiques.
Lighting
What designs should we be looking out for?

 Louis Poulson and Poul Henningsen's Scandinavian lighting designs continue to stand the test of time, but the best bargains are often snapped up by the modern furniture collectors and those in the industry. Lighting by the Campana Brothers is another one to watch. How do we spot a good investment? Look for lighting that reflects key design periods - for example, 1950s-1980s designs look cool and are very sought after. Art Nouveau lighting, such as Tiffany Studios, have also upheld strong prices throughout the recession. Steer clear of scruffy looking metal-based lamps, because it can be difficult to restore these effectively; the modern design market desires perfect-as-possible condition. 
How do we avoid getting ripped off? 
Look at the amount of restoration that has been done; in the case of Art Nouveau lighting, it won't affect the value too much if it's restored very well, but anything less than that standard will knock the price and potential for investment value. With antique lamps, look for chips in glass shades and reconditioned lamp bases, which will never have the same lovely colouration as something truly old. Can we expect to make a profit? 
 The market for lighting depends on the maker, the design merits of the piece and whether it is a great example from the time it was made. If at least two of those boxes are ticked, it stands a good chance of increasing in value. Use 1st Dibs (1stdibs.com (opens in new tab)) or similar web sites to get an idea of pricing. Photograph: Important table lamp with a nickelled metal base and long polished glass. Pietro Chiesa, manufactured by Fontana Arte, Italy circa 1935
Jewellery
What designs should we look out for? 1970s jewellery designers, such as Aldo Cipullo for Cartier, have seen a huge surge in value as the general trend for Post-Modernism has emerged. Those pieces have everything - great design, the Cartier name, great stones (precious as well as semi-precious), and instantly represent the design era in which they were made. How do avoid getting ripped off? 
 The market for 'natural' pearls is a good example with regard to checking value (the type that is rippled or a little knobbly versus the very smooth round type). Natural pearls have grown in value in recent years and are very expensive to acquire now. If you're looking to buy natural pearls you can ask to see laboratory evidence that the pearl is natural. On an X-ray, a truly natural pearl will have a tiny hollow centre core, whereas a cultured pearl will have a speck of sand at the centre, which was inserted into the oyster to create the pearl. 
 How much should we pay? The value of a piece of antique jewellery is often dependent on the quality of the stones (unless it's a highly respected designer where other reflections of value are at play), so buy the best you can afford. If the stones are backed up with being set in a design that is easy to wear and modern, then all the better in terms of potential resale value. Photograph: Amethyst and 40ct diamond cluster yellow gold ring. Courtesy Moira of New Bond Street.
Textiles
What designs should we look out for? Fabric designs from the Georgian era, colonial-inspired fabrics (paisleys) and the 1950s (blocky designs and acid colours) are very popular at the moment. Each of those design eras cross the decades and still look great. Acid colours are also particularly in style and design schemes incorporating vivid oranges are big in the US right now. Always source antique textiles that still work with a modern interior design. How do we spot a good investment? Textiles is an area where quality shows through and buying hand-produced/printed quality fabrics in classic patterns, whether old or new, will stand the test of time. The real cutting-edge designers focus on colour, refinement and quality in antique fabrics, travelling the globe to source antique textiles in which to inspire the next generation of fabric designs. Buy from a reputable dealer or auction house to be sure of authenticity and age. 
 Can we expect to make a profit? Textiles are a specialist area and there are collectors who focus on specific areas of work, such as Russian textiles or Japanese silks. In general, the combination of a great pattern, colouration and rarity makes for desirable textiles. Photograph: 18th century dowery embroidery from Uzbekistan, a rare Bauhaus embroidery. From Esther Fitzgerald.
Natalie Whittle is a British journalist specialising in celebrity content in the women's lifestyle sector. She previously held the role of Celebrity Director at Woman & Home and has also worked at Prima, Red & Good Housekeeping.