Shoppers can't get enough of this 6ft snowy Asda Christmas tree that looks like the real thing
People are going wild for it...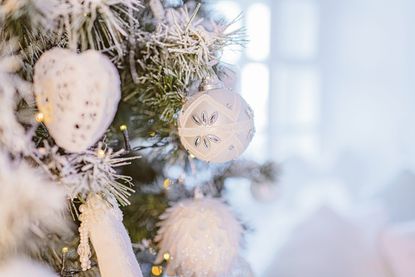 (Image credit: Getty Images)
We don't want to alarm you, but Christmas is just 78 days away - which means it's time to start planning all kinds of festivities.
We love investing in some festive treats in the lead up to Christmas (beauty advent calendar or gin advent calendar, anyone?) One of the most important purchases of the festive season is the all-important Christmas tree and shoppers are raving about a certain one from Asda.
The spruce in question? A 6ft snowy Asda Christmas tree, that people say looks just as good as the real thing.
More: M&S just saved Christmas with their stunning gin liqueur snow globes
Available for £35, the supermarket's 6ft snowy Christmas tree includes a dusting of fake snow on its 600 tree tips - for a fabulous snow-kissed effect.
The product description says, 'This 6ft snowy pine Christmas tree will make a gorgeous addition to the family home. Covered with a fine coating of fake snow, this tree contains 600 branch tips for a full and lifelike look - so they'll be no need to buy a fresh one!'
View now: Asda 6ft Snowy Pine Christmas Tree
Why are shoppers raving about this Asda Christmas tree?
It seems its "lifelike" appearance is a hit with customers, who can't stop raving about the festive product - along with its affordable price and high quality. If the 400 five-star online reviews are anything to go buy, anyone looking to purchase one will not be disappointed.
One customer commented that it's an absolute bargain for the quality of the product, saying, 'This tree had to be one of my best Christmas purchases in 2019. It looked absolutely beautiful and I had so many comments about it. Very easy to put up and put away. Excellent value for money. Definitely looked far more expensive than it was.'
While another added that the faux tree was far better than other, more expensive ones, that they had seen on the market.
They said, 'Bought this after years of having a real one and not liking the look of most fake ones. The reviews I read had said how this tree was so much better than expected and I can fully agree - what I loved about this was that in the day, without lights on, the tree still looked beautiful. The branches were thick and bushy and the colour was perfect. I was in a posh local garden store over Christmas and the fake trees were on sale for up to £200 and not one of them were anywhere near as good as the Asda one. Absolutely love this tree and was sad to pack it away after Christmas.'
Anyone looking to get their hands on it better hurry as we have a feeling, due to its popularity, the tree might be out of stock very soon!
Lizzie Thomson is a regular contributor to woman&home, and also contributes to Metro.co.uk, Ideal Home, Culture Trip, and Evening Standard, covering all things lifestyle.