Scotland's Most Beautiful Places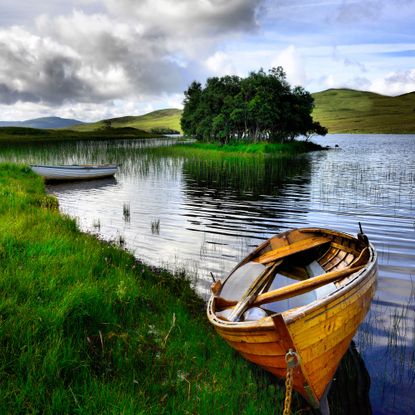 (Image credit: Rex Features (Shutterstock))
There's a reason why they call it Bonnie Scotland. These are the gorgeous spots that you have to see to believe
Scotland has some of the most picturesque landscapes in the United Kingdom, and arguably, in the world. Home to huge mountain ranges such as the Highlands, and surrounded by 6,160 miles of stunning coastline, Scotland really is something special. These sensational landscapes have captured the minds of many, including Virginia Woolf, who used the island of St. Ives as her inspiration for To the Lighthouse.
Scotland is home to some of Britain's highest peaks, most beautiful lakes, clearest waters, picture-perfect cottages, historical castles and miles and miles of greenery. It is unsurprising that this vast and diverse landscape has been the central fascination for many photographers.
One particular photographer, Steve Carter, 58, has engaged in a project over the last few years to capture the beauty of the Scottish countryside in each season. The diverse series of photographs features snow-tipped mountain ranges, tree-lined roads, quaint scenes, wildlife and generally stunning views. They demonstrate Scotland's variety, as each season is so sharply pronounced.
Click to see examples from Carter's series, before indulging in more Scottish beauty with our pick of the most beautiful places in Scotland...
Scotland in Autumn
This photograph features a Fisherman's Cottage with stunning views in Torridon, a small village in the Northwest highlands. (Credit: Steve Carter/REX Shutterstock)
Scotland in Autumn
The rows of orange trees along this Scottish road perfectly encapsulate the beauty of Autumn, with a glorious mountain range looming in the distance. (Credit: Steve Carter/REX Shutterstock)
Scotland in Winter
Sheildaig is a picturesque village nestled among the mountains in Wester Ross, in the Northwest Highlands. Not only is it beautiful, it also has a rich history - it was founded in 1800 to train up seamen for war against Napoleon. This snowy scene was taken in Winter 2010, capturing the beauty of Scotland's winter landscape. (Credit: Steve Carter/REX Shutterstock)
Scotland in Winter
This stunning landcape was captured in the Upper Loch, Torridon, in the Northwest Highlands. The Loch was created by glacial processes and is around 15 miles long. Although aghast by its beauty, we can't help but feel a little chilly looking at this wintery scene... (Credit: Steve Carter/REX Shutterstock)
Scotland in Spring
Although we may associate the colder seasons more heavily with Scotland's landscape, Scotland does in fact have a pronounced, and beautiful, Springtime. This photograph captures the beautiful coastline and clear turqioise waters of the Outer Hebrides. (Credit: Steve Carter/REX Shutterstock)
Scotland in Spring
The mind-boggling reflection of clouds in the water makes this photograph of Sheildaig Island absolutely beautiful. (Credit: Steve Carter/REX Shutterstock)
Scotland in Summer
When we think of Scotland, one of our first thoughts is their glorious castles. This picture of Eilean Donon Castle, with its bright blue skies and optical-illusion water reflection, is a stuning representation of Scotland's bright summertime. The castle is located where three lochs meet: Loch Duich, Loch Long and Lock Alsh, in the western highlands. Since its restoration in the early 20th century, a footbridge has connected the island to the mainland. (Credit: Steve Carter/REX Shutterstock)
Scotland in Summer
One of the most beautiful summer scenes is the vibrancy of the sunset. This photograph was captured in the west highlands in 2014, looking almost like a painting with its splatterings of red, orange and purple. The lone boat encapsulates the peacefulness of a Scottish summer evening. (Credit: Steve Carter/REX Shutterstock) Keep clicking for stunning photos of the Scottish countryside...
Eigg
Eigg is arguably the most beautiful island in the Scottish Inner Hebrides. This picture shows the view from a sea cave near the Bay of Laig at Cleadale, across the water to the Isle of Rùm. If the view isn't enough to impress you, Eigg also has the first electricity grid in the world to be entirely powered by sun, wind and water.
Cairngorm Mountains
Daredevils should head to the Cairngorms, where you can ski (perhaps in Coire an t-Sneachda, pictured), cycle and even bungee jump to your heart's content. There are also 12 golf courses for the less adventurous.
Edinburgh Castle
Perched on an extinct volcano, Edinburgh Castle seems to preside over everything from the top of the Royal Mile. It's Scotland's leading tourist attraction, and a good starting point for a few days spent exploring this historic and remarkable city.
Loch Ness
Loch Ness is a mind-boggling 754 feet in depth and incredibly picturesque. It's a convenient trip from Inverness, and on its banks you can see the ruins of Urquhart Castle. Watch out for monsters.
Melrose Abbey
Nestled in the Scottish Borders, Melrose Abbey is a striking and well-preserved 14th century church. If you enjoy a gory story, you might like to know that the heart of Robert the Brave, the medieval king of Scotland, is thought to be buried on site.
The Old Man of Storr
An ancient landslide on the Isle of Skye has left a haunting presence on the north of the island - a series of tall rock pinnacles known as the Old Man of Storr.
Tobermory
18th-century fishing port Tobermory is the main town on the Isle of Mull. The town itself is incredibly pretty, and the island setting is even better. Make sure you take a boat out to spot the local dolphins and whales.
Glen Etive
The valley of Glen Etive boasts some of the best scenery in the Scottish Highlands (and that's a tough competition). It's perfect for climbers and hill-walkers, but almost equally lovely to drive through the middle and just enjoy the view.
Fingal's Cave
Staffa is an uninhabited island in the Inner Hebrides, and home to the remarkable Fingal's Cave, which has a unique structure of hexagonally jointed basalt. Visitors can climb along a walkway of columns to explore the cave. It really is a once-in-a-lifetime experience.
Glenfinnan Viaduct
Look familiar? You've probably seen this viaduct on screen, being crossed by the Hogwarts Express. In real life it's positioned in the Highlands at the top of Loch Shiel, and carries the West Highland Line from Fort William to Mallaig. In summer look out for the Jacobite steam train.
Ben Nevis
Scotland's highest point is the mountain Ben Nevis, with views all the way to the Atlantic coast. At the summit you'll find the ruins of an observatory that was closed in 1904.
New Lanark
Nestled on the River Clyde, New Lanark is an 18th-century village that has been maintained as authentically as possible for visitors (no TV aerials or satellite dishes!). The area is also home to several mills, so it's a fantastic place to buy local wool and textiles.
Mousa Broch
This 13-metre tower is in fact an Iron Age broch - the most impressive example in Scotland, built around 400-200BC. It sits on the uninhabited island of Mousa, an RSPB nature reserve that's home to seals and seabirds (and occasionally a passing whale).
The Trossachs National Park
The Trossachs National Park, not far from Edinburgh, is wild and breathtaking. At its heart is Loch Lomond, where there's kayaking, windsurfing, swimming and fishing.
Stirling Castle
Stirling Castle was a royal residence until the early 1600s and is now a huge tourist attraction. It's surrounded on three sides by steep cliffs and overlooks miles of lush countryside.
Sign up to our free daily email for the latest royal and entertainment news, interesting opinion, expert advice on styling and beauty trends, and no-nonsense guides to the health and wellness questions you want answered.