Ruth Langsford And Eamonn Holmes: "A Good Marriage Takes Work"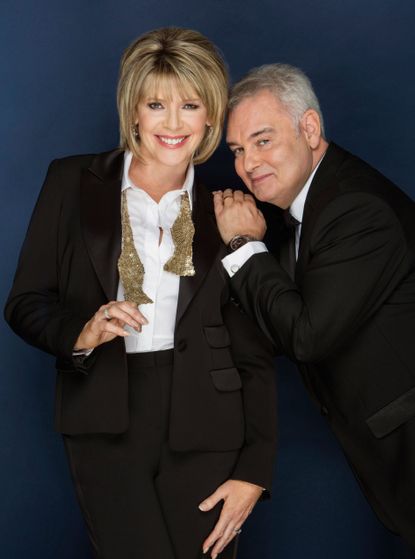 woman&home newsletter
Sign up to our free daily email for the latest royal and entertainment news, interesting opinion, expert advice on styling and beauty trends, and no-nonsense guides to the health and wellness questions you want answered.
Thank you for signing up to . You will receive a verification email shortly.
There was a problem. Please refresh the page and try again.
Within minutes of meeting on- and off-screen duo Ruth Langsford, 56, and Eamonn Holmes, 57, it becomes clear that what you see is what you get. "I think that's why people enjoy watching us," Ruth tells me. "It's because we're real and we bicker like all couples do - and that's not easy to hide on TV!" The pair present ITV's This Morning every Friday and during school holidays, as well as Channel 5's How the Other Half Lives, which returns for a Christmas special and a third series in 2017. Ruth is also a panellist on ITV's Loose Women. They live in Weybridge, Surrey, with their son, Jack, 14, and their rescue dog, Maggie. Eamonn also has three grown-up children, Declan, Rebecca and Niall, from his first marriage.
RUTH SAYS...
ON FIRST IMPRESSIONS...
I was in a very sad place when I was first introduced to Eamonn. I was 35 and had recently come out of a long-term relationship, which left me feeling like I was never going to meet the right man. Most of my friends were in relationships and starting families - and the girlfriends who on Friday nights used to say, "Right, where are we all going, girls?" were having nights in with their partners. Although I'd be invited, who wants to be the single one? I spent a lot of Saturday nights on my own with a bottle of wine.
It was Eamonn's kindness that attracted me. I was staying with a friend who worked for GMTV and I tagged along to a dinner party she'd been invited to at Mr Motivator's house. It was all GMTV people talking about work - ordinarily, I'd have found it very awkward sitting outside of this big conversation - but Eamonn kept bringing me into it again and again. He was a real gentleman - and he still is.
I had no idea Eamonn's marriage was in trouble back then. It was several weeks before we got the chance to meet up again and talk - and that's when I found out he was separated and living in London during the week and going home to Belfast to see his three children on the weekends. It turned out that, like me, he was also in quite a sad place.
ON BLENDED FAMILIES...
I knew from the start that if Eamonn's kids didn't like me, it would be a problem for our relationship. The one piece of advice he gave me was, "Just be you and let them be them." I always just hoped that as long as they could see their dad was happy, that would make them feel happy too - and I think that's how it's worked. They've never lived with us full-time, so I haven't needed to be a disciplinarian and in any case they have their mum, Gabrielle, for that - she's been fantastic.
The biggest joy for me now is their relationship with Jack. When he was a baby, they were fascinated by him - they found it particularly funny that he didn't have an Irish accent like they do! And now he's a teenager and they're in their twenties, they're all just mates. And Jack has never called them his "half" brothers or "half" sister - to him, they're simply his brothers and his sister.
ON MARRIAGE...
I never imagined getting married would change mine and Eamonn's relationship - but it has. In fact, it's improved it. I like being Mrs Holmes and being able to say, "That's my husband over there." Maybe it was the missing piece of my jigsaw puzzle.
I have to admit, I don't think Eamonn and I share any of the same hobbies. When we met, I tried to pretend I was into football because he was. But the first time Eamonn said "You don't have to come to the matches, you know", I thought "Phew!" Now him and Jack will leave the house at 8am and I go and have lunch with my girlfriends and get my nails painted.
My dad once said to me, "A happy marriage doesn't just happen, you have to work at it." Now I realise he was right. It's important to make time to reconnect every so often. Jack's just been away on a school trip and we were like young lovers on our honeymoon; we went out for breakfast, walked along the river and held hands. You don't need an elaborate plan - sometimes it's just making the most of what's right there in front of you.
ON WORKING TOGETHER...
Eamonn is a lot more comfortable in front of the camera than I am. He rarely gets nervous, whereas before a difficult interview I can suddenly feel that anxiety building in me. That's when I'm grateful Eamonn and I have this partnership because if I ever get scared or run out of questions, he'll jump in.
There's never been any competition between Eamonn and I. Of course there are times where one of us is out of work, but we don't resent each other for it. And he's very good around the house - if I'm at work, I know he's not expecting me to come home, pick Jack up and sort him out. We make a good team like that.
ON THE FUTURE...
I'd love it if Eamonn and I had our own Oprah-style chat show - I think we'd be good at that. But the truth is, it doesn't work like that. If we were brain surgeons or lawyers, I'm sure people would be coming to us to ask our advice and saying, "How do you think we should do this?" but actually, no one stops to say, "Those two might have an opinion because they've been doing this for a long time." It's a constant battle to keep yourself relevant - it's like that for us all, isn't it?
Sometimes I wake up in cold sweats at night thinking, "What would I do if I couldn't work in TV any more?" I'm certainly not ready to retire, but I don't feel I'm qualified to do anything else! I love cooking, so I've thought about starting my own catering company. All I know for sure is that I'm not ready to give up yet!
I've got a top secret project coming up next year - all I can tell you is that it's for QVC and it's very different. What's on my wish list? I'm still desperate to do Strictly, but I'm so distraught they've never asked me that I can barely talk about it. And... guess what? Eamonn's been asked to do it more than once!
ON CHRISTMAS...
I love creating the magic of Christmas. I used to create Santa's snowy footprints on the carpet and the half-eaten mince pies for Jack. We don't do that any more, of course, but my parents always gave us stockings growing up and I've never let go of that tradition.
EAMMON SAYS...
ON FIRST IMPRESSIONS...
The word I used when I first met Ruth was, "Wow!" In fact, I still have the same reaction when she walks past me in the kitchen or when I'm sitting in the car and she runs into the supermarket.
I wanted to propose long before I did it - and it was important that I had the blessing of my three grown-up children. But it wasn't until we were at the races in Cheltenham that it felt right. All these men were chatting up Ruth and I got jealous and thought "That's my girl". Then I realised how ridiculous I sounded saying that at 50. So I sent her six pages of texts telling her how much I love her. I kept asking: "Has anything come through on your phone?" And she said, "I'm not answering my phone, I'm enjoying this!" Then she read them on the way home and started crying - and I did too.
ON MARRIAGE...
When Ruth walked down the aisle, I remember thinking I'd never seen a woman look so beautiful. I'd assumed she'd go for a veil with a princess-like dress - well, actually, she looked more Beyoncé-like to me! She looked so "womanly", though - and that's what I've always found attractive about her.
I make time for a date night every week, but Ruth often stands me up! She'll say "Could we make it once a month?", then when it comes to it, it's all, "Darling, I know you mean well, but can we just get a takeaway. I'm so tired." When she finally realises she's been ignoring me, then she's as romantic as anything! What we're good at is winking at each other across a room, giving each other a little signal or even a text to say, "You're the most wonderful person in this room tonight." For me, that's true romance.
I'm still trying to get Ruth to be a bit more in tune with Manchester United. My biggest pet hate is when Jack and I go to a game, which turns out to be a disaster, and you think the whole world must know we've been beaten 5-0, the manager's been sent off and we've had two penalties. But two hours after the game, we're on the motorway coming home, and Ruth rings and says, "Well, did you win?" - Jack and I just give each other "the look" now.
ON BLENDED FAMILIES...
I never understand men who have children and then walk away. If I've brought someone into the world, the responsibility to look after them is with me. I have to make their lives as happy as they can be. It's a blessing that our blended family works, but it's a group effort - Gabrielle, Ruth, the kids and I all work at it together.
ON WORKING TOGETHER...
I've always seen myself as a career broadcaster who occasionally works with his wife, but now the latter is becoming what I'm best known for! Wherever I go,the first question I get asked is, "Where's Ruth?" - they don't even say "Hello" or "How are you?" I should have a sign round my neck saying "Ruth is at home" or "Ruth is at the hairdressers".
All the best TV duos rehearse what they do, whether it's Ant and Dec or Morecambe and Wise - well, Ruth doesn't let us rehearse! I'll say to her "You should say this and I should say that" and she says "I'm not rehearsing, Eamonn!" At times I'd prefer it to be a bit more professional, but I say to Ruth, "Okay, if you want it to be natural, then it will be."
You might be surprised to hear that when Ruth and I first met, I was the one who advised her on her clothes! She pretends she doesn't care what I think these days, but secretly, I think she does.
ON THE FUTURE...
I'd like to think I'll still be on TV in ten years' time - but who knows, maybe I'll be brewing beer! Last year, I invented a brew with my son, Declan - he came up with the recipe, I named it Gallopers and we market it together. And now that I'm no longer doing Sunrise [Sky's breakfast show], I'm able to work on it more. It's great fun.
RUTH ON EAMONN...
In a fire, he'd save... Our dog, Maggie - without question!
Eamonn's secret skill is... He can touch his nose with his tongue.
The most embarrassing thing he's done is... He once twanged a woman's bikini straps on holiday thinking it was me! He was mortified - and so was I.
His desert island essential would be... A TV, so he could watch the football.
Eamonn's best quality is... His loyalty.
His most annoying habit is... Channel-hopping when we're watching TV together.
The commonest cause of our arguments... He's late for everything and it drives me mad!
EAMONN ON RUTH...
In the event of a fire, she'd save... Our dog, Maggie.
Ruth's secret skill is... If i told you, i'd be arrested!
Her desert island essential would be... Lip gloss - every time I look at her, she's putting it on! I sometimes wonder if she eats the stuff.
Ruth's best quality is... Her kindness.
Her most annoying habit is... Jumping to the wrong conclusions because she doesn't listen!
The commonest cause of our arguments... Driving together, going through airports together - and trying to decide on a restaurant together!
How the Other Half Lives - at Christmas!
Eamonn and I have our first Christmas special of How the Other Half Lives coming up - and trust me, the super-rich do Christmas very differently to most of us! Do they clamber around in the loft looking for the decorations and untangle Christmas tree lights? No! They have people do it for them - and to buy their gifts!
Eamonn is the real spender in our household. He'll come home with a jukebox or an elaborate piece of Irish art. It does have its perks, though, because he recently surprised me with a pair of diamond earrings. He put them in this little box within several bigger boxes - it was very romantic.
The How the Other Half Lives Christmas special airs on Channel 5 this December.
Photograph: Trevor Leighton
Natalie Whittle is a British journalist specialising in celebrity content in the women's lifestyle sector. She previously held the role of Celebrity Director at Woman & Home and has also worked at Prima, Red & Good Housekeeping.