The Queen broke a huge Royal Ascot rule for Zara Tindall when she was little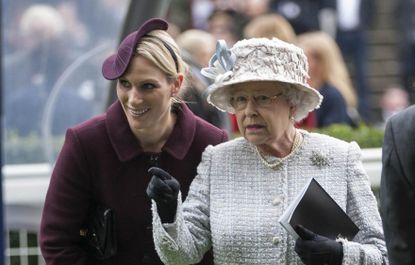 (Image credit: David Hartley/Rupert Hartley/REX/Shutterstock)
The Queen once broke one of Royal Ascot's strictest rules so that her granddaughter Zara Phillips could attend the famous races.
One of the Queen's favourite dates in her diary every year is undoubtedly Royal Ascot, where Her Majesty can combine her public duties with her love of horses and horse racing.
The Queen's love of all things equestrian has passed down through the royal family, and in no one more so than her daughter Princess Anne and her granddaughter Zara Tindall.
Both Princess Anne and Zara Tindall have competed professionally in the equestrian world, and both royals have ridden for Team GB in the Olympic Games. Princess Anne made her Olympic debut in Montreal in 1976, making her the first member of the British royal family to compete in an Olympics, and Zara Tindall competed in the London 2012 Olympics, becoming the first royal Olympic medalist.
Like both her mother and grandmother, Zara's love of horses began at a young age, and recognising her granddaughter's interest for all thing equestrian, the Queen was keen to share her passion.
So, in 1989, the Queen gave permission for her young granddaughter Zara Phillips to attend Royal Ascot with her mother Princess Anne to watch the horse races - despite the event holding a strict age restriction at the time.
The then eight-year-old Zara was allowed to go because of her love for horses, and was the only child to have been to Royal Ascot that year.
Since her first year at Royal Ascot, Zara Tindall has made frequent appearances at the prestigious event, and was spotted last year chatting to Catherine, Duchess of Cambridge and Prince William in the Royal Enclosure.
The age restrictions for Ascot have changed since the Queen bent the rules for Zara in 1989. Now, children under the age of 18 years are allowed into the racecourse on all racedays, apart from during Royal Ascot, when an adult must accompany them.
Digital Editor - Woman & Home
An internationally published digital journalist and editor, Rachael has worked as a writer and editor for both news and lifestyle websites in the UK and abroad including Metro UK, Homes & Gardens, Ideal Home, GoodTo.com, honey.nine.com.au and body+soul.
Rachael's published work covers a broad spectrum of topics and she has written about everything from the future of sustainable travel, to the impact of the coronavirus pandemic on the world we live in, to the psychology of colour.