This new video of Prince William just exposed a really odd habit of his
Prince William's weird habit was never going to go unseen by royal fans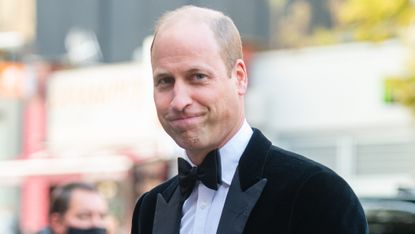 (Image credit: Photo by Samir Hussein/WireImage/Prince William)
Royal fans couldn't help but notice one of Prince William's weird traits when he shared a new video of himself on his and Kate Middleton's Instagram account.
---
As part of his collaboration with the prestigious Earthshot Prize, William shared a snippet of him typing out his introduction for the book that has been written alongside the environmental initiative.
In the clip, Prince William appears to be at home at Kensington Palace, as he walks into shot before sitting down in front of a vintage type writer.
He then begins tapping away on the keys, writing out, "The sight that greets you on arrival."
"In my introduction to Earthshot: How to Save our Planet, the authoritative book of The @EarthshotPrize, I wanted to share the early conversations in 2018 that led to the Prize's creation and the simple equation that captures my theory behind Earthshot: Urgency + Optimism = Action. The book will be available from 30th September," a caption beside the cryptic upload reads.
Moments after the post was shared, royal fans flooded the comments with remarks about the bizarre way Prince William types, with followers wondering why the future King uses just his index fingers.
One wrote, "Oh Prince William......one finger typing????"
"Love you but do you really type with your pointer fingers? 😄," another asked.
"Someone didn't take typing class 😂," joked another.
"Haha love the two finger typing! As does everyone by the looks of the comments lol," a fourth chipped in, while another supporter admitted, "That makes me like him even more!"
Others were touched by Prince William's subtle tribute to his late grandfather, Prince Philip, with a lovely photo of Prince George with the Duke of Edinburgh visible in the background.
The image of Prince George as a toddler riding with Philip on his beloved carriage was shared on the Royal Family Instagram account, shortly after he passed away in April of this year.
The gorgeous insight into George's relationship with his great-grandfather was teamed with a whole-hearted tribute written by Prince William.
He penned, "I will never take for granted the special memories my children will always have of their great-grandpa coming to collect them in his carriage and seeing for themselves his infectious sense of adventure as well as his mischievous sense of humour!
"My grandfather was an extraordinary man and part of an extraordinary generation. Catherine and I will continue to do what he would have wanted and will support The Queen in the years ahead. I will miss my Grandpa, but I know he would want us to get on with the job."