The unique hidden detail you may have missed in Prince William's Easter Sunday outfit
Did you notice the small detail in Prince William's outfit?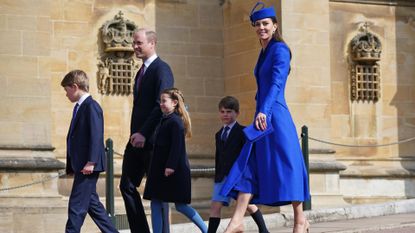 (Image credit: Getty)
Prince William joined the rest of the royal family at their annual Easter Sunday church service this weekend, but you may have missed a hidden detail in his outfit.
Eagle-eyed royal fans noticed a small detail in Prince William's shoes on Easter Sunday.
The future King has used this detail in his shoes since 2011, when she shared a flat with brother Harry.
---
From Princess Charlotte copying her mum Catherine, to Queen Camilla's brooch and Princess Catherine's earrings, royal fans loved all the details of the royal family's Easter Sunday.
With the Wales' all dressed in shades of blue, you may not have noticed that Prince William's shoes had a 'W' initial engraved on the soles.
Eagle-eyed royal fan @royalimposters tweeted, "You can see on Prince William's shoe there is a 'W' engraved/brassed into it."
One fan pointed out that William's brother Harry also owns a pair of shoes with the initial 'H' engraved in the bottom. Another tweeted, "John Lobb does it for both brothers. I am not sure if King Charles is a customer as well."
Prince Harry attended the Wellchild Awards in 2014 sporting a similar pair of black brogues to his brother, with 'H' initials engraved into both the soles.
Prince William has been known to engrave his shoes since 2011 when he was first photographed at a charity gala dinner with the 'W' engraved in the bottom of his shoes.
At the time, he was sharing a flat at Clarence House with his brother and his new wife, Kate Middleton. A royal source told The Telegraph: "William and Harry are similar in shoe size, so I think this is his way of making sure he's wearing the right shoes. It's quite sweet, really."
Prince William looked super smart in a navy suit teamed with a maroon tie as he joined his wife Catherine and three children, George, Charlotte, and Louis at the first Easter Sunday service since the sad passing of Queen Elizabeth.
The royals looked to be a strong, united front as they came together at Windsor Castle. And one sweet moment that caught royal fans' attention was Princess Charlotte copying mum Kate.
As crowds greeted the royal family following the traditional service, Charlotte noticed her mum - who was wearing a bright blue dress - waving at spectators. Just moments later she copied her mother and did the exact same thing.
Fans were quick to notice the moment, with one writing on Twitter, "I love this! A mummy & Charlotte moment... so much love between them it's palpable."
"So adorable Princess Charlotte waits for The Princess of Wales to join her. Not without my mummy," said another.
The Princess of Wales was wearing a Catherine Walker coat and matching pill-box hat, as well as a pair of Gianvito Rossi nude suede pumps and a stunning gold and blue set of earrings to complete the look.
Robyn is a celebrity and entertainment journalist and editor with over eight years experience in the industry. As well as contributing regular to woman&home, she also often writes for Woman, Woman's Own, Woman's Weekly and The Sun.