King Charles's surprising coronation dress code that breaks royal tradition
King Charles's Coronation will be a 'modern' affair and formal dress 'won't be encouraged'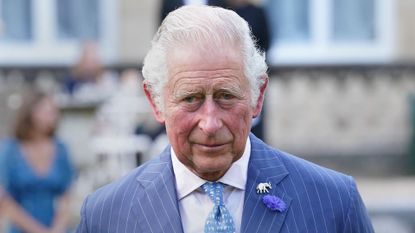 (Image credit: Getty)
King Charles has reportedly issued a 'relaxed' dress code for the guests attending his coronation next month.
King Charles's coronation is just weeks away, and more details are being released about the big day including the dress code for guests.
The dress code for those attending is a lot more relaxed than we were expecting.
---
As King Charles' coronation day draws nearer, anticipation is building over this historic event, with everything from Queen Camilla's coronation crown to details of King Charles' coronation medal being announced.
Now, details of the dress code decided by King Charles have been revealed and, somewhat surprisingly, formal dress is 'not encouraged.'
According to The Telegraph, members of Parliament may only wear their usual parliamentary ermine or standard business dress, rather than their traditional parliamentary robes.
Traditional parliamentary robes, which are worn at the state opening of Parliament each year, are full-length garments woven from scarlet wool, with a collar of white ermine fur.
The wearing of real fur robes has come under scrutiny in recent years due to the unethical practice in which ermine fur is sourced. Queen Elizabeth II famously stopped wearing real fur back in 2019, opting instead for faux fur in the colder months.
Charles' modernized coronation is expected to be a "reflection" of the monarch's role in today's society while being "rooted in long-standing traditions and pageantry."
Revealing how King Charles' approach to his coronation will reflect the current climate, HELLO!'s Royal Editor, Danielle Stacey, said, "For all the pomp and ceremony, we already know that the King's coronation will also differ in many ways to the late Queen Elizabeth's."
"The ceremony itself will only be an hour in length, compared to over three hours for the 1953 coronation."
She added, "It wouldn't be a surprise if peers and guests dress down for the King's coronation, given how conscious he is of the current cost of living crisis and his desire to have a much more modern monarchy. The world has changed so much since the Queen's coronation 70 years ago and it makes sense for Charles to put his own stamp on it."
It was recently revealed how the King's Coronation will be very different from Queen Elizabeth's, which took place in 1953.
King Charles isn't relying on a trusted relative for the organization of his coronation like Queen Elizabeth II did back in 1953 when Prince Philip, who was the chair of the Coronation Committee, made several key decisions about her sacred event.
In contrast, King Charles is said to be "heavily involved" in the planning process and is making key decisions himself, according to Dr George Gross, visiting research fellow in Theology at King's College London.
Robyn is a celebrity and entertainment journalist and editor with over eight years experience in the industry. As well as contributing regular to woman&home, she also often writes for Woman, Woman's Own, Woman's Weekly and The Sun.