The reason Kate Middleton didn't curtsey to King Charles at Commonwealth Day service despite royal protocol
Kate Middleton joined fellow senior royals at the service, but why didn't she curtsy for King Charles?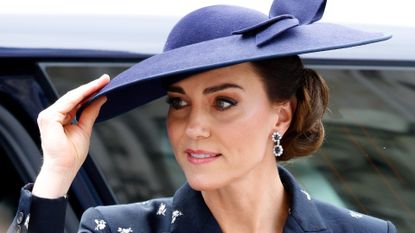 (Image credit: Getty)
Kate Middleton confused royals fans when she didn't curtsy to King Charles at the Commonwealth Day service, but there's a good reason for why she didn't.
Royal protocol means that Kate, along with other female members of the family, must curtsey to the King and Queen Camilla as they are the most senior members of the family.
However, it was noticed that Kate didn't do this at the Commonwealth Day service.
---
Kate usually does perform a curtsy for the monarch, but she only has to carry out the act the first time she sees him each day, which could explain why Kate wasn't seen doing it at the Commonwealth Day service.
The lack of curtsy suggests that Kate must have seen her royal in-laws earlier ahead of the official event, which kicked off at 2.45pm. It's not known how the royal family spent the morning, but Kate and William traveled into the capital from Windsor so they may have popped in to see them on the way through.
The Commonwealth Day service, which took place at Westminster Abbey, saw senior royals in attendance including the newly appointed Duke and Duchess of Edinburgh - though there was an awkward slip up when it came to their titles as they were down as their former titles, the Earl and Countess of Wessex.
The Princess of Wales looked stunning in an Erdem navy peplum suit - but it was her diamond feather brooch that really caught our eye.
Her navy suit jacket was paired with a matching calf-length skirt, both featuring delicate white floral motifs all over. The jacket's single breasted design and classic peaked lapels oozed elegance and the peplum isn't something fans see often from Kate, who usually favors either dresses or streamlined pantsuits. This structural element added a contemporary edge to her otherwise classic outfit.
However, the feather brooch pinned neatly to her peplum jacket also looked familiar. Featuring three feathers in a circular design and looking to consist of diamonds, this brooch appears to be the emblem of the Prince of Wales. Kate Middleton's Prince of Wales feathers brooch with emeralds was worn last year.
The Princess last wore it with her vibrant Emilia Wickstead dress when she and Prince William welcomed South African President Cyril Ramaphosa to the UK. The difference lies in the lack of emerald drop that was attached to the brooch for that particular visit but wasn't on the brooch worn for Commonwealth Day.
Kate's suit was part of Erdem's Pre-Fall 2023 collection (opens in new tab). The collection goes on sale in August and if the rest of the items from the collection are anything to go by, we have a feeling we could be seeing Kate Middleton in Erdem again this year.
Understood to have been inspired by wallpaper and upholstery choices in Victorian homes, Erdem's collection has many pieces which already fit in well with Kate's style. So much so that she's worn items very similar to many of them already since joining the Royal Family officially in 2011 when she married Prince William, suggesting she could do so again.
Robyn is a celebrity and entertainment journalist and editor with over eight years experience in the industry. As well as contributing regular to woman&home, she also often writes for Woman, Woman's Own, Woman's Weekly and The Sun.