Queen Elizabeth's life in pictures, from her magnificent Westminster wedding to her milestone Platinum Jubilee and plenty of heartfelt family moments
Queen Elizabeth's life was filled with extraordinary moments and experiences that were captured over the years in special pictures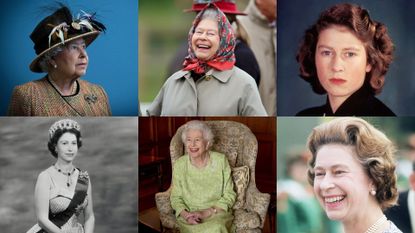 (Image credit: Future/// Left-right, top-bottom: Image 1: Photo by Eddie Mulholland - WPA Pool/Getty Images // Image 2: Photo by Max Mumby/Indigo/Getty Images // Image 3: Bettmann via Getty // Image 4: Bettmann via Getty // Image 5: Photo by Chris Jackson/Getty Images// Image 6: Photo by Tim Graham Photo Library via Getty Images)
woman&home newsletter
Sign up to our free daily email for the latest royal and entertainment news, interesting opinion, expert advice on styling and beauty trends, and no-nonsense guides to the health and wellness questions you want answered.
Thank you for signing up to Woman & Home. You will receive a verification email shortly.
There was a problem. Please refresh the page and try again.
Queen Elizabeth's life was filled with experiences, occasions and traditions that few of us could ever begin to imagine and so many of them were captured in pictures over the years.
Having surpassed Queen Victoria as Britain's longest-serving monarch in 2015, the late Queen Elizabeth cemented her place in history once again when she marked her Platinum Jubilee in June 2022. Throughout Queen Elizabeth's life her unwavering dedication to her duties was an inspiration and she displayed thoughtfulness, leadership, and warmth.
On 8th September the immediate and extended Royal Family along with fans across the world will likely be reflecting upon Queen Elizabeth's extraordinary legacy on the first anniversary of her death. Whilst King Charles is honouring this date "quietly and privately", he has shared a touching tribute to his mother on social media.
As the royals and fans reflect upon Her Majesty's extraordinary legacy, we're looking back at Queen Elizabeth's life in pictures that show just how momentous her reign truly was, from her coronation to her many Jubilees.
Queen Elizabeth's life in pictures
Princess Elizabeth with Princess Margaret in April 1942
Showcasing Queen Elizabeth's bond with her younger sister Princess Margaret, the two royals were pictured going for a bike ride together on the grounds of the Royal Lodge in April 1942. Located close to Windsor Castle, she and Princess Margaret spent a huge part of their childhoods in Berkshire and even lived there during World War II instead of being evacuated further afield.
---
Princess Elizabeth and Prince Philip announce engagement in July 1947
The engagement of Princess Elizabeth and Lieutenant Philip Mountbatten was officially announced on July 9, 1947. And they started off their love story in a thoroughly modern way, sharing their happy news via global media broadcasts of pictures and videos. Prince Philip also designed her engagement ring himself, perhaps making this jewellery piece one of the most unique in Queen Elizabeth's stunning collection.
---
Princess Elizabeth and Prince Philip marry in November 1947
Four months after announcing their engagement, Princess Elizabeth and Prince Philip married at Westminster Abbey. A staggering 2,000 guests were invited to the wedding which was broadcast by BBC Radio to 200 million people globally and Queen Elizabeth and Prince Philip couldn't have looked more in love on their special day.
---
Queen Elizabeth becomes a mother in November 1948
Yet another moment that changed Queen Elizabeth's life forever was the birth of her and Prince Philip's first child on November 14, 1948. The now-King Charles arrived via Caesarean section at Buckingham Palace and became first in the royal line of succession. It's understood that the King's Troop Royal Artillery fired a 41 gun salute and the bells of Westminster Abbey rang in celebration of King Charles' birth.
---
Queen Elizabeth attends King George VI's funeral in February 1952
Princess Elizabeth became Queen Elizabeth II when King George VI died in February 1952. The King's coffin lay in Westminster Hall where 305,806 people filed past to pay their respects ahead of the funeral service on February 15. Wearing a black veil and dress, Queen Elizabeth accompanied the procession to St George's Chapel and this is said to have marked the first time a funeral procession for a British monarch was televised. Reflecting on the sudden loss of her father, his funeral was a deeply moving moment for Queen Elizabeth as she prepared to follow in his footsteps.
---
Queen Elizabeth II's coronation takes place in 1953
Queen Elizabeth II's coronation took place on June 2 in 1953 at Westminster Abbey, making her the 39th Sovereign to be crowned there. She and the Duke of Edinburgh were driven to the Abbey in the Gold State Coach and the coronation lasted almost three hours and had 8,251 guests. One of Queen Elizabeth's children got to enjoy the big moment too, with King Charles becoming the first child to witness his mother's coronation. Her Majesty was crowned with St Edward's Crown, wore the Coronation Ring, and held the orb.
---
Queen Elizabeth embarks on a Commonwealth Tour in 1954
Starting off her reign with the longest-ever tour of the commonwealth nations, Queen Elizabeth was traveling from November 1953 until May 1954. The tour had originally been underway when King George VI died, leading the Queen to return from Kenya in mourning before resuming her travels after her coronation.
During her time abroad, Her Majesty visited 13 countries and reportedly covered 40,000 miles. She was accompanied on the tour by Prince Philip and the royals were welcomed home via the River Thames on the Royal Yacht Britannia.
---
Queen Elizabeth and Marilyn Monroe meet in October 1956
Queen Elizabeth and movie star Marilyn Monroe were introduced in 1953 at the premiere of The Battle of the River Plate at Leicester Square in London. At the time both women were 30 years old and Marilyn even got the opportunity to shake the Queen's hand as she attended the premiere to accompany her then-husband, Arthur Miller. The pair wore stunning gowns and the Queen also showcased the glittering pearl and diamond Vladimir tiara.
---
Queen Elizabeth and President Eisenhower pose for a picture in October 1957
Throughout her reign, Queen Elizabeth met thirteen out of the last fourteen American Presidents and it was President Dwight D Eisenhower who hosted her for her first state visit to the United States since being crowned monarch of the UK. She was greeted at the White House by the President and First Lady Mamie Eisenhower. And it wasn't long before Her Majesty returned the favour, hosting President Eisenhower at her beloved Scottish home, Balmoral.
---
Queen Elizabeth in her first televised Christmas Day broadcast in December 1957
Settling down to watch Queen Elizabeth's Christmas Day speech was a tradition for many families, but it wasn't always the case. Her Majesty's first televised festive broadcast actually only went out in December 1957, four years after her coronation. Up until then, fans could enjoy the monarch's reflections on the past year via radio, but there was nothing quite like seeing the Queen delivering her words of wisdom to the nation. This is something even the monarch appeared to agree with as she is said to have expressed her hope in her first televised speech that they'd be more "personal" going forwards.
---
Queen Elizabeth and Prince Philip take a trip to Balmoral in September 1972
Over the years, reports have claimed that Balmoral was Queen Elizabeth's favourite residence and it was here that she enjoyed an annual summer holiday with her nearest and dearest. It was also a very special place for her and Prince Philip and they visited Balmoral during their Silver Wedding Anniversary year in 1972.
Several portraits were released later that year to mark the date itself, all taken during that summer's trip to Scotland. Since then the couple went on to celebrate many more milestone anniversaries with Balmoral continuing to hold a special place in their hearts.
---
Queen Elizabeth watches Princess Anne compete at the Olympics in July 1976
During the Royal Family's trip to Canada in 1976, Her Majesty made sure she got to watch her only daughter, Princess Anne, as she formed part of the Equestrian Team that represented Great Britain at the Montreal Olympics. It was the Queen as the Head of State of Canada who officially opened the Games in both French and English, showing off her impressive language skills.
---
Queen Elizabeth marks her Silver Jubilee year in 1977
The Silver Jubilee saw celebrations take place all throughout the UK and the Commonwealth, beginning with a church service in February to mark Queen Elizabeth's Accession Day. And the festivities didn't stop there as that summer she set out around the country after deciding she wanted to mark the occasion by meeting as many people as she could. Across six jubilee tours in the UK and Northern Ireland, the monarch is said to have covered a staggering 36 counties.
---
Prince Charles and Lady Diana Spencer marry in July 1981 with Queen Elizabeth as an honoured guest
Queen Elizabeth was a guest of honour as the then-Prince Charles marry Lady Diana Spencer at St Paul's Cathedral in 1981. Crowds lined the streets to see the newlyweds and Her Majesty, with the Queen opting for a vibrant blue outfit for the momentous occasion. All three waved to the crowds from the balcony of Buckingham Palace in one of the most unmissable moments in royal history.
---
Queen Elizabeth attends Prince William's christening in August 1982
Although she was already a proud grandmother when Prince William was born, his christening was another significant occasion for Queen Elizabeth as the new royal baby was destined to follow in her footsteps as monarch. The future King's christening also took place on the Queen Mother's birthday and he wore the same gown as his father and grandmother before him.
---
Queen Elizabeth attends the funeral of Princess Diana in September 1997
The funeral of Princess Diana was a deeply poignant service and according to reports, Her Majesty bowed her head as Princess Diana's coffin passed as a sign of respect. Typically it's Queen Elizabeth who was bowed to as the Sovereign, but she is believed to have made an exception on this incredibly sad day as she remembered her former daughter-in-law.
---
Queen Elizabeth mourns the death of the Queen Mother in 2002
The Queen Mother's public funeral was held on April 9 2002 following her death aged 102 and the night before Queen Elizabeth gave a rare address to the nation. In it, Her Majesty described herself as being "deeply moved by the outpouring of affection" as she prepared to pay her respects. One of the most spectacular royal jewellery pieces of all time, the crown featuring the iconic Koh-i-Noor diamond, was placed on a purple velvet cushion on top of the Queen Mother's coffin and she was laid to rest at St George's Chapel.
---
Queen Elizabeth enjoys her Golden Jubilee weekend in June 2002
Heading to watch a parade in her honour, Queen Elizabeth and Prince Philip traveled in an open-top car through the adoring crowds at her Golden Jubilee celebrations. Over this wonderful weekend, the Buckingham Palace gardens were used for public concerts for the first time. The Queen was even awarded a gold disc from the recording industry after 100,000 copies of the CD of the 'Party at the Palace', produced by EMI, were sold within the first week of release.
---
Queen Elizabeth and Prince Philip celebrate their Diamond Wedding Anniversary in November 2007
Queen Elizabeth and Prince Philip's Diamond Wedding Anniversary pictures taken in 2007 captured a truly romantic moment. Returning to Broadlands in Hampshire where they spent their wedding night, the monarch and Duke of Edinburgh recreated one of their most iconic photos together as they walked in the grounds. This already precious day was also made even more emotional as the stunning location is the former home of Prince Philip's beloved late uncle, Earl Mountbatten.
---
The first meeting between Queen Elizabeth and President Barack Obama and First Lady Michelle Obama takes place in April 2009
Queen Elizabeth met many US Presidents throughout her time on the throne and the first time she was introduced to then-President Barack Obama and First Lady Michelle Obama was a moment to remember. Fans saw Michelle place her arm around the Queen as they talked and Barack Obama later went on to describe Her Majesty as one of his "favourite people".
---
Queen Elizabeth attends Wimbledon in June 2010
The final time Her Majesty ever graced the grass courts was back in June 2010 and according to reports she attended the iconic championships just four times during her extraordinary reign, despite being Patron of the All England Tennis and Croquet Club for many years. She passed this patronage over to the Princess of Wales in 2017 and Queen Elizabeth's last Wimbledon appearance saw a rare but traditional bow to the Royal Box from the Center Court players.
---
Prince William and Kate get married in April 2011 with Queen Elizabeth in attendance
From Kate's magnificent wedding dress to the moment Prince William first set eyes upon his bride, the Prince and Princess of Wales' wedding was a stand-out day for the Royal Family. For Queen Elizabeth, the chance to see them marry was a special moment and she opted for a primrose yellow outfit for the springtime occasion. Her Majesty beamed throughout the ceremony and later appeared alongside the newlyweds on the Buckingham Palace balcony, looking every inch the proud grandmother of the groom.
---
Queen Elizabeth undertakes a State Visit to Ireland in May 2011
Accompanied by her "strength and stay" the Duke of Edinburgh, Queen Elizabeth became the first British monarch to visit the Republic of Ireland since 1911. Although many fans might have known the Queen spoke English and French, she impressed attendees of a state dinner when she began her speech in Irish. The then-President of Ireland, Mary McAleese is said to have told the state broadcaster RTE at the time that Her Majesty's visit was "an extraordinary moment in Irish history - a phenomenal sign and signal of the success of the peace process".
---
Queen Elizabeth's Diamond Jubilee in June 2012
The same year London hosted the Olympic Games was Queen Elizabeth's Diamond Jubilee. The last British monarch to mark the 60-year reign milestone was Queen Victoria and people in more than 70 countries took part in Big Jubilee Lunches to celebrate, including in Nigeria, Afghanistan, Pakistan, India, South Africa, and even in the Arctic Circle. At the Jubilee Pageant, The Queen, Prince Philip, Prince Charles, Duchess Camilla, the Duke and Duchess of Cambridge, and Prince Harry traveled on the royal barge decorated with 10,000 flowers.
---
Queen Elizabeth at Royal Ascot in June 2016
Her Majesty was known for her love of horses and regularly joined many of her royal relatives at Royal Ascot throughout her reign. Each year Royal Ascot week begins with the Royal Procession where monarch and other members of the Royal Family traveled down in their carriages. Her Majesty also had a special interest in the races as she was the owner and breeder of many thoroughbred horses, including some that have won races at Royal Ascot.
---
Queen Elizabeth at one of her famous garden parties in May 2018
Over the years Queen Elizabeth traditionally hosted three parties at Buckingham Palace and one at the Palace of Holyroodhouse in Scotland as a lovely way to reward and recognize public service. With a smart dress code, Her Majesty used these summer events as a time to speak with people from all walks of life who have positively impacted their community.
---
Queen Elizabeth attends the RHS Chelsea Flower Show in May 2019
Always one to show support for her family members, Queen Elizabeth was no different when it came to the Princess of Wales' Back to Nature Garden design at the Royal Chelsea Flower Show. Photographed being given a royal tour by her granddaughter-in-law, the Queen looked delighted to be shown around. This annual event is something Her Majesty regularly attended during her reign and she had been Patron of the Royal Horticultural Society since 1952.
---
Queen Elizabeth and the Royal Family at the Trooping the Colour in June 2019
Queen Elizabeth's official birthday was traditionally marked with the Trooping the Colour parade. For this, the streets were lined with crowds waving flags and the display was brought to a spectacular end with an RAF fly-past, watched by the Queen from Buckingham Palace balcony. So many of the most iconic pictures of Her Majesty and her family were taken at Trooping the Colour, including back in 2019 which was the last full-scale parade before the pandemic.
---
Queen Elizabeth at church on Christmas Day in December 2019
Traditionally Queen Elizabeth headed to Sandringham House and traveled to the church of St Mary Magdalene for the Christmas Day service, where crowds lined the way hoping for a glimpse of the royals. For many people, the sight of the Queen attending church was perhaps just as much of an iconic Yuletide moment as her Christmas speech.
---
Queen Elizabeth's lifelong love of horses demonstrated in a candid picture from Windsor in 2020
It was said that Queen Elizabeth made the most of lockdown in the UK by going out for daily horse rides and she was well known for her love of horses. The monarch was often particularly associated with Fell Ponies - an ancient breed - which featured alongside her in her 96th birthday portrait. Though reports have suggested she also owned a number of Highlands and Shetlands throughout her life.
---
Queen Elizabeth sits alone at Prince Philip's funeral in April 2021
Undoubtedly one of the most emotional moments in Queen Elizabeth's life was the funeral of her beloved husband, Prince Philip. Held at St George's Chapel in Windsor in April 2021, Covid-19 restrictions meant that the guest list only included 30 people and she sat alone with her family spaced out around her. Her Majesty bid her final farewell to the Duke of Edinburgh in the form of a private note placed on his coffin.
---
Queen Elizabeth at the State Opening of Parliament in May 2021
Just a few days after the royal mourning period for the Duke of Edinburgh ended, Queen Elizabeth faced her first major public duty since losing him when she attended the State Opening of Parliament. She was supported by King Charles as she gave the Queen's Speech, setting out the government's agenda for the new session. There were so many times throughout her reign that the Queen's commitment to her duties shone through, but this was a particularly moving moment at such a difficult time.
---
Queen Elizabeth marks the start of her Platinum Jubilee year in February 2022
In 2022, Queen Elizabeth became the first British monarch to reign for 70 years. Ahead of Accession Day on February 6, the anniversary of the day she officially became Queen, Her Majesty viewed a selection of memorabilia from her previous jubilees at Windsor Castle. One of these precious items was a fan that was previously presented to Queen Victoria to mark her Golden Jubilee in 1887. Already a remarkable monarch, the start of her Platinum Jubilee cemented her place in history.
---
Queen Elizabeth makes an appearance at the Royal Windsor Horse Show in May 2022
Held annually in Windsor Home Park near Windsor Castle, the Royal Windsor Horse Show is a time where fans have often been treated to a rare glimpse of the monarch in a more casual setting. Last year saw Queen Elizabeth make what was her first royal appearance in many weeks at the show and she beamed with delight during her appearance and even received the winner's cup.
---
Queen Elizabeth celebrates her Platinum Jubilee in June 2022
Honouring her extraordinary milestone, Queen Elizabeth's Platinum Jubilee weekend in June 2022 saw her take to the Buckingham Palace balcony on two occasions. The second came on the final day of the celebrations where she was joined by the now-King Charles and Queen Camilla and the now-Prince and Princess of Wales and their three children. Waving to the delighted crowds outside the palace, the Queen seemed visibly moved and the future of the monarchy was clear for all to see as she stood proudly alongside three future Kings.
---
Queen Elizabeth receives new British Prime Minister Liz Truss at Balmoral in September 2022
Throughout her reign Her Majesty has been served by 15 Prime Ministers including Winston Churchill and in September 2022 she received Liz Truss at her Aberdeenshire home. Photographed during this important moment, Queen Elizabeth formally invited her to form a new Administration and upon her acceptance, Liz Truss officially became the new Prime Minister. This was the monarch's last public official duty before she passed away on 8th September 2022 and a moment in Queen Elizabeth's life that showcased her unwavering devotion to her royal duties.
Sign up to our free daily email for the latest royal and entertainment news, interesting opinion, expert advice on styling and beauty trends, and no-nonsense guides to the health and wellness questions you want answered.
Emma is a Royal Editor with seven years of experience working in digital publishing. Her specialist areas including literature, the British Royal Family and knowing all there is to know about the latest TV shows on the BBC, ITV, Channel 4 and every streaming service out there. When she's not writing about the next unmissable show to add to your to-watch list or delving into royal protocol, you can find Emma cooking and watching yet more crime dramas.