The dramatic history behind the Queen's Grand Duchess Vladimir Tiara, a jewel that has survived the fall of an empire
The Grand Duchess Vladimir Tiara has an origin story fit for a James Bond adventure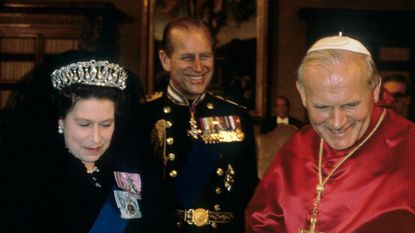 (Image credit: Anwar Hussein/Getty Images)
As we saw throughout the Queen's Platinum Jubilee celebrations this year, Queen Elizabeth II has been witness to some of history's most iconic moments. However, there are jewels in the monarch's collection that predate even Her Majesty, and one such piece is the Grand Duchess Vladimir Tiara.
The Grand Duchess Vladimir Tiara is thought to be one of the most important jewels in the Queen's collection.
The tiara belonged to Duchess Vladimir, a relation to the last Romanov in the Russian Empire and she is rumored to be the last Romanov to have left Russian soil after the revolution – taking many of her jewels with her.
In other royal news, Duchess Camilla makes her Vogue debut.

---
Many of her Majesty's jewels have fascinating histories – from the Williamson pink diamond brooch to the Burmese ruby tiara – but one could argue that none is quite as dramatic as the Grand Duchess Vladimir Tiara.
Thought to be a favorite of Her Majesty's, the Grand Duchess Vladimir Tiara has been worn in official portraits and during important meetings with the likes of President Obama and the Pope.
But how did this tiara, once worn by the last Romanov to set foot on Russian soil, become a prized piece in the British Royal Family's collection?
Who was the Grand Duchess Vladimir?
Born Marie of Mecklenburg-Schwerin, she was to become the notorious Grand Duchess after marrying into the doomed Romanov dynasty in 1874.
She married Grand Duke Vladimir Alexandrovich of Russia, uncle to Nicholas II – he who would become the last ever Romanov Emperor.
Before the revolution, the Grand Duchess quickly established herself as an important figure in society, establishing a court at St. Petersburg's Vladimir Palace that became the center of aristocratic life.
When was the Grand Duchess Vladimir Tiara made?
As part of her grand persona, the Duchess was renowned for her love of jewelry.
According to the Royal Collection Trust, Grand Duchess Vladimir most likely received this tiara at the time of her marriage. It is understood to have been made by the Imperial Court Jeweller, Bolin.
Made in gold and silver, it originally consisted of intersecting circles set with old mine-cut brilliant diamonds with an undulating diamond ribbon on top which accommodated hanging claw-set pearls.
How did it become part of the British monarchy's jewelry collection?
Being known for her strength and big character, the Duchess wasn't too nervous when news of the revolution first reached her.
Many sources report her leaving St. Petersburg with only a few "daytime jewels and strings of pearls," having hidden the real treasures in a secret compartment in the Vladimir Palace.
She remained in the countryside until February 1920, when she fled to Venice, becoming the last Romanov to leave Russian soil.
Now, here's where the story gets dramatic – and conflicting.
Depending on the source, the urban legend has it that a British officer snuck into the Vladimir Palace dressed as a worker and stashed all the hidden jewels in his bags before engineering an escape worthy of 007.
The jewels made it safely out of Russia and into London where the Grand Duchess' son Grand Duke Boris was living in exile.
However, some other reports suggest an older, inconspicuous woman was used to infiltrate the palace, and she was instructed to sew the invaluable pieces into her bonnet before making a swift exit.
Either way, the jewels made it to London, and after Duchess Vladimir's death, her family began to auction her jewels to financially support themselves.
Renowned jewelry lover Queen Mary – Queen Elizabeth II's grandmother – snapped up the tiara.
Customizing it, fifteen emeralds that once belonged to Mary's mother Mary Adelaide (the original Duchess of Cambridge) were added, along with a mechanism that allowed them to be interchangeable with the original pearls.
In 1988, Queen Elizabeth II had it repaired again, this time updating the frame.
So renowned is the love for the tiara that in the original Downton Abbey movie Queen Mary, played by Geraldine Jones, wears an uncanny replica of the Duchess Vladimir tiara.
From the aristocracy of Russia to surviving a revolution and ending up in a Hollywood movie, there is no other piece quite like the Grand Duchess Vladimir Tiara.
Jack Slater is not the Last Action Hero, but that's what comes up first when you Google him. Preferring a much more sedentary life, Jack gets his thrills by covering news, entertainment, celebrity, film and culture for woman&home, and other digital publications.
Having written for various print and online publications—ranging from national syndicates to niche magazines—Jack has written about nearly everything there is to write about, covering LGBTQ+ news, celebrity features, TV and film scoops, reviewing the latest theatre shows lighting up London's West End and the most pressing of SEO based stories.