The Queen speaks about Prince Philip for first time since he died
The Queen spoke about the "happy memories" she shared with Prince Philip in a poignant speech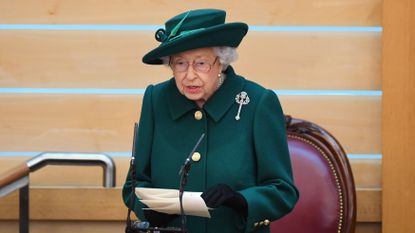 (Image credit: (Photo by Andy Buchanan - Pool/Getty Images))
The Queen has spoken publicly about her late husband, Prince Philip, for the first time since his death.
---
The Queen, who famously spends every summer at Balmoral Castle in Scotland's Aberdeenshire, made a special appearance in Edinburgh to undertake a vital task.
Her Majesty took to the microphone at Holyrood Debating Chamber in order to officially open a new Parliament session.
Touching on the sad loss of Prince Philip, that she endured earlier this year, the monarch spoke of the wonderful times she spent with the Duke of Edinburgh in Scotland, over the course of their 73 years of marriage.
Speaking to Members of Scottish Parliament and First Minister Nicola Sturgeon, the Queen said, "I have spoken before of my deep and abiding affection for this wonderful country, and of the many happy memories Prince Philip and I always held of our time here.
"It is often said that it is the people that make a place, and there are few places where this is truer than in Scotland, as we have seen in recent times," she added, highlighting her love of the nation.
This is the first time the Queen has spoken about Prince Philip during a public appearance since he passed away, having lived as a widow since he lost his life at Windsor Castle, aged 99 in April 2021.
Despite not mentioning him personally until now, the Queen has released various statements to thank her subjects for their support in the days after Philip died.
When she marked her 95th birthday just weeks after her death, she acknowledged the touching public reaction she and her family had received in light of their loss.
"My family and I would like to thank you all for the support and kindness shown to us in recent days. We have been deeply touched, and continue to be reminded that Philip had such an extraordinary impact on countless people throughout his life," she said in the message.
The Queen also allowed for various, rare photos of Prince Philip and family to be released, including a sweet shot of the two of them sat together on a blanket at Balmoral.
A caption beside the lovely snap, taken by Sophie Wessex, read, "The Queen wishes to share this private photograph taken with The Duke of Edinburgh at the top of the Coyles of Muick, Scotland in 2003.
"Her Majesty and the Royal Family are grateful for all the messages of condolence from around the world and have been touched to see and hear so many people sharing fond memories of The Duke, in celebration of his life."