The Queen pulls out of another major event 'for her comfort' amid ongoing health concerns
The Queen has pulled out of one of her favorite events...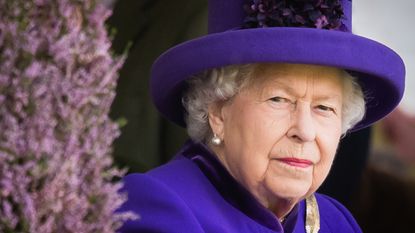 (Image credit: Getty Images)
The Queen has pulled out of Scotland's Highland Games 'for her own comfort' amid ongoing mobility issues.
The Queen was scheduled to attend the Braemar Gathering in Scotland tomorrow however has been forced to pull out.
The Highland Games are not a public engagement for Her Majesty however she is known to enjoy attending privately and has been captured beaming with joy at the event over the years, with close members of The Firm beside her.
In other royal news, the Queen's sad confession about what she hates about her job has been revealed.
---
Despite currently spending her summer break at Balmoral Castle, the 96-year-old monarch will miss the iconic Scottish event.
The Queen has been dealing with 'episodic mobility issues' for much of the past year and has pulled out of various events in order to prioritize her health and comfort.
Prince Charles is still expected to attend the Highland Games without his mother.
The news comes after it was confirmed that the Queen would break royal tradition to appoint the new Prime Minister at Balmoral instead of in London when the winner of the Tory party leadership race is announced on September 6th.
Boris Johnson, Liz Truss, and Rishi Sunak are expected to travel to the Aberdeenshire estate for the swearing in ceremony so that Her Majesty does not have to make the long journey back to London.
Speaking on the Queen's decision to shake-up protocol and receive the new Prime Minister in Scotland, a source told The Sun, "Obviously no one tells the Queen what to do and ultimately it is her decision, and as we saw when she made a third appearance on the Buckingham Palace balcony at the Jubilee."
The Queen is said to be 'resting more' at Balmoral with changes being made to the residence in order to make it more comfortable for her, reportedly having delivery vans bringing things like a luxury golf buggy and an orthopedic bed to the home from Windsor Castle.