The Queen "delays" filming Christmas speech amidst Brexit uncertainty
A source has claimed that the Queen has held off filming until things are clearer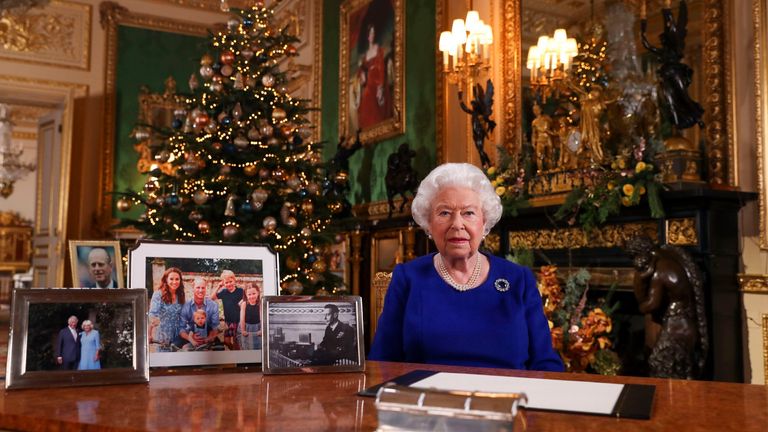 (Image credit: Photo by Steve Parsons / POOL / AFP) (Photo by STEVE PARSONS/POOL/AFP via Getty Images)
The Queen's Christmas speech has long been a beloved festive tradition, but this year filming has reportedly been delayed as we await the outcome of the Brexit decision. 
The Queen has supposedly held off filming her Christmas speech at Windsor Castle this year until the Brexit outcome is revealed.
A source has claimed that this year's message will be "personal" and "emotional", with huge viewing expected.
After enjoying their Christmas lunch, many families settle down to hear what pearls of wisdom the 97-year-old monarch has to offer each year. And after the challenges posed by the pandemic in 2020 and the cancellation of many aspects of a traditional royal Christmas, it is a relief to hear the Queen will still be making her speech as usual.
It is believed that the Queen usually records her Christmas speech in early December. 
Yet now a source has claimed that the Queen has held off filming - for now at least - for a very important reason. 
Why has the Queen's Christmas speech filming been delayed?
According to some, the Queen has chosen to delay filming her Christmas speech until it is known whether the Government has managed to strike a deal with the European Union, or whether the country will leave without one. 
A source has reportedly opened up to The Sun about the filming, stating: "this time it's later than usual". 
They added that: "There's talk it could happen on Wednesday or Thursday". 
Explaining the reasoning behind the Queen's alleged decision, they continued: "The country could be a very different place by then, with us possibly leaving the EU without a deal."
Insiders supposedly added that the Queen has written a "personal" and "emotional" address for this year and that they are "expecting record viewing figures".
What might the Queen's Christmas speech be about?
Whilst we will have to wait until Christmas Day to hear the Queen's heartfelt words, it seems clear that it will be incredibly moving. 
It's thought by some that the Queen's Christmas speech will talk about how the pandemic has kept families apart, yet there will most likely be optimism and hope as we look ahead to next year with the new covid-19 vaccine. 
The Queen's son Prince Charles and grandson Prince William caught the virus earlier this year. 
The two princes have since recovered, yet like many of us up and down the country, the Queen is now facing an unusual Christmas where she will not be joined by all of her extended family.
It has recently been announced that the Queen and Prince Philip will be celebrating Christmas "quietly" at Windsor Castle where they spent England's second lockdown.
This marks the first time in 33 years that the Queen has not spent Christmas at Sandringham.