Sarah Ferguson on writing her own narrative after Queen Elizabeth's death - 'I feel liberated and can openly say what I want to say'
Fergie gets candid about the royals and whether she'll be attending King Charles's coronation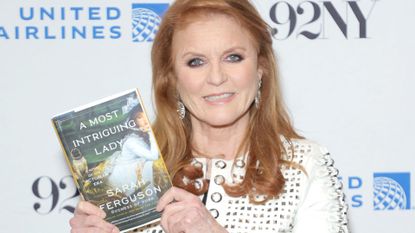 (Image credit: Getty Images)
Sarah Ferguson talks her new book, A Most Intriguing Lady, and what it means for her to be 'liberated' after the death of Queen Elizabeth.
Sarah Ferguson is no stranger to being in the spotlight. As the former wife of Prince Andrew and the current Duchess of York, the royal redhead is used to having her name in the press - even when she didn't necessarily want it there.
Now, though, Fergie is writing her own narrative with her new novel, A Most Intriguing Lady, which came out Tuesday, March 7.
In an interview with Good Morning America (opens in new tab), Fergie discusses what her new novel is about, as well as what her plans are for King Charles' coronation ceremony.
"I feel liberated," Sarah initially says. "I don't know whether it's the Queen passing that makes me think I can now openly say what I want to say without worrying I'm going to offend somebody. I'm really, truly authentic Sarah now."
Queen Elizabeth died in early September of 2022, after reigning on the throne for just shy of 71 years.
She does say later in the interview, however, that after the sexual assault scandals that surrounded her ex-husband, Prince Andrew, she became much closer to the Queen. "She was my idol. She was my legend," she recalls.
A Most Intriguing Lady, Sarah's second novel, features a plot that is filled with rich royal history, as well as a bit of a "whodunnit" theme. When asked how the novel mirrors her own life, especially the main character, Fergie laughs. "Well the red hair certainly helps," she says.
"Sarah is cheeky. She's feisty. She's rebellious. In my life, it's not just Royal institution and monarchy, it's a bureaucracy that tries to allow this redhead to conform," she continues. "I believe in the absolute, unequivocal institution of monarchy, I totally support the King and the Queen consort - I've known them all my life. I know the rules."
When asked if she'll be attending the coronation of King Charles, she says that invitations haven't been sent yet. "If not, I'll have a cup of tea and a coronation chicken sandwich... and sausage rolls!" she says cheekily.
She then speaks quite fondly of King Charles, wishing him well as he prepares to take his place as the new monarch of England.
"I've always adored him, all my life," Fergie says. "I believe that he is an extraordinary person."
---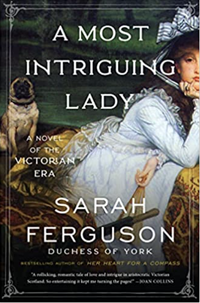 (opens in new tab)
A Most Intriguing Lady: A Novel, $27 | Amazon (opens in new tab)
From Sarah Ferguson, the Duchess of York, a sweeping, romantic compulsively readable historical saga about a Duke's daughter—the perfect Victorian lady—who secretly moonlights as an amateur sleuth for high society's inner circle.
Additionally, she speaks on Harry and Meghan's relationship, which has recently been under a magnified lens in the press - especially since the release of Harry's new memoir, Spare, in addition to the Netflix documentary series Harry & Meghan, which follows the ex-Royals lives from a more intimate standpoint.
"What I'm thrilled about is seeing Harry so happy. He's got his lovely wife and he's got beautiful children. He deserves to be loved like that," she says of her family member.
Fergie also poignantly recalls one of the last conversations she had with the Queen before she passed, "One of the last things I said to her was 'what would you like me to do?' She said, 'Keep writing.'"
Madeline Merinuk is woman&home's US lifestyle news writer. She covers celebrity, entertainment, fashion, and beauty news but is also obsessed with internet trends - you can find her reciting trending TikTok sounds out loud at any given time.
After winning multiple student journalism awards for her investigative work, she graduated from Hofstra University in 2021 with a B.A. in Journalism. After graduating, she worked at today.com, the digital site for the Today Show, where she wrote pop culture news and interviewed big-name personalities like Emily Ratajkowski, Haley Lu Richardson, Emma Corrin, and more.
Her personal interests, in no particular order, are: cheese, Joni Mitchell, reading, hot yoga, traveling, having multiple chapsticks in every handbag at all times, and dancing to ABBA songs as if she were in the Mamma Mia movies.