King Charles III officially proclaimed King with signing of declaration in historic royal first
King Charles III and witnesses have now signed the proclamation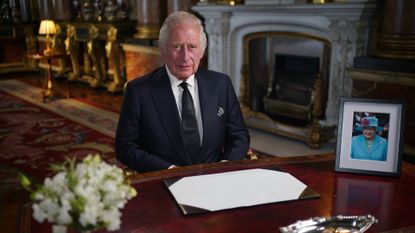 (Image credit: Getty)
King Charles III has been formally proclaimed monarch, as he and witnesses from the Privy Council signed the declaration - it's the first time the proceeding has been shown on TV.
---
King Charles III addressed the nation before signing the oath he declared in front of the Privy Council.
Members of the Privy Council including the Prince of Wales and Camilla and Queen Consort also signed the declaration as witnesses in a historic moment - the first time the ceremony has been televised.
In an address to the nation, King Charles III said, "The whole world sympathises with me in the irreparable loss we've all suffered. To all of us as a family, as to this kingdom and the wider family of nations of which it is a part, my mother gave an example of lifelong love and of selfless service."
He added, "My mother's reign was unequalled in its duration, its dedication and its devotion. Even as we grieve, we give thanks for this most faithful life."
King Charles added that he is "aware" of the duties he now must undertake following the death of Queen Elizabeth II. He said, "I am deeply aware of this great inheritance and of the duties and heavy responsibilities of Sovereignty which have now passed to me."
"In taking up these responsibilities, I shall strive to follow the inspiring example I have been set in upholding constitutional government and to seek the peace, harmony and prosperity of the peoples of these Islands and of the Commonwealth Realms and Territories throughout the world."
Charles also paid tribute to his wife, Camilla, who is now Queen Consort, saying, "I am profoundly encouraged by the constant support of my beloved wife."
Former Prime Ministers including Boris Johnson and David Cameron, as well as the current Prime Minister, Liz Truss, were all in attendance at the ceremony.
After the signing of the declaration, King Charles III was proclaimed publicly on the balcony overlooking Friary Court at St James's Palace, with royal guards cheering for the new King.
Robyn is a celebrity and entertainment journalist and editor with over eight years experience in the industry. As well as contributing regular to woman&home, she also often writes for Woman, Woman's Own, Woman's Weekly and The Sun.