The Royal Family are 'terrified' to tell Prince Harry and Meghan Markle anything about the coronation as they fear their 'everything's for sale' mentality will lead to leaks
"Every indiscretion or every aside comment could be magnified in order to get them a profit" says royal expert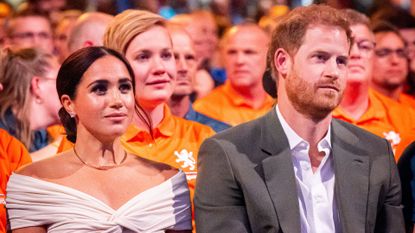 (Image credit: Patrick van Katwijk/Getty Images)
Following the release of Prince Harry's explosive memoir Spare and his and Meghan Markle's hit Netflix docuseries, Harry & Meghan, the Royal Family are reportedly 'terrified' to tell the couple 'anything' as 'every indiscretion or every aside comment could be magnified in order to get them a profit,' a royal expert has claimed.
A royal expert has claimed the Royal Family is 'terrified' to tell Prince Harry and Meghan Markle 'anything'.
Harry and Meghan believe 'everything's for sale' and this mentality might be affecting their inclusion in King Charles III's upcoming coronation celebrations, the expert revealed.
---
As Prince Harry and Meghan Markle continue to negotiate the terms of their coronation attendance, another setback has become apparent. This time, the pushback is not coming from the estranged royal couple but instead, concerns are reportedly being voiced by the entire Royal Family.
The claims come after royal columnist Louise Roberts revealed that members of the Royal Family are "terrified" to tell the Sussex's anything as the couple believes "everything's for sale" and cannot be trusted not to 'magnify' their comments 'in order to get them a profit.'"
Speaking to Sky News Australia, royal columnist Louise Roberts explained that even those royals who have a close relationship with Harry and Meghan are still 'reluctant' to share too much private information in conversations with them as they do not trust the couple to keep it private.
According to Louise, the fear surrounding information being shared with Harry and Meghan has reached an all-time high with King Charles III's upcoming coronation. She told Sky News Australia, "Who knows what they'll say after they leave the UK and go back to America after the Coronation?"
If they do accept their invite, Louise says the lack of trust may mean they are excluded from many of the celebration's key events in order to minimize possible leaks of 'magnified' claims over 'every indiscretion or every aside comment' made by the Royal Family.
She explained, "But the problem is that anyone who could be close to them, for example, William and Kate, won't tell them anything. Everyone's terrified … everything's for sale – every indiscretion or every aside comment could be magnified for an American audience in order to get them a profit."
Fears are likely heightened as reports speculate that not only is Meghan Markle planning to relaunch her lifestyle blog The Tig, but is also rumoured to be writing her own memoir. Royal commentator Joshua Rom has alleged that Meghan "fully intends" to write her own book and, according to him, the Coronation this May would be the perfect event to fill its pages.
Joshua told Fox News, "They need to continue their links to the institution, they have planned to have future projects - Meghan reportedly has a book in the works. What better material than a Coronation where they're confronting their past after everything that is going on and they're confronting the Royal Family head-on at a pivotal moment?"
The feeling of secrecy appears to be a mutual one between the Royal Family and the Sussex's. While the Royal Family are now worried about Harry leaking information, last month, reports claimed that he was the one who was "terrified" of the Royal Family leaking his "deepest secrets" after he did the same to them in his memoir Spare.
A source told OK Magazine, "It wouldn't surprise Harry if the royals spilled some of his deepest secrets to the media," before sharing that 'staffers' of The Firm, the business-orientated employees in the institution, are determined to "discredit Harry at any opportunity, especially now that he's stood up to them."
Charlie Elizabeth Culverhouse is royal news and entertainment writer. She began her freelance journalism career after graduating from Nottingham Trent University with an MA in Magazine Journalism, receiving an NCTJ diploma, and earning a First Class BA (Hons) in Journalism at the British and Irish Modern Music Institute. She has also worked with Good To, BBC Good Food and The Independent.