Relive the time King Charles read the weather, and more hilarious moments from his life as a working royal
King Charles isn't all business as proved by these notable and funny moments throughout his life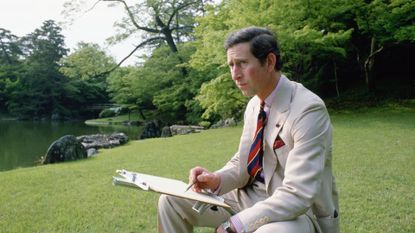 (Image credit: Getty Images)
Ahead of the coronation on May 6, 2023, we're taking a look back at some of Charles's most bizarre moments.
King Charles has been long known as a man who cares deeply for his country, proving time and time again that he is set to be a memorable monarch in the coming years. So when Queen Elizabeth II passed away in September 2022, it was time for him to step up and take his mother's place on the throne.
With lots of hubbub and conversation surrounding the upcoming coronation ceremony, including what's Prince William's role, who's on the coveted guest list, who's performing at the concert, and more, it can be easy to forget the main purpose of the gathering - to honor the lasting legacy of the British monarchy and have Charles officially take his place as King.
In a statement from Buckingham Palace, the King, and Queen Consort aimed to relay this message to the public. "Their Majesties The King and The Queen Consort hope the Coronation Weekend will provide an opportunity to spend time and celebrate with friends, families, and communities across the United Kingdom, the Realms, and the Commonwealth. Their Majesties are looking forward to marking the occasion with the public throughout 2023."
In honor of these upcoming festivities, we're taking a trip down memory lane through some of Charles's funniest moments before he is *officially* coronated.
King Charles's most bizarre moments
Charles tries his hand at rock climbing in 2012
The title speaks for itself. Not only is Charles quite the leader - but he also apparently is quite the stellar rock climber. In this video, we see Charles attempt to do just that.
While in Jersey, the then Prince Charles quickly traversed a climbing wall at a school in Jersey, UK, all while wearing a suit and dress shoes!
The time he couldn't seem to put a hat on properly in Jamaica, 2000
While on a visit to the Trenchtown Community Centre in Jamaica, Prince Charles was presented with a set of fake dreadlocks by Rita Marley, Bob Marley's wife - but unfortunately, there was a bit of a directional mishap when placing the hat on his head.

Rita said the prince told her that he loves her late husband's music. She said Bob would have been amazed by the royal's visit to the neighborhood.
Prince Charles laughing his head of with Ozzy Osbourne, in 2006
If there were two people we'd simply never picture in a room together, it would be Ozzy Osbourne and Charles - but alas, here they both are laughing their heads off.

King Charles and Ozzy were born just a month apart in 1948 and the monarch allegedly even sent Ozzy Osbourne a gift after his horrific quad bike crash in 2003 as a caring gesture.
Prince Charles suddenly becomes a weatherman in 2012
Charles gave the Scots a great surprise on a dreary Thursday by delivering the evening weather report. We must say, if this whole "King" thing doesn't work out, perhaps this should be his backup.
Prince Charles meets James Bond, 2019
Can you name two men with more suave and sophistication than these two? None other than Daniel Craig gave the then Prince Charles a tour of the James Bond set. We're obsessed!
Prince Charles voices a Dalek on Doctor Who in 2013
Clearly, Charles has quite an affinity for movies and TV. Charles voiced a "Dalek," in Doctor Who, while visiting the set of the television show in 2013, and the result is simply hilarious.
Prince Charles does a comedy sketch with Judi Dench, 2016
"To be, or not to be," is what King Charles argued should be the correct inflection at the beginning of Hamlet's famous soliloquy at the Royal Shakespeare Company. Let it be known that this argument was settled between him and acting A-lister Dame Judi Dench.
Prince Charles plays the drums in 2006
While in Sierra Leone, Charles played drums with the Sierra Leone National Band Troupe at the Golf Club in Freetown. Maybe in his next life, he should come back as an entertainer!
When the Prince was offered a pair of drumsticks he just couldn't resist and joined in drumming for a couple of minutes as people danced behind him.
Prince Charles rocks 3D glasses in 2010
Charles donned these 3D glasses while exploring a 3D computer program during a royal visit to Budapest. Prince Charles and Camilla were on a three-day trip to Hungary as part of a tour of Eastern Europe. But it's not the first time he donned interesting eyewear, his love for retro shades often has us wondering 'is Charles actually the most stylish royal?' and we're kind of thinking he just may well be!
Madeline Merinuk is woman&home's US lifestyle news writer. She covers celebrity, entertainment, fashion, and beauty news but is also obsessed with internet trends - you can find her reciting trending TikTok sounds out loud at any given time.
After winning multiple student journalism awards for her investigative work, she graduated from Hofstra University in 2021 with a B.A. in Journalism. After graduating, she worked at today.com, the digital site for the Today Show, where she wrote pop culture news and interviewed big-name personalities like Emily Ratajkowski, Haley Lu Richardson, Emma Corrin, and more.
Her personal interests, in no particular order, are: cheese, Joni Mitchell, reading, hot yoga, traveling, having multiple chapsticks in every handbag at all times, and dancing to ABBA songs as if she were in the Mamma Mia movies.