Is King Charles *actually* the most stylish royal? His wicked sunnies and Princess Anne style scarf make a strong case in this groovy photo
See the pics of his far-out sunglasses and scarf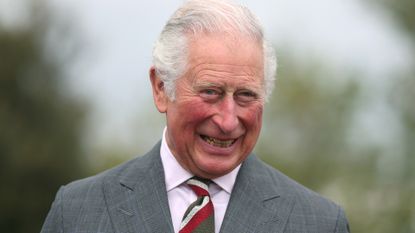 (Image credit: Chris Jackson - WPA Pool/Getty Images)
We're not usually into analyzing the style choices of King Charles - but his sunglasses and scarf combo from his younger days are too good to ignore.
The royal family is known for always stepping out in professional (yet, of course, stylish) attire. With access to hundreds of designers, jewelry brands, and more, it's quite expected that the family looks uniform and smart, and that includes every member of the family. While the ladies tend to opt for dresses or pantsuits (we're obsessed with Kate's pastel pink pantsuit), typically we see King Charles wearing his pinky ring and a plethora of suits - so on the off occasion when someone is wearing something ~slightly~ more fun and casual, we become instantly obsessed.
After doing some digging, we found a resurfaced photo of a young Prince Charles looking simultaneously utterly dapper and rather groovy in the 80s.
Seriously though, how groovy is this ensemble? His sunglasses reflect a style that was popular in the 80s - which is when this iconic photo of him was taken. Underneath the matching navy blue jacket he's wearing, he also has on pale yellow turtleneck sweater and a yellow and blue scarf to match - an accessory Princess Anne also relies on to look polished.
We'd never have expected King Charles to influence our fashion choices but suddenly, we're in the market for a pair of these sunnies. Sunglasses aren't always easy to choose; you have to consider a number of factors when selecting a pair, such as 'do these sunglasses suit me?' 'are these the best sunglasses on a budget?' and 'what color looks best?' among other inevitable queries. Obviously, Charles hit the nail on the head with this pair - and it might have even inspired our next sunglasses purchase.
We've gathered a few styles that, although are not exact replicas of the King's, are pretty similar (and likely way less expensive!).
---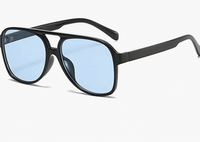 IKUVNA Vintage Aviator Sunglasses in Blue, $10 | Amazon
These vintage retro aviator sunglasses for women and men will give any outfit a cool edge.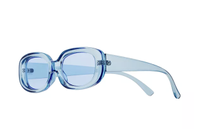 Women's SO® Norie 52mm Rectangular Sunglasses, $17 | Kohl's
Give your accessories collection a retro-inspired refresh with these women's rectangular plastic sunglasses from SO.

We also have to take a moment to appreciate the soon-to-be King's hair, as it looks very wavy and quite lush - although he still has quite an impressive head of hair now, even at 74 years old.
Usually, when Charles makes fashion choices that air on the side of fun or creative, there's usually a deeper purpose. For example, last year while visiting The Felix Project in London, he potentially made a snazzy tribute to Queen Camilla by wearing a special owl and cat patterned tie. Folks thought this could be a nod to The Owl and the Pussy-Cat, a poem that Queen Camilla so loves - especially since she was unable to attend the visit due to COVID-19.
We wonder if there was a deeper meaning to Charles's chic blue sunnies, or if perhaps the only significance was that he wanted to look cool. If so, mission accomplished.
Madeline Merinuk is woman&home's US lifestyle news writer. She covers celebrity, entertainment, fashion, and beauty news but is also obsessed with internet trends - you can find her reciting trending TikTok sounds out loud at any given time.
After winning multiple student journalism awards for her investigative work, she graduated from Hofstra University in 2021 with a B.A. in Journalism. After graduating, she worked at today.com, the digital site for the Today Show, where she wrote pop culture news and interviewed big-name personalities like Emily Ratajkowski, Haley Lu Richardson, Emma Corrin, and more.
Her personal interests, in no particular order, are: cheese, Joni Mitchell, reading, hot yoga, traveling, having multiple chapsticks in every handbag at all times, and dancing to ABBA songs as if she were in the Mamma Mia movies.