Prince Charles praises 'darling wife' Camilla in documentary giving rare insight into their marriage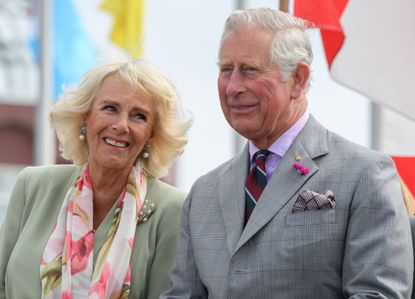 Royal fans are to be given a fascinating insight into Camilla Parker-Bowles' life as Duchess of Cornwall - and her marriage to Prince Charles - thanks to an upcoming documentary.
Set to air on ITV next week,The Real Camilla: HRH the Duchess of Cornwallfollows a year in the royal's life, and features interviews with her nearest and dearest - including husband Charles.
In the show, the future king affectionately refers to Camilla as his "darling wife" and pours praise on her listening skills in a rare personal interview.
''She's the best listener in town. She can get anything out of anybody," Charles, 69, says in the show, according toRadio Times.
Famous friends of the Duchess who also feature in he documentary include actors Joanna Lumley and Gillian Anderson.
Her friend Giles Brandreth also praises the 70 year old, saying she "isn't interested in position or status".
MORE:The Queen 'hit extremely hard' by the loss of her last beloved pet corgi
Camilla was followed by the show's cameras for a whole year of royal engagements, including her Royal Tour of Italy with Prince Charles last April.
A small tea party she hosted for elderly victims of burglary at Clarence House in January also features.
The Duchess is also shown in more private moments, such as decorating the Christmas tree and walking her dogs in the grounds ofDumfries House in Scotland.
The documentary comes as Charles' second wife prepares for her future role of Queen Consort, which she will assume when he becomes king.
MORE: The moment Camilla knew she'd finally been accepted by the Queen
The intriguing glimpse into Camilla and Charles' life together - both official and private - comes shortly after the royal couple celebrated their thirteenth wedding anniversary.
However, the pair sadly spent the special occasion apart, with Charles visiting the Commonwealth Games in Australia whilst Camilla headed home to the UK.
The Real Camilla: HRH the Duchess of Cornwall airs on at 9pm on Monday 23rd April on ITV
Stephanie is Editor of Fit&Well. She has previously worked for titles including Now, MSN and Stylist, covering all aspects of women's lifestyle including health and fitness.