The Queen shares rare glimpse of private part of Windsor Castle as she opens it to public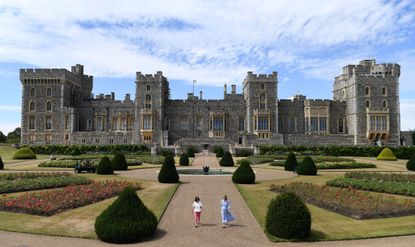 (Image credit: AFP via Getty Images)
Her Majesty the Queen has shared some special images showing off a rarely seen part of Windsor Castle (opens in new tab).
The Monarch and her husband, Prince Philip, spent much of the coronavirus lockdown in the royal residence.
Now, Her Majesty has opened a private area of gardens in the castle for the first time since the 1970s, meaning that the public are able to visit for the first time in over 40 years.
The announcement that The East Terrace Garden at Windsor Castle is now open for viewing, the royal family Instagram account shared a post with some gorgeous photos of the stunning green area, including an old snapshot of the Queen and the Duke of Edinburgh posing in the gorgeous outdoors space in 1997.
'From Saturday, 8 August, the East Terrace Garden at Windsor Castle, created by George IV in the 1820s, will open to the public at weekends for the first time in 40 years,' a caption beside the upload reads.
Sharing the regal history of the royal gardens, it goes on to say, 'In the 19th century, Prince Albert, consort of Queen Victoria, took particular interest in the garden's planting scheme, and in the early 20th century, King Edward VII and Queen Alexandra held large garden parties there each summer.
'In 1971 The Duke of Edinburgh redesigned the flowerbeds and commissioned a new bronze lotus fountain based on his own design for the centre of garden.'
The Castle's picturesque Moat Garden beneath the iconic Round Tower will also be open to families with young children on Thursdays and Fridays in August, where visitors will be able to join in with family activities.
Lots of royal fans took the comment section to commend Her Majesty for sharing the gardens with the public.
'Just beautiful - thank you for sharing,' one penned.
'Wonderful historic place,' agreed a second, while a third chipped in to swoon, 'Magnificent 😍😍😍😍.'