Queen Camilla's nephew opens up on being bullied due to his family connection
Camilla's New Jersey based nephew has revealed what it was like growing up with the famous last name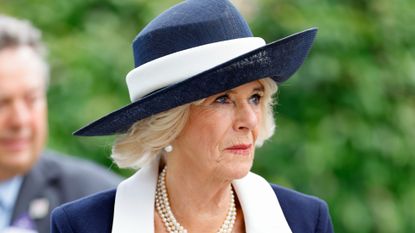 (Image credit: Getty)
The nephew of Queen Camilla has shared his experiences of being bullied for his Parker-Bowles last name.
Luke Parker-Bowles is a television producer who is linked to Queen Consort Camilla through her first husband, Andrew Parker-Bowles.
He has now revealed that he was bullied for his name during his school days and even received death threats.
---
Luke, who relocated from the UK to New Jersey in 2005, reflected on what it was like to grow up with a surname that shot to household fame thanks to Camilla and Charles' relationship in the 1990s.
He told TODAY (opens in new tab), "It was a rough time. It was not a great time to be a Parker Bowles, but it hasn't scarred me. All of us — my cousins, my brother — we've always been involved in charity. It's much more important to be doing charitable things, not to be 'holier than thou,' just because it gives you a focus."
Luke added to The New York Times (opens in new tab) how he likes to channel his energy in positive ways. He said, "I learned to do charity at a very young age. It was instilled in me by my parents and grandparents because they didn't want me to be part of the chaos of the early days of my aunt and Prince Charles's relationship."
He added, "When I was at boarding school, I remember getting bullied and even death threats because people put together that Diana had died because of Camilla, and therefore I had killed Diana by association."
"It was not a happy time, and I wanted to deflect that so I got involved in charities. I remember swimming three hours nonstop (which is bonkers) for charity. I loved it and I loved focusing on what I could do for other people, instead of focusing on getting bullied."
And Luke - who has worked on films including Love Actually - is still just as passionate about service as he was back then. Today, he is a director for The Queen Elizabeth II September 11th Garden in New York City, a memorial for the 67 British and Commonwealth citizens who died in the 2001 terrorist attacks.
He also founded and runs CinemaLab, which helps refurbish and revive small-town movie theatres as community gathering places.
Camilla, who at the time was called Camilla Shand, married her first husband Andrew Parker Bowles in 1973. The couple met in the 1960s through Andrew's younger brother Simon.
They had an on-again-off-again relationship but were finally married in 1973 in a ceremony attended by the Queen Mother, Princess Margaret, and Princess Anne and the reception was held at St James's Palace.
After 21 years of marriage, Camilla and Andrew Parker Bowles' relationship came to an end in 1994 on the grounds that they had been living separately for many years before their divorce. Their divorce was finalized in 1995, and just a year later Andrew married his second wife Rosemary Pitman, who sadly passed from cancer in 2010.
Andrew and Rosemary were both guests at the wedding of the now-King Charles and Camilla in 2005 and both Camilla and Princess Anne attended Rosemary Parker Bowles' funeral in 2010.
Robyn is a celebrity and entertainment journalist and editor with over eight years experience in the industry. As well as contributing regular to woman&home, she also often writes for Woman, Woman's Own, Woman's Weekly and The Sun.