Princess Eugenie shares adorable post featuring baby August to celebrate husband's birthday
Princess Eugenie has shared an adorable post to celebrate Jack Brooksbank's 35th birthday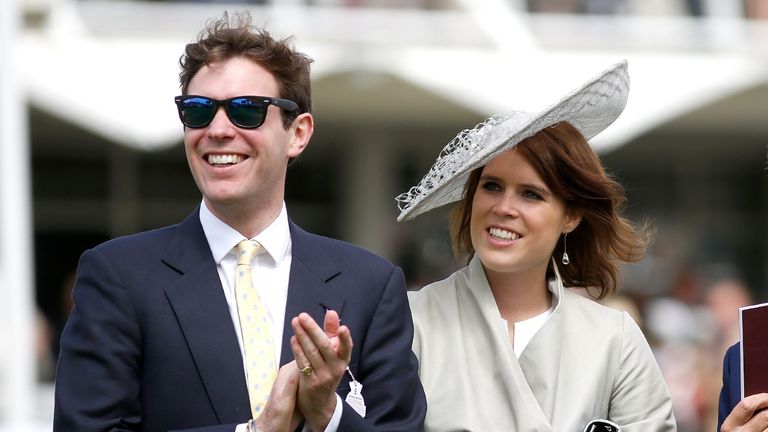 (Image credit: Tristan Fewings / Stringer / Getty Images)
Princess Eugenie shared some adorable photos of her husband Jack Brooksbank on Instagram to celebrate his 35th birthday.
• Princess Eugenie has shared a sweet tribute on Instagram to celebrate her husband.
• The post includes two sweet snaps of the couples young son August 
• In other royal news, is Prince Harry facing consequences after Oprah tell-all? Royal experts sound off
---
Princess Eugenie posted a series of images on Instagram to celebrate her husband, Jack Brooksbank's birthday on 3rd May. In the first photo, Jack cuddled up to his new son and looked sheepishly into the camera with a small smile. Baby August wore a tiny printed hat and an adorable blue knitted cardigan with his name embroidered on the back. 
In the second photo, Jack had a wide smile as he wore a baby carrier with his little son inside. The pair both donned outdoor clothing and August appeared to be dressed in a very sweet fluffy teddy bear onesie. The last image was just of Jack as he walked alone by a stream near some daffodils in full spring bloom. Eugenie adoringly captioned the post, "You are exceptional.. Happy Birthday my love."
Fans loved this post from Princess Eugenie and many took to social media to celebrate Jack's birthday. One fan said, "Happy birthday Jack have a great day with your cute family." Another fan said, "Happy Birthday to this new Dad."
Since the birth of her son, the Princess has remained fairly low profile and her Instagram has only been used to show images of her husband and son. She shared a post in March to celebrate her first Mother's Day with baby August. She also posted in February to announce that she had named her baby boy August Philip in sweet tribute to Duke of Edinburgh.
However, this changed a few weeks ago when she shared a heartbreaking tribute following Prince Philip's passing. In the heartfelt post, the Princess posted a photo of herself with her sister and the late Duke. She also posted a sweet photo of herself as a child with Prince Philip.
In the post, Princess Eugenie reminisced about some fond memories with the late Prince. She said, "I remember learning how to cook, how to paint, what to read. I remember laughing at your jokes and asking about your spectacular life and service in the navy. ⁣I remember incinerating the sausages and you swooping in to save the day.⁣I remember your hands and your laugh and your favourite beer. "⁣
⁣
She then concluded the message saying, "I will remember you in your children, your grandchildren and great-grandchildren⁣."