Prince Harry 'swore at Charles' in telephone fight about money
Prince Harry allegedly used foul language toward his father King Charles according to a new book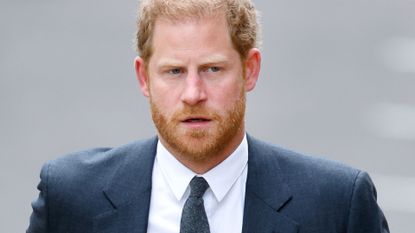 (Image credit: Getty Images)
Prince Harry caused quite the row with King Charles over money, and there may or may not have been some foul language in use...
In Harry's new memoir, Spare, he reveals many intimate details about his upbringing, and particularly his time spent as an active member of the Royal family. He spends time discussing his separation from the family with his wife, Meghan Markle, as well as his children, as they embarked on the move to California - which can also be viewed in their Netflix docu-series, Harry & Meghan. However, another new book reveals even more delectably close details about the inner workings of the family, and one moment, in particular, caught our eye.
Robert Jobson reveals in his new book, Our King that Harry got into a bit of a tiff over money with his father, King Charles III. When financial needs were not being met, Harry allegedly got a bit ill-tempered over the phone.
Harry, who will be attending the coronation ceremony next month, had reportedly been contacting the Queen to discuss financial details, but she became 'weary and tired' of Harry as these conversations continued.
The book explains that, after Harry moved to California, he would try to call his grandmother, but later explains that the Queen found her conversations with Harry to be quite "difficult and wearisome."
"She didn't want to interfere in the father/son relationship and would urge him to speak to his father," the book says.
After going to King Charles, however, tempers were raised, especially during a conversation about money.
"Prince Charles simply stopped taking Harry's calls after his son swore at him and repeatedly asked for funds," according to the book. "When the Queen asked Charles why he hadn't given in, he told her that he wasn't a bank."
The book also claims that the Queen would repeatedly grow frustrated by Harry and Meghan. Despite always having "great affection" for Harry, the author of Our King writes about how the Queen would become hurt and angry over Prince Harry's comments about the Royal family.
It is also thought that the Queen believed Meghan to have "clouded" Harry's thoughts about the royal family, making it increasingly difficult for all of them to get along.
Madeline Merinuk is woman&home's US lifestyle news writer. She covers celebrity, entertainment, fashion, and beauty news but is also obsessed with internet trends - you can find her reciting trending TikTok sounds out loud at any given time.
After winning multiple student journalism awards for her investigative work, she graduated from Hofstra University in 2021 with a B.A. in Journalism. After graduating, she worked at today.com, the digital site for the Today Show, where she wrote pop culture news and interviewed big-name personalities like Emily Ratajkowski, Haley Lu Richardson, Emma Corrin, and more.
Her personal interests, in no particular order, are: cheese, Joni Mitchell, reading, hot yoga, traveling, having multiple chapsticks in every handbag at all times, and dancing to ABBA songs as if she were in the Mamma Mia movies.