Duke and Duchess of Sussex mark one year wedding anniversary by sharing adorable behind-the-scenes photos of big day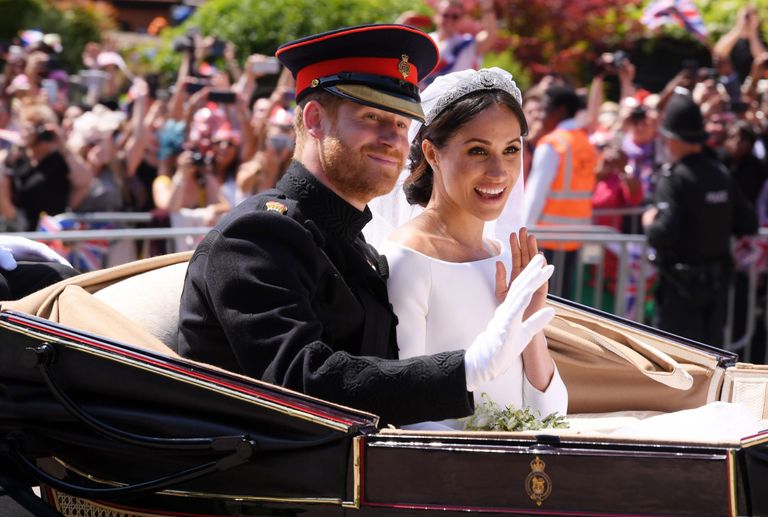 By Amy Hunt
Can you believe it's been a whole year since Prince Harry and Meghan Markle tied the knot at St. George's Chapel in Windsor?
Of course, a lot has changed for the couple since that special day - with the Duke and Duchess recently becoming first-time parents to baby Archie Harrison Mountbatten-Windsor.
But to mark their first wedding anniversary, Harry and Meghan have shared a completely adorable montage of behind-the-scenes pictures from their big day, from their personal photo albums - and they're so sweet!
MORE:Why Prince George and Princess Charlotte haven't met baby Archie yet
On their Instagram, the black-and-white images are shown alongside the song 'This Light Little of Mine', performed by the Kingdom Choir, at their wedding.
On social media, the Duke and Duchess of Sussex shared a personal message with their followers, saying, 'Thank you for all of the love and support from so many of you around the world. Each of you made this day even more meaningful.'
The pictures reveal various different moments of the couple's wedding day that we've not seen before - including Prince Harry hailing a cab to the chapel!
There's also an adorable picture of the newlyweds holding hands and laughing away from the view of the crowds, as well as a shot of Harry seemingly practising his speech in a private room at Windsor Castle ahead of the ceremony.
In the minute-long video, there are also some lovely family snaps, with Prince Harry and his brother Prince William seen making their way down some stairs whilst grinning at the camera.
In one shot, Duchess Meghan can also be seen holding hands with her mother Doria Ragland, smiling with happiness.
How lovely!
Fans loved the sweet look back at the Duke and Duchess's wedding day, with one commenting to say, 'These pictures emulate what a precious and beautiful day it was! ❤️ Happy 1st Wedding Anniversary ❤️'
While another agreed, writing, 'Thankyou for sharing these beautiful photos🌺'.
The Duke and Duchess are now two weeks into parenthood, after welcoming their baby son Archie on 6th May 2019.
It's likely to be a little while before we see the newborn royal in public again after his big reveal to the world, although some are speculating that Meghan will resurface at the Trooping the Colour ceremony in June, to mark the Queen's official birthday.